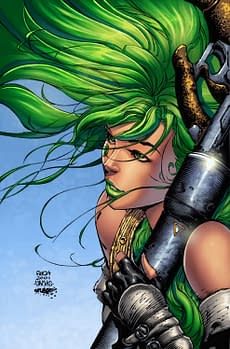 Here's the story on one man who is out the relatively small sum of $375 to comic industry conman Josh Hoopes.
1)Paypal sounded very helpful at first, then declined to refund our money. Apparently Hoopes convinced them that he provided the good/services he promised.

2) The Sacramento Police (where Hoopes lives) were worthless…told me to call the FBI because its an interstate crime.

3) Report/complaint has been filed with FBI…but we're not optimistic. I doubt they'll persue this case over $375.
And that's how he does it. His fake photobucket page and artwanted page full of other people's art under the name "Lalit Kumal" that he often uses to get jobs, now has new art added to it, by David Finch and Victor Llamas.
He also uses this Joshua John portfolio as well which is full of work that he commissioned from other artists to fulfill contracts from writers and publishers, and then never paid for. He exploited them once, he is still exploiting them today.
Enjoyed this article? Share it!