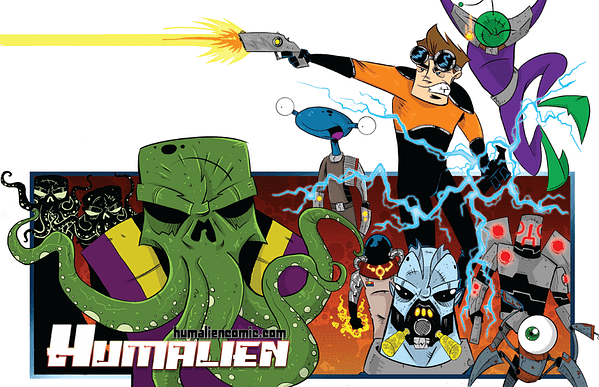 Humalien, Created, written and drawn by J Adam Farster, Self published- May 2015
Humalien was successfully funded on Kickstarter in March and released at C2E2 last week for the masses.
What the hell is a Humalien!? I'm not that clever. A friend of mine just mashed two words together and there we have it. Human/alien. Humalien. What Humalien really is a comic book that looks like nothing else on the shelf. It is a throwback to the cartoons of the 1980's and mid-late 90's independent books.
Humalien is a sci-fi comic that takes place 2000 years in the future where humans are extinct. One human was bred in a lab to become a living biological weapon. Freed by a team of rebels, our hero, Ed, is is now devoted to reclaiming the planet from the Trinity with laser guns, super-science and spontaneous combustion!
Yesterday was Free Comic Book Day and while Humalien is making its retail shop debut at Creative Comics in Griffith, Indiana. I was celebrating the start of a new series and finally can share with everyone what I've been working on for the past few years. Yes. YEARS.
Humalien started off 15 years ago as another book, similar premise but nothing like what it is today. At the time I couldn't make a go of it and just put in on a shelf, until about 3 years ago while working one of the many graphic design jobs I've held, I started it up again. Another false start. That was until February of this year when a friend pushed me into finishing the book and making it happen.
A little peer pressure goes a long way kids.
So I launched the kickstarter at the NWI Comic Con in February, ran a successful campaign and finished up the book. Now, I am unleashing it into the wild. It is a scary thing to see something you have worked on for so long become a reality. You can only hope people like it enough to come back for seconds or thirds and you keep things fresh enough that readers don't get bored. Humalien is planned as an ongoing with issue 2 coming out in July and issue 3 in September.
I'm really excited about this little book and the initial response has been great.
So take a look at the book, which you can order at www.humaliencomic.com
Follow me on Twitter @humaliencomic or @farster13
See other art stuffs at www.adamfarster.com
Enjoyed this article? Share it!