Posted in: Comics, Marvel Comics, Review | Tagged: butch guice, cam smith, daken, fantasy, hunt for wolverine, hunt for wolverine: claws of a killer, Jordan Boyd, lady deathstrike, Mack Chater, Mariko Tamaki, Marvel Comics, sabretooth, sci-fi, superheroes, weapon x, wolverine, x-men
---
Hunt for Wolverine: Claws of a Killer #4 Review – The Strongest Hunt for Wolverine Ending Yet
Sabretooth battles his resurrected son, Graydon Creed. Lady Deathstrike duels her own father, Kenji Oyama. Meanwhile, Soteira's soldiers continue to run through the town. Daken is missing. The living dead spread throughout the area. A bomb is on its way to cleanse the area, and, if Lady Deathstrike and Sabretooth don't destroy the device animating the dead and shutting down their healing factors before the bomb gets here, Victor and Yuriko will die in the explosion.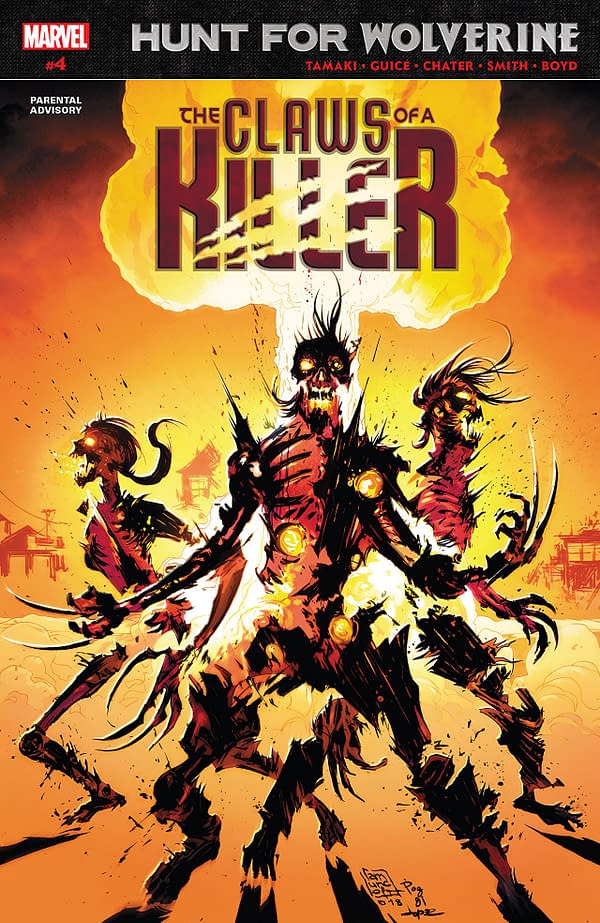 Hunt for Wolverine: Claws of a Killer concludes with this issue, and this story gets to end on a high note. It's a tense and emotionally poignant issue, forcing two vicious killers to confront their dead family members. Their relationship with the two deceased was complex, and it shows even in the combat.
I joked about Claws of a Killer being a dumb excuse to have Vic, Yuriko, and Daken butcher a bunch of zombies. Here, it shows a bit more complex. It's about coping with death, and the complex relationship with these two dead family members serves to mirror Yuriko, Victor, and Daken's relationships with Logan. None of these villains had an exclusively antagonistic relationship with Wolverine, and that seems to be the theme here.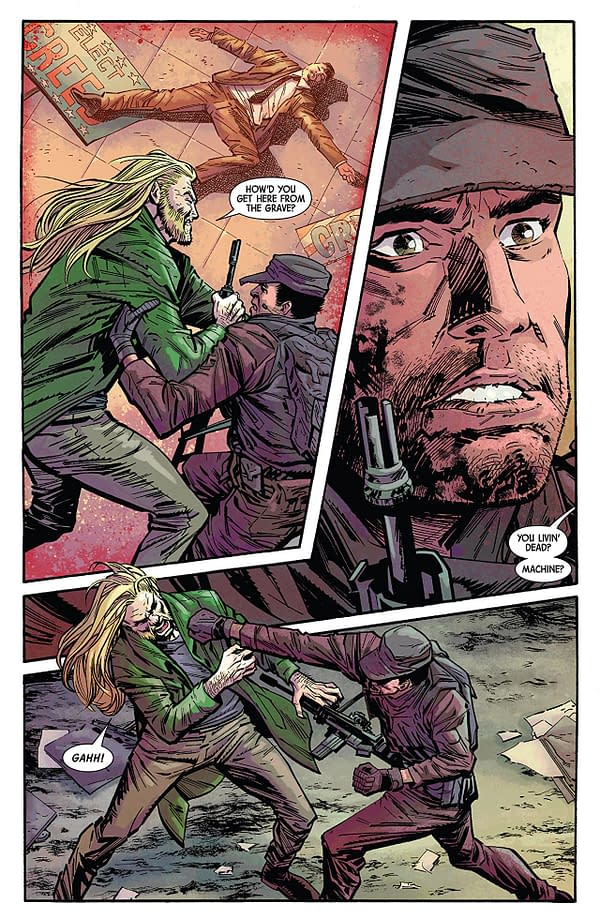 Butch Guice and Mack Chater conclude the miniseries strong too. The artwork is detailed and gritty. The emotion shown by Victor and Yuriko is subtle but palpable. The fight scenes are excellently-constructed, and the overall book just looks damn good. Jordan Boyd gives it a pale and grim treatment to bring the harsh atmosphere together.
Hunt for Wolverine: Claws of a Killer #4 is probably the strongest end to a HfW series that we've seen so far. It's subtle, intense, and compelling. The art is gorgeous, and the book earns itself a recommendation. Give it a read.
---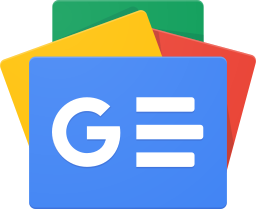 Stay up-to-date and support the site by following Bleeding Cool on Google News today!