I thought I'd never read the end of Monster.
Humanoids released the first half of it in 2004 (they called it The Beast Trilogy), and no more followed. When I found three copies of that slim Humanoids paperback at C2E2 a couple years back from today, I bought all three just so I could loan one or two out to my friends to show them why I was so mad for this Enki Bilal guy. In retrospect, that wasn't my brightest idea. Monster's first two chapters are some dark, pessimistic Eastern European surrealism. Main characters get kidnapped or disappeared, there's an art opening (announced by missile!) that goes south quickly, and through it all there's the reminder of how grim life in Sarajevo can be.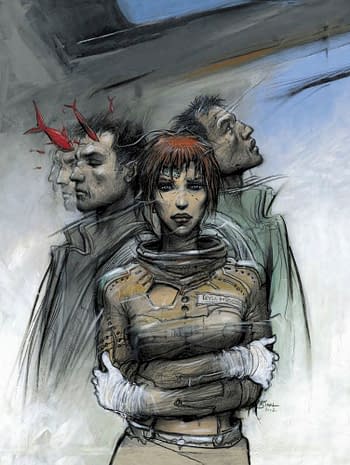 But fast forward those years to about March or April 2019, and a low res, but still gorgeous .pdf file of the entire four book series sits on my computer's hard drive, thanks to Statix Press and Titan Comics. According to Amazon, they'll release Monster in September.
Like trying to catch an eel barehanded, a satisfactory description of Monster's plot slips away each time I get a grasp on it. This'll do: Three friends find themselves wrapped up in a macabre mystery involving clones, parallel dimensions, and an artist inspired by Andy Warhol. Re-reading Monster makes a couple things clear: Bilal really likes drawing old cars flying through the air, and this story is wild. Within 40 pages, there's already a character investigating his own death.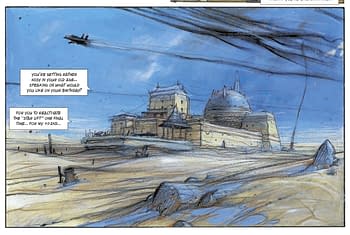 I marvel at Bilal's colors. When the characters aren't in danger, the warm colors come out and they're a tonic for the eyes. When the plot happens, the colors get darker, as does the mood. In what appears to be his style, Bilal adds a certain amount of visual noise to his pages, which makes the proceedings occasionally look like they're viewed through a light but noticeable gauze. Whether that's Bilal's nod to impressionism or just likes playing with figures slightly out of focus, I couldn't tell you.
What I can tell you: Monster reads like nothing else I'm aware of. Other surrealists work in comics, sure, but Bilal's work feels unique. Maybe it's just (just, ugh) cross hatching with paint, and that I haven't read a lot of other Eastern European writers or artists. I'm grateful to Titan for releasing these in English. I bought the rest of their Bilal catalog (The Nikopol Trilogy, Century's End, and Exterminator 17.) whenever they've released them. Come September, I'll buy a fourth.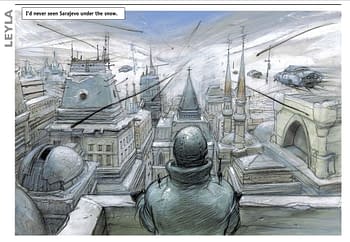 (Titan Comics did not reply to an inquiry about the translator of Monster by press time.)
Enjoyed this article? Share it!