In 1984, Marvel UK was running reprints of the American Transformers comic book series, based on the cartoon series of the same year, as a weekly anthology comic, with a few other titles such as Rocket Raccoon running in the back. But even only running a few pages each week. they soon ran out of the American content to reprint. While waiting, they commissioned a young writer, Simon Furman, to write new Transformers stories.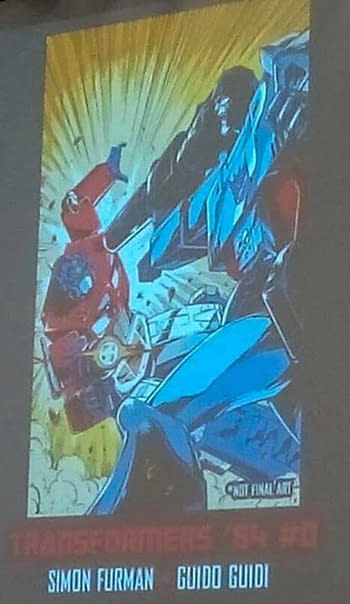 Initially hampered by havng to fit in with US Transformers continuity, a switch to telling stories of future Transformers freed him up a  little and, especially with artists Geoff Senior, Andrew Wildman and Stephen Baskerville told long story arcs that found favour and saw him take over the original American monthly comic as well. He has been a significant present in both the Dreamwave and the IDW licenses of Trasformers, often brought in when the earlier issues began to lose favour. Indeed, at IDW, he was brought in to write a continuation of the Marvel Transformers comic, consisting of 20 issues from #81 to #100. Furman is currently writing the Robotech series for Titan.
But in July, as the Transformers series at UDW is rebooting, he is being invited back for a special one-shot, titled Transformers 84 #0 as a preview to the original nineteen-eighties comics publication of Transformers. Maybe giving Simon a little more control from the get go this time.
Announced by IDW at WonderCon yesterday, the comic will be drawn by Guido Guidi, who has another long history working on Transformers comics for both Dreamwave and IDW.
Will you be picking up a copy? Will you want more?
Enjoyed this article? Share it!