[rwp_box_recap id="0"]
Jean-Luc Picard has just assumed command of the USS Stargazer after his captain was killed, and he's already laying in a pile of rubble, bleeding out as his first mission goes horribly awry. It's a hell of an opening page, with J.K. Woodward's dreamy painted art eerily serving up a Picard we've never truly seen before.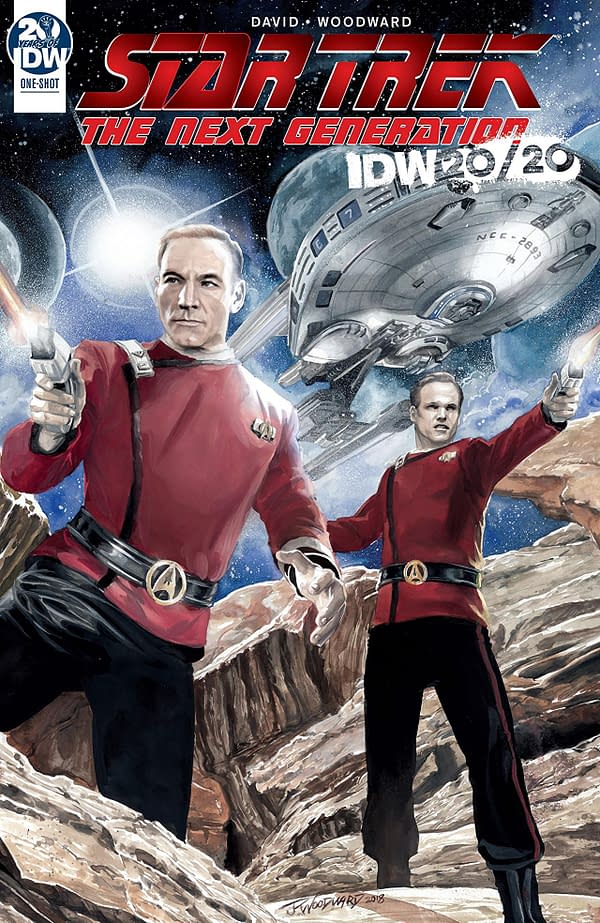 Peter David, as always, pens a mighty Star Trek story, with this installment part of IDW's celebration of 20 years in the comics industry. The story follows Jean-Luc Picard's decision to personally negotiate a cease-fire on a planet newly admitted to the United Federation of Planets. Jack Crusher, the First Officer on the Stargazer, has concerns about Picard putting himself in harm's way. He believes Jean-Luc is trying to prove himself fit for his new command to the crew and begs his captain to let him go in his stead. Picard refuses and winds up a wounded hostage in a fraternal power play.
Cadet Beverly Howard finds herself the only person aboard the Stargazer that can navigate the political structures put in place by Picard and his captors. This is her first interaction with Picard, and it's easy to see that she's not a fan of the rigid captain's command style.
The art in Star Trek: 20/20 is consistently excellent, with uncanny likenesses rendered throughout. If you've ever wondered what the continuing adventures of Picard's Stargazer years looked like, you're in luck- Picard's hair is glorious, and young Patrick Stewart is brought to life wonderfully. The only quibble we have with any of the art is with Beverly Howard; the likeness is excellent but resembles Gates McFadden more from The Next Generation than we assume she looked in her early 20's. Still, the art is fantastic, and it's great to see such attention to detail in a Trek comic.
David captures the voice of each of his characters perfectly, with each line easy to hear coming from the actors themselves. Picard's yearning for acceptance from his crew is perfectly balanced with Crusher's plea for caution and echoes conversations between Picard and Riker two decades later. It's always a treat to read a Peter David Star Trek story, and our only regret after reading this issue is that it's not part of an ongoing series. This is Trek done right.
SUMMARY: Words: Peter David; Art: J.K. Woodward; Letters: Gilberto Lazcano, Editor: Denton Tipton and Chase Merotz; Publisher: IDW; Price: $4.99; Release Date: January 30, 2019; 36 pages.
[rwp-review-ratings id="0"]
[rwp-review-form id="0"]
Enjoyed this article? Share it!