If There's Going To Be A Sequel, Joss Is "Working It Out in Comics First" – Talking To Georges Jeanty About Firefly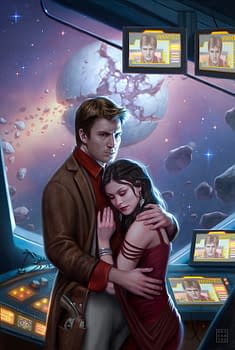 Shaun Leonard writes for Bleeding Cool;
Georges Jeanty, the Buffy artist of Seasons 8 & 9, visited Nevada for the Vegas Valley Comic Book Festival. Between talks with fans I was lucky enough to get the chance to discuss the upcoming Serenity: Leaves on the Wind miniseries, the first issue of which hits stores on January 29th.
Jeanty was announced as the artist for Leaves on the Wind in September, and mentioned that he's currently illustrating issue #3. When asked about potential difficulties capturing the likenesses of the Firefly crew Georges responded that "There are seven characters I'm having to deal with, not counting any of the guest stars we might have seen on previous episodes." When pressed for specifics Jeanty avoided spoilers, simply stating that "I am learning and I think that's what likenesses are, really, at least for me … Whatever our features are in our faces, those are the little mistakes that God gave us that make us original and interesting."
Unlike previous comics in The Verse, this miniseries continues the story of our misfit crew 9 months after the events of the Serenity movie. Hunted more than ever, the characters' lives are further complicated by the introduction of a new crewmember. "I can tell ya that the series takes place nine months later, and there is a new character introduced." Jeanty's laughter confirms that Zoe and Wash's baby, first alluded to in Serenity: Float Out, will feature in the comic in some form.
Most of the passionate Firefly fans met the news that the new comic would further the story of the show with rapturous applause. Some Browncoats however, may see the continuation as a final nail assuring that there would be no further adventures of the ragtag crew on the small or silver screen. Jeanty disagrees "I thought just the opposite, I thought, especially when Joss was on it, this was something where if there was gonna be a film, he was working it out in comics first."
The miniseries will be written by Firefly creator Joss Whedon's younger brother Zack. Jeanty praised the younger Whedon's writing saying "Zack really has the language. You can tell the characters just by listening to them." Like many fans, Georges lamented the lack of involvement of the actors who made the characters so beloved by the fans. "I'd love to sit with them when I have a particular script and pick their brain from time to time."
Serenity: Leaves on the Wind #1 by Dark Horse Comics arrives January 29th. See Georges Jeanty's work at http://kabalounge.com.
Shaun Leonard is a film, TV and comics journalist currently based in Las Vegas, NV. He podcasts for isitabicycle.com.