Ike Perlmutter Got Captain America to the New York Stock Exchange
Three years ago, Captain America, Spider-Man joined Veterans Affairs officials to ring the closing bell of the New York Stock Exchange as part of a public awareness campaign about veteran suicide. What Spider-Man and Captain America had to do with that was never made clear. David Shulkin, the VA secretary at the time, said later that he was as surprised as anyone. Of course it was all down to Marvel chair Ike Perlmutter.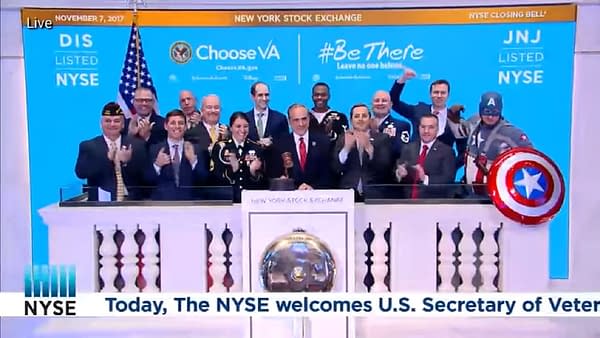 A controversial figure, Ike Perlmutter was chairman of Marvel Comics and was also appointed to Veteran Affairs by President Donald Trump, after being one of Trump's biggest donors and close personal friend. The event was attended by Marvel and Disney execs, with actors in Captain America and Spider-Man costumes hired for the event and Marvel promotional material handed to attendees.
A US Government Accountability Office report commissioned by Senator Brian Schatz and Senator Elizabeth Warren into Private Citizens' Involvement in Decision-Making at the Department of Veterans Affairs: Information on the Purpose, Scope, and Time Frames of Interactions between 2016 and 2018 has highlighted a lot of issues that have previously been made against Ike Perlmutter alongside other civilians, doctor Bruce Moskowitz, and lawyer Marc Sherman in US government affairs, specifically a move towards a further privatisation of the delivery of healthcare services to veterans.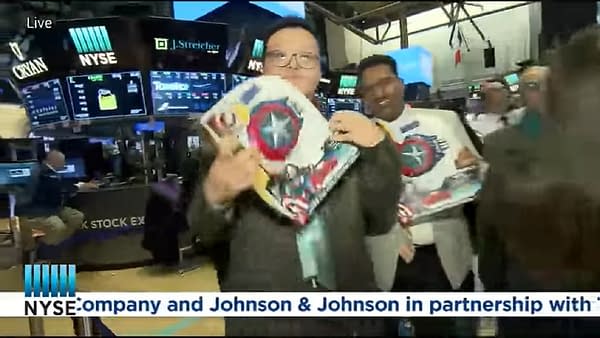 The report states that,
On November 7, 2017, former Secretary Shulkin rang the closing bell at the New York Stock Exchange in conjunction with a variety of events Shulkin was doing in recognition of Veterans Day. The ringing of the bell was done in conjunction with officials from Johnson & Johnson and also included an appearance by a Marvel character. VA conducts multiple and ongoing suicide awareness efforts in collaboration with various private organizations, including Johnson & Johnson, that donate or contract with VA for the services that they provide. The Secretary of VA has broad authority to accept gifts to benefit veterans and to enhance the Secretary's ability to provide services or benefits'
While adding that this was seen as a Marvel-organised event despite Marvel not being involved with the VA and having no business with them. Which turned this into a Marvel promotional event,
VA planned to commemorate Veterans Day 2017 by the ringing of the closing bell at the New York Stock Exchange in collaboration with Johnson & Johnson, Disney, and Marvel Comics. Johnson & Johnson provided administrative assistance in organizational efforts as part of the Healthy Heroes partnership, but no personnel from Johnson & Johnson attended the NYSE event.· During the month of October, Perlmutter emailed VA senior officials to indicate that "we" are now confirmed to ring the bell at the New York Stock Exchange and that he had arranged for Marvel characters as well as for the public service announcement that "we" worked on with Johnson & Johnson and VA to be shown. Further, a VA official stated that the event may require "OGC [review] as well given how much business the VA does with Johnson & Johnson but this isn't really a Johnson & Johnson event. Marvel Communications is doing this and we don't, as far as I know, do business with them."
This is seen as a direct influence of Perlmutter at the VA, denied to other rival organisations, say. The report later clarifies,
in internal VA email communication, VA officials consult VA's Office of General Counsel Ethics Specialty Team regarding Secretary Shulkin's plan to appear at the New York Stock Exchange in November to ring the closing bell in conjunction with a variety of events the Secretary was doing around Veterans Day. The official explained that the ringing of the bell would be done in conjunction with Johnson & Johnson, Disney, and Marvel Comics because they were supporting a joint project at VA for veterans and noted that the Secretary was "friends with the Chairman of Marvel Comics, Mr. Ike Perlmutter," but that Perlmutter would not be in attendance at the event.
But Captain America and Spider-Man were, as well as Marvel comics giveaways. The report details Perlmutter and others involvement with the department, and presumably will be used to press further regarding this administration's treatment of Veteran Affairs. Marvel's involvement remains peculiar non-sequitur in this whole affair.