Posted in: Comics | Tagged: Comics, dc, dc comics, doomed, Doomsday Clock, doomsdaymap, india
---
India's Future in the DC Universe from Doomsday Clock: The Doomed
The new issue of Doomsday Clock by Geoff Johns and Gary Frank, the unauthorised sequel to Watchmen and published by DC Comics, is showing the future of the DC Universe Earth and the superheroes who live on it, around the world. The Supermen Theory, currently causing global uproar, points out that 97% of the superheroes live in the USA. But other countries are catching up…
But who is who? Let's look at The Doomed from India.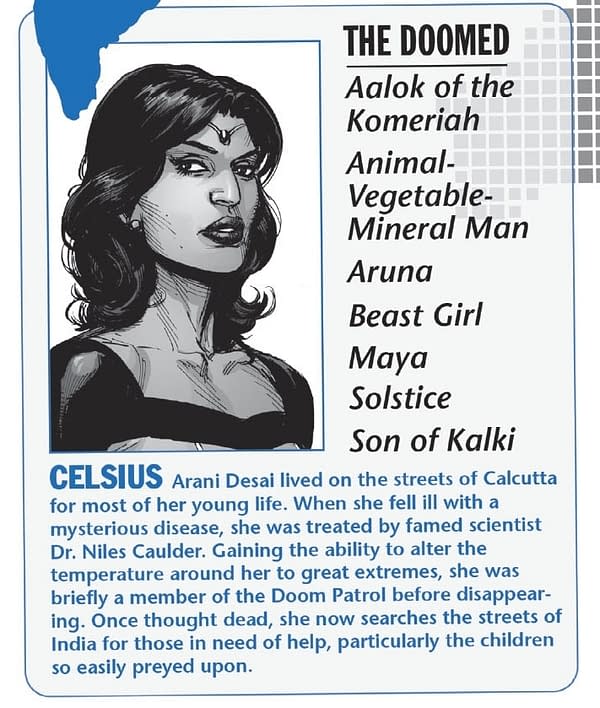 The Doomed — a newly named team.
Aalok of the Komeriah – first appearance Hawkman #2, 2002 created by Geoff Johns, James Robinson, and Rags Morales. The leader of the Elephant-like race kept by the Makhna as slaves, and the ascendants of Hindu gods.
Animal-Vegetable-Mineral Man – first appearance in Doom Patrol #89 in 1964, created by Arnold Drake and Bruno Premiani. Swedish scientist Dr. Sven Larsen is a Swedish scientist, former student of Doom Patrol's founder Dr. Niles Caulder,who gains superpowers after falling into a vat of amino acids. A supervillain who later joins the Front Men. Recently rebooted in the New 52 as part of an experimental security measure that Niles Caulder unleashes on intruders when his underground complex is breached. Animal-Vegetable-Mineral Man can change any part of his body into the form of any animal, vegetable or mineral, including combining several at once.
Aruna – first appearance Batgirl Annual #1, 2000, created by Scott Peterson and Mike Deodato. A shapeshifter martial artist from India, whose powers made her gender indeterminate and her family were treated as untouchables as a result. Orphaned, she became a stunt operator.
Beast Girl – a parallel alternate version of Beast Boy, first appeared on Teen Titans Go, series 4, episode 47 in 2018. This may, of course, be a very different Beast Girl in Doomed.
Maya – first appearance, Justice League Europe #47 1993, created by Gerard Jones and Ron Randall. Chandi Gupta's powers emerged, leading her parents to leave her with an Indian cult, convinced that she was the reincarnation of one of the Hindu gods, Shiva. To avoid being sacrificed, she emigrated to London where she helped the Justice League Europe in battle. Offered membership, she fought Overmaster behind that cult, before returning to her parents. She can manifest a mystical bow, and fire mystical projectiles, as well as manifesting fire and water.
Solstice, first appearance in future cameo in Teen Titans #88 in 2010, then as Solstice in Wonder Girl #1 in 2011. Created by J. T. Krul and Nicola Scott. Daughter of two Indian archeologists, Kiran Singh is a teenager from Delhi. Visiting London, she meets Wonder Girl, Cassie Sandsmark, fighting off fight off Lady Zand, then joining with the Teen Titans. In the New 52, that history was erased, but joined the Teen Titans after fighting NOWHERE, with a new black smoky appearance. She can fly, and generate bright golden blasts of light, that can dazzle and concuss. Her tattoo glows when her powers are in use.
Son of Kalki – Ashok Desai, or Kalki, was an aging mad scientist who sought immortality and employed a young Niles Caulder in his experiments, with a first appearance in Doom Patrol #1 in 1983 and his death in #3. He has not been shown to have a son, but his daughter was Arani Desai.
Celsius – Arani Desai, her first appearance Showcase #94 in 1977, created by Paul Kupperberg and Joe Staton. Born in India into a life of wealth and privilege, she married Dr. Niles Caulder, who gave her with immortality on their wedding day. She also discovered that gave her control over heat and cold, and learned martial arts. She created her own Doom Patrol, to fight her father, driven insane by an earlier version of the immortality serum created by him and Caulder. She died during Invasion! fighting the Alien Alliance in the Arctic Circle.
Although all that history will have been erased… and according to the above, her life of wealth has gone too.
We will continue journeying around the world today at this link. Let me know if I got anything wrong in the comments.
Thanks to DC Wiki and Wikipedia.
---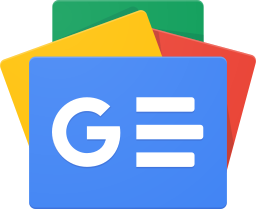 Stay up-to-date and support the site by following Bleeding Cool on Google News today!