Infinity Countdown #4 Review: A Low Point in an Unexciting Series
[rwp-review-recap id="0"]
Silver Surfer approaches Galactus the Lifebringer for help with the dawning Ultron crisis. Adam Warlock faces Ultron Prime on his own. The Guardians of the Galaxy and the Nova Corps reconnoiter on Knowhere. The Nova want to look after the Power Stone, but Gamora is reluctant to allow them to have it. Richard Rider is eager to look for his brother, who is in the hands of the Talon Brotherhood. Star-Lord receives some unexpected visitors.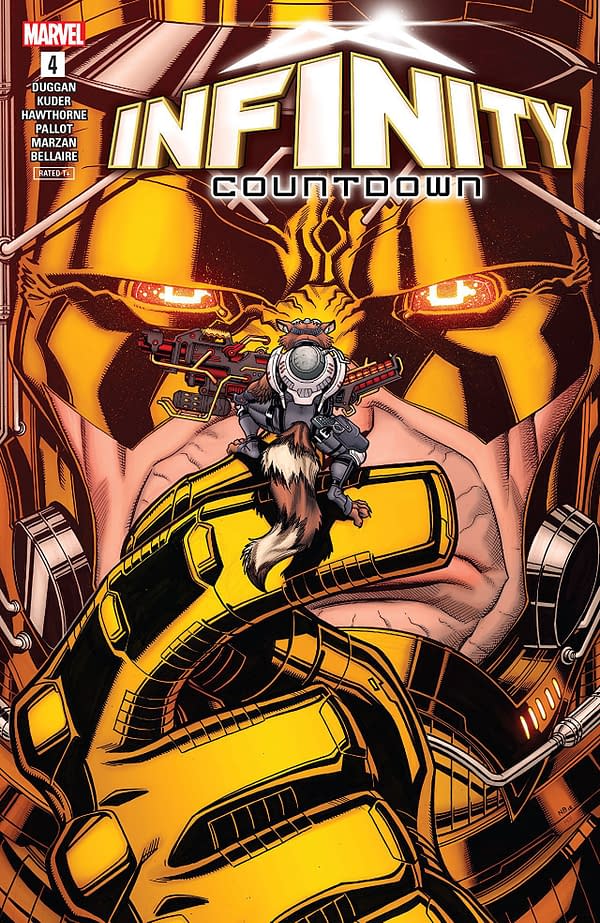 Infinity Countdown #4 is a low for this already underwhelming miniseries. While Sax the Destroyer was nauseating in how cute it wanted to be, it's noting compared to how unlikable the Guardians of the Galaxy appear in this comic.
They laugh off the apparent death of Ant-Man. They behave condescendingly towards the Nova Corps. They fight amongst themselves. Drax is left to be the relative voice of reason. That said, the callous behavior about Ant-Man is the most obnoxious part of that portion of the book. You can argue that they're supposed to be rogues, but they're also supposed to be heroes. Plus, the scene is played for laughs that don't come.
There is a solid moment between Richard Rider and Gamora as the former leaves to find his brother.
Infinity Countdown desperately wants Adam Warlock and Ultron to be a compelling personal conflict. It doesn't work. That said, that half of the book is far more interesting than the Guardians and Nova story. It does bend over backwards to restore a status quo though.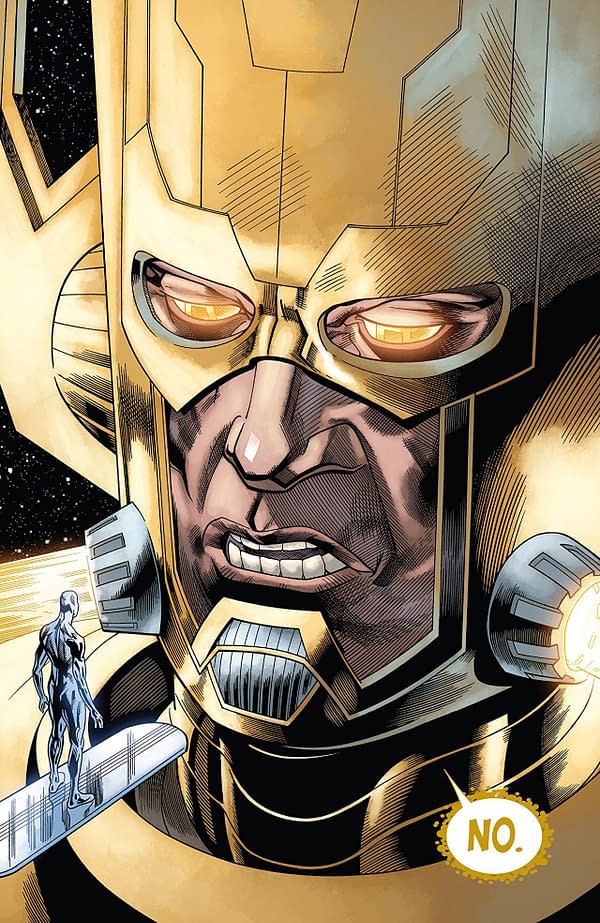 Mike Hawthorne does excellent work rendering Galactus in this book, and that half of the book looks good in general despite how much Silver Surfer looks like Iceman. Aaron Kuder's artwork stumbles badly. The characters look warped and weirdly rendered, and the background is stark and barren. It is visually malformed and unappealing. Jordie Bellaire's color art is as good as ever, so that helps both artist's work.
Infinity Countdown #4 brings the Guardians story to a grinding halt while making you wonder why anyone likes these characters. The Warlock and Silver Surfer half is better in both story and art, but it doesn't make up for the waste of time the rest of the comic is. The mainline Infinity Countdown series has been underwhelming since #1, so this is a bad issue in an underperforming series. I can't recommend it. Give it a pass.
[rwp-review-ratings id="0"]
[rwp-review-form id="0"]