It has been a troubled series. Originally revealed by Bleeding Cool on April 1st last year, Inhuman and Inhumanity was Marvel's big new thing, a way to revive the Inhuman ready to be exploited as a new franchise, an alternative to the X-Men for Marvel Studios, a new status quo for the Marvel Universe spinning out of the Infinity series and a vehivle to bring back superstar artist Joe Madueira to comics.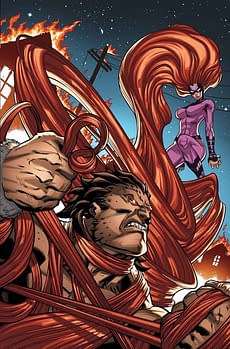 It didn't quite work like that. First, the book was delayed from its originally planned launch in January. Matt Fraction walked off the book after creative difference, with Charles Soule taking over. And as readers seemed turned off by the Inhumanity crossover, sales on Inhuman were rather soft, persuading Marvel to reprint #1 inside Amazing Spider-Man #1 to get more people to read it (and creating a book whose extra size caused greater damages).
Then it was revealed that Madueira would only stay on the book until #3, with Ryan Stegman taking over from #4.
And now it seems that final issue of Madueira's Inhuman is being delayed five weeks, from the 18th June to the 23rd July, San Diego Comic Con week.
The fourth issue, Stegman's first, was scheduled for that date as well, but has now been bumped a week later to 30th July. And the fifth is scheduled for the 20th August. Could we see more timescale shuffing to come?
Enjoyed this article? Share it!