Veronica and Andy Fish Talk 'Blackwood' and Finish Each Other's Sentences at SDCC
Words and Photos from Bleeding Cool's Jimmy Leszczynski: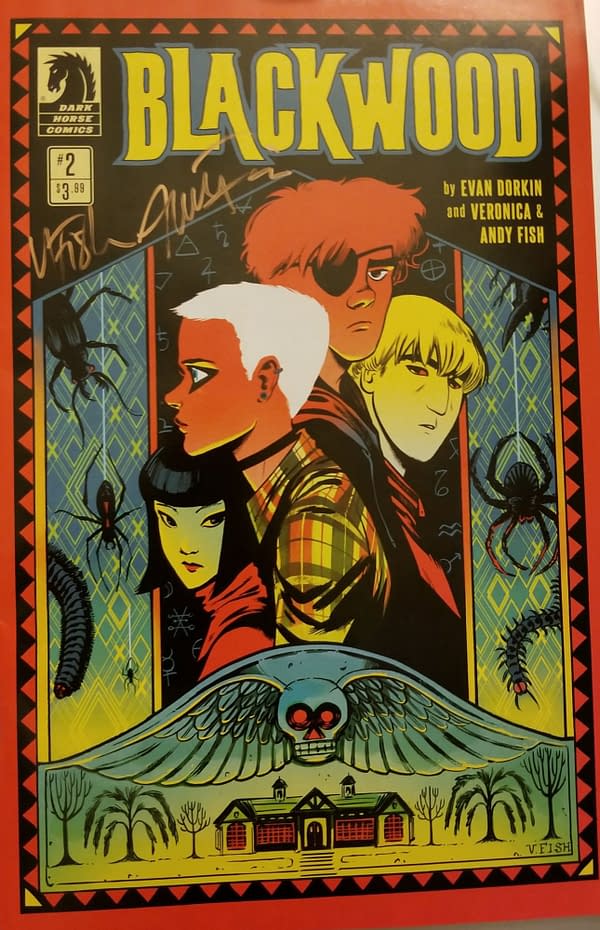 A school hidden away in a small village in the woods? Check. Young adults learning about magic, their powers, and how to use them? Check. A new crop of unlikely friends sticking together to get through it all? Check.
The premise might sound familiar, but once you get past the elevator pitch, the similarities end. Mystery, monsters, and reanimated taxidermy abound in Blackwood!
Blackwood, from Dark Horse Comics, is written by Evan Dorkin (Milk and Cheese fame), illustrated by Veronica Fish (Spider Woman, Archie Comics), and lettered by Andy Fish (Geeks and Greeks, How to Draw series). Issue #3 comes out July 25th — but so far after two issues, a dude made out of tentacles, and what appears to be a giant centipede, I am definitely spellbound and looking forward to where this fresh madness by Veronica and Andy Fish is taking me.
I had the chance to sit down for a few minutes at SDCC 2018 with the dynamic team that handles the art. They give hints at what's to come in the upcoming issues and talk about how they finish each other's art (and sentences).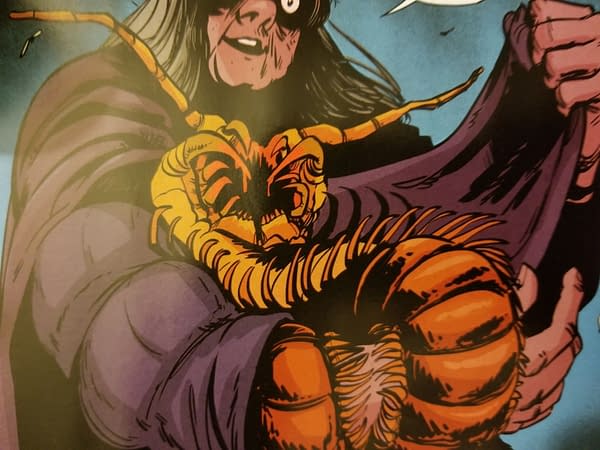 I start by asking the duo to explain why Blackwood is better than a Lovecraftian version of Harry Potter, but Veronica politely corrects that by saying Blackwood is nothing like Harry Potter.
Veronica Fish: More like if Mulder and Scully went to Miskatonic University. It's got more of an acerbic humor that I like. It has a lot of really dark-of-dark humor. I love how the characters interact. It has such a giant world that we can't even get to in four issues. We are hoping that we really get to expand on that. It's kind of got Kolchak, the Night Stalker in it.
Andy Fish: Yes, it's got a little bit of everything. In terms of classic horror. Very Lovecraftian.
VF: It's got less magic and more monsters.
AF: And it's got mystery. I think a lot of people will instantly think Harry Potter because it's a school.
VF: But it's not really like that.
AF: Because the owner of the school does not announce they are a magic school. So not every student knows they are there for that reason. It's great.
BC: How did you get the chance to work with comics legend Evan Dorkin?
VF: I had worked on a personal project, a Frankenstein (Frankenstein 1921) thing that never saw the light of day. I just did it; I got all these pages out of unused material. Andy and I were at Heroes Con and had the original art out, and it had a lot of art deco-horror feel to it. And he really responded to those pages. He said, "do you want to work on something?" We kicked around ideas for two years before we were both free at the same time.
BC: How fast is Evan churning out pages for you to illustrate?
VF: He's really fast. He has had a backlog of the stories for these characters for so many years now; I think the difficult thing is for Evan is actually editing down into 20 pages. He is fast.
AF: Which is one of the reasons that we pushed for more pages, was to get more story.
VF: He had originally written five issues, and when they gave us four he kind of panicked and tried to amend that. I'd say he writes an issue in a few weeks.
AF: We usually have between 20 to 30 days to turn in the art.
VF: Andy and I actually did a lot of the artwork together — he's not just the letterer. He really worked his butt off on the layouts. Whenever I would run into issues, he would always be there to help me out with stuff. It's sort of a mishmash.
AF: With the fourth one, it actually actually got to the point where, there are pages I did, there are pages you did — we're really melding so it looks like all one hand, all the way through.
VF: You've got some pencils that I did finishes on, right?
AF: Yes, but you've got all the finishes, then I do the color blocks, and then she does the final colors.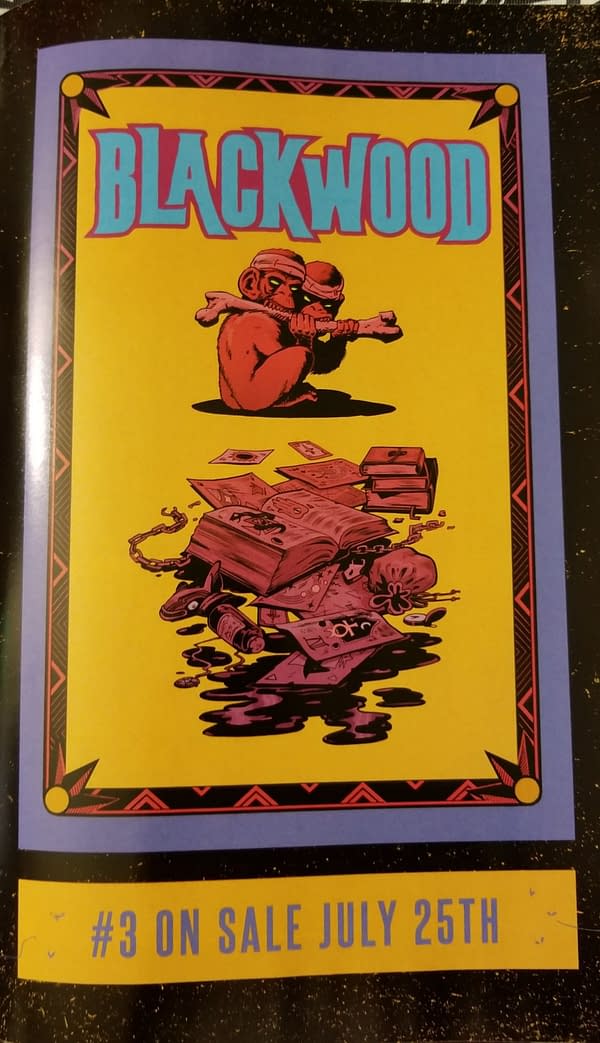 BC: Can you tell me about your inspirations for the characters designs? Are they based in real life or anyone you know?
VF: Not on anyone we know. Evan had written Dennis as being a really short kind of nervous guy, and the way that I had him in my mind was actually the opposite of that. Someone who was taller than everyone. The kind of kid that when he was in high school he was already 6'7" and felt really weird about it. I really like the idea of him being really shy, he looks like a jock. And I like that balance with Wren's incredibly abrasive personality. I really pushed to make Dennis the way he is.
AF: The real inspiration is probably Will Eisner, which is where the more cartoonier aspects come out.
VF: I love Eisner. It's kind of hard to get away from that when you want to do horror and still go cartoony.
BC: I really dig the two-headed monkey in issue #2 that comes to life, so are we going to see a lot more monsters and creatures, or can you give me a hint of what Howard is made of?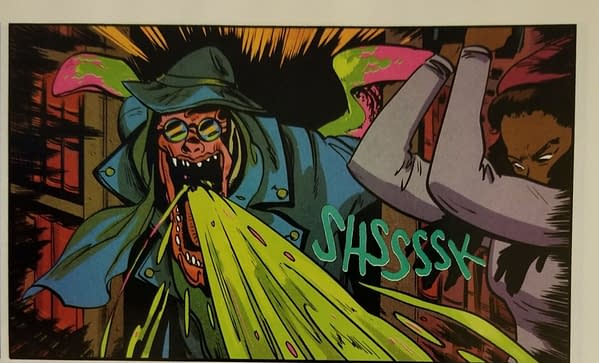 VF: Howard was very, very cool. He is a weird amalgam of bones and appendages. We had kind of modeled him on — you can see there a lot of bug references. We looked at a lot of bug anatomy — how wings fold into each other. So he's got some crazy stuff under his hat.
AF: He's going to play a big part coming up.
VF: Andy designed the invisible man getup.
AF: It's actually the Invisible Man and Mad Love, with Peter Lorre.
When I ask Andy to look back over his long career as an Artist and give me the piece that he is most proud of, he doesn't hesitate for when second.
AF: This one. Absolutely. Blackwood. When they [Evan and Veronica] started talking about this, we were having dinner. I got more excited about it than anyone at the table. There was no way I was not going to be a part of this.
VF: Andy has such an amazing story because he has done so much amazing work, but it has been hidden for such a long time. He would work in the DC offices, fixing hands, and he was a storyboard artist at Warner Bros. Animation for so many years. He studied under Will Eisner, and he was a friend of Jack Kirby. So many cool and secret things that you [Andy] couldn't put your name on. It makes me sad.
AF: Veronica has had an amazing career, and a lot of the stuff I would help you with little things. We would often work together on something, but this is the first time we said "Hey. Let's actually work together." It makes it better.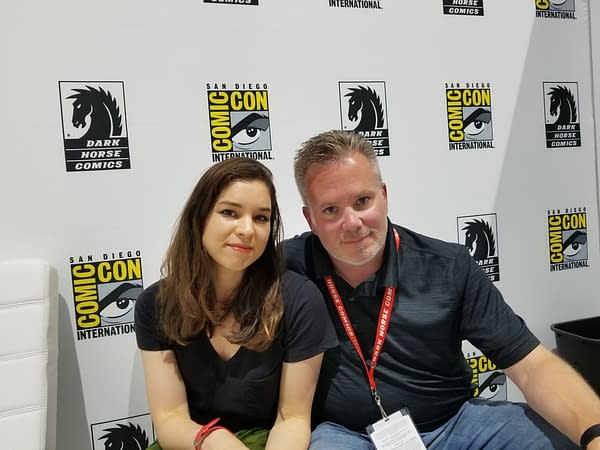 BC: Veronica, who do you like better: Archie or Reggie?
VF: Reggie.
BC: What comes next after Blackwood is finished — more Blackwood?
VF: We would like to do lots more of Blackwood, but if we don't we actually have a couple of projects we'd like to do. Andy is a really great storyteller.
AF: We have a couple of publishers that have asked us about some things. We have a pretty good lineup, but I've got a feeling there is going to be more of these.
* * * * *
Blackwood #3 from Dark Horse Comics comes out July 25th.
While you are waiting you can follow Veronica on Twitter @itsveronicafish and Andy @andytfish.
Tell them Bleeding Cool sent ya.