Is Image Comics Pioneering A New Gilded Age Of Comics?
Now that we're seeing The Department Of Truth ascend to the level of The Walking Dead, the publisher's outdoing what many of us pegged as the "Image Renaissance" back in 2013/2014. Back then, we saw a few series take off, and new creative teams come over to Image from DC and Marvel, but the growth back then—though exciting and unusual for the marketplace—was nothing compared to the way Image Comics' titles are blowing up left and right this past year. It's not just a couple of titles at the very top anymore. Image has added the likes of Nocterra, Geiger, Crossover, Spawn, The Scumbag, Undiscovered Country, MOM, Sweet Paprika, and more, all launching well over 80K, with the likes of Stray Dogs and Haha also majorly outperforming expectations.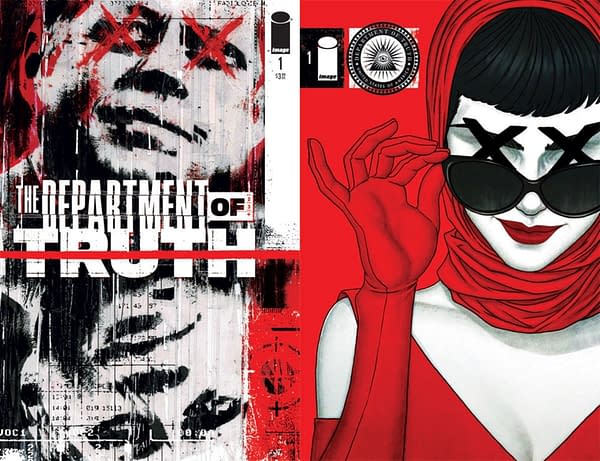 This is not just an Image Comics story, of course. Boom Studios with Something Is Killing The Children and BRZRKR is experiencing something similar, with We Only Find Them When They're Dead, Once And Future, and others playing a similar game. And you are seeing other jumps playing out with the likes of IDW, Vault, Black Mask, Behemoth Comics, Ahoy, and more. It's just that Image Comics is managing to do this more than anyone else, and more consistently right now. However, Boom Studios is clearly on their tail.
In fact, compared to 2013, Image has launched 10 titles with orders above 50,000 copies in 2021 compared to only 6 hitting that sales tier during that year, with four of those clocking in at over 100,000. Given that 2020 started with some predicting last year as the year Image was finally surpassed in market share by either Boom or IDW, it's been interesting to watch as post-lockdown, Image emerged stronger than any point since its 1990s heyday.
A word of warning, some of this has been fuelled by speculators believing that every issue 1 of every Image series has the potential to explode in value when made into a TV series or film, and they have a point. And retailer exclusive covers also have a tendency to artificially inflate sales, as do Image's returnable promotion for launch titles. But what we are also seeing is less of a drop-off for subsequent sales and print runs rising issue to issue, which indicates something else is happening.
Especially considering the performance of speculator-unfriendly OGNs like Reckless, Pulp, Dracula Motherf**ker, Fire Power, and Bog Bodies are all topping the sales charts in their own right. Longer-running series like Ice Cream, Killadelphia, Die, and The Old Guard have had escalating orders from issue to issue. We'll have to start inhaling deeply every time we rattle off everything Image has a claim to fame for.
Image Comics titles were the top three titles in Diamond Distributors' 2020 trade charts according to the end of year reports shared with each of Diamond's client publishers a few months ago. Fire Power, Vol. 1: Prelude by Robert Kirkman and Chris Samnee trade paperback edition with nearly 23,000 units sold last year alone, Pulp hardcover edition by Ed Brubaker and Sean Phillips with over 20,000 units sold last year alone, and Reckless by Ed Brubaker and Sean Phillips with over 18,000 units sold last year alone, accounted for the top three titles with most units sold for the year. This is a particularly impressive feat for Reckless, which was only on shelves for a mere month before the year-end units sold were tabulated. Image is a leading publisher in the book market, and Diamond's year-end trade units sold report reflects this strength. Indeed, with Image Comics the only major comics publisher still exclusive with Dimond Books for the bookstore trade, they will be doing more to keep Diamond afloat as a distributor than any other comics publisher right now. Walking Dead saved Diamond a few years ago, now The Department Of Truth is doing the same now. The return of Saga is very much anticipated by industry bodies.
The publisher has also seen more critical acclaim in the past year than it's ever seen previously, sweeping the Best New Series category in Eisner nominations last year and the Best Writer category in this year's nominations—which totalled out at nearly 30 nominations this year alone…
That's not even mentioning the numerous IP that has been optioned and in development (and it says something that when talking about a publisher, we haven't even got to that yet) even if Image doesn't see a penny of that money. We've heard insiders at Image talk of Invincible's successful Amazon Prime adaptation boosting sales in the manner they saw back when The Old Guard movie dropped on Netflix – the big difference being that Amazon could instantly see it on Amazon's own books sales. There's more Image coming to Amazon Prime soon, too; the Paper Girls adaptation filming has been underway on location in Chicago with Ali Wong joining the cast.
There's more to come as well. Originally 2020 would have been the Year of The Image Comics Imprint, with a number of high-profile creators launching curated lines with their own selected creators. Scott Snyder would have had one, James Tynion IV would have had one, and, yes, Warren Ellis would have had one – and that would have led the approach. The pandemic scuppered the launch, and clearly, Warren Ellis' imprint wasn't going to happen either. Some projects and creators will have gone elsewhere; might this still be restaged in a different form in 2022? There were also plans for a more expanded Image Comics superhero universe with Radiant Black and Crossover taking the lead, but that was also postponed. The building blocks are there to restage it, however.
So what do we call this? Is this the Image Comics Gilded Age? And will 2022, to mix metaphors, cement it?