Tom Taylor has been writing excessively brutal Injustice comics for DC Comics since 2013, but what if Taylor were allowed to apply his bloodthirsty pen to the regular DC Universe? That's just what's going to happen in the near future, according to Taylor himself. It started with Taylor's response to Newsarama's Chris Arrant, who asked comic creators to post a fact readers probably didn't know about them. Taylor joked: "I'm not Tom King," leading to a snarky response about King's propensity to kill off characters in comics such as Heroes in Crisis.
Thank god one of them is enough. There'd be no DC heroes left if there were two considering the rate at which he's killing them off.

— Shawn Warner aka The Midnight Wolfman (@shawnwarner629) December 11, 2018
But Taylor cast doubt on his own "I'm not Tom King" proclamation in his response, in which King hinted that fans who are "attached to characters" may want to avoid an unannounced project coming up after Taylor's work in Batman Annual #3, which hit stores today.
Um… have you read my stuff?
Also, if you're attached to characters, you may not want to read the thing I'm doing for DC after the Batman annual. https://t.co/sQoq9EHT5d

— Tom Taylor (@TomTaylorMade) December 11, 2018
So is Tom Taylor planning to kill the DC Universe? It certainly seems so. And it's no surprise, considering Taylor's motivation is explicitly to make comic book fans cry.
This is pretty much my goal. Cheers. https://t.co/xGumjpwnqL

— Tom Taylor (@TomTaylorMade) December 12, 2018
R.I.P., DC Universe.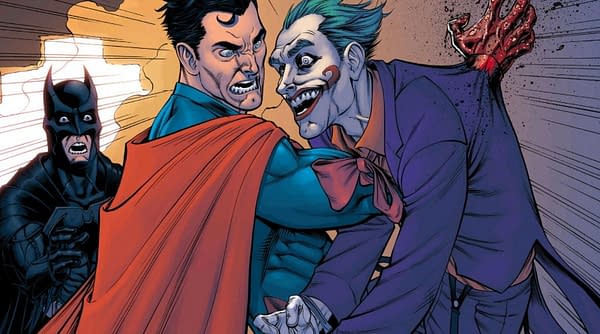 Enjoyed this article? Share it!