It's a Small World With These Mary Blair Concept Paintings
It's a Small World is one of the most iconic rides in Disneyland. Walt Disney himself was particularly excited about this boat ride, which takes guests around the world as dolls sing to you. With the catchy Sherman Brothers song playing on repeat throughout the whole ride, this pleasant trip around the world usually puts me in a good mood when I get off. Disney legend Mary Blair came up with the concept of art, and her style and influence are one of the best things about this ride! If you've ever visited the Disneyland Resort in Anaheim, you've probably seen some of her It's A Small World concept art on display!
Unfortunately, none of us can get out to see the displays at the Disneyland Resort — as it is closed due to the COVID-19 pandemic. And some of us may never be able to see Disneyland in person! But what if you could bring a piece of historic magic to your own home? Heritage Auction House has two pieces of Mary Blair's It's a Small World concept art up for auction. These rare, one of a kind pieces are perfect for every Disney fanatic you know — even if that fanatic is you!
It's a Small World Concept Painting (1964/66). Blair created many of the ride's concept art for the 1964 World's Fair in New York City, to coincide with the opening of the exhibit. When the attraction moved to Disneyland, she created more concept art. This stunning gouache painting clocks in at 20" x 15". There are pinholes in the corner, as well as minor handling. But this would be the perfect centerpiece for any room in your home!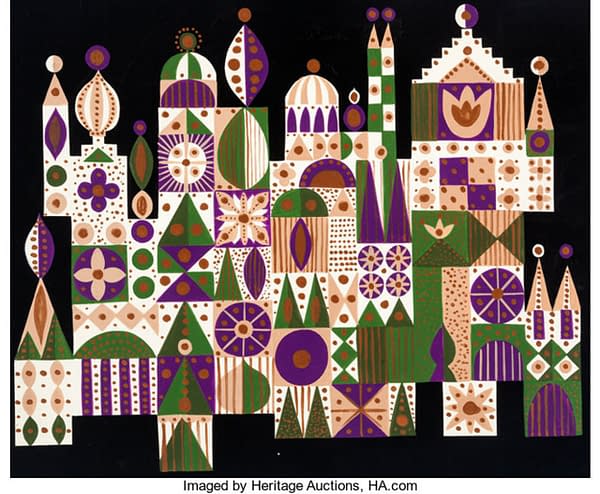 It's a Small World Concept Painting – Arctic children (1964/1966). This concept art depicts two children in the arctic, smiling as you pass by. Blair created the designs for 300 some children from across the globe that sing the iconic earworm as you make your way through the countries in your little boat. This piece measures in at 13" x 11", and it does have pinholes in the corners. This would be a perfect addition to your home!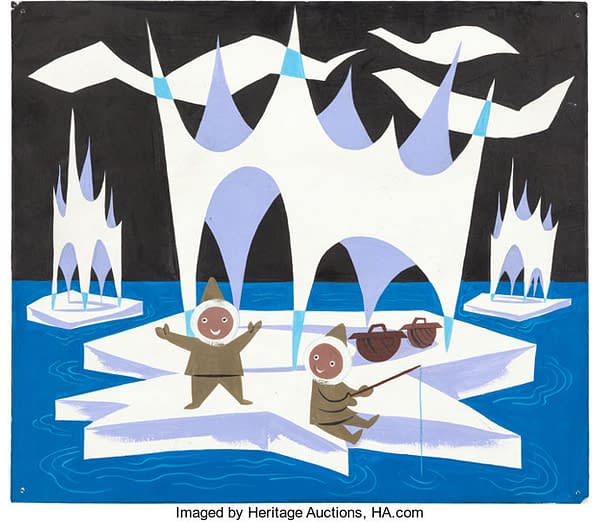 Are you interested in bidding on these hard to find items? You will need a Heritage account, but don't worry; they're absolutely free! Good luck and happy bidding!