It seems like pretty much every comic book character has an Old Person version these days. You've got Old Man Logan, of course, and Old Woman Laura, Old Lady Harley, Ice Master (essentially Old Man Iceman), and now, Old Man Quill, a future version of Star-Lord launching his own series next week at Marvel. Exploring this more mature future version of Star-Lord allows the chance for Marvel to explore new stories with characters that have grown over the course of decades, so of course this comic is pretty much a standard Guardians of the Galaxy book where the characters have beards or different haircuts. At least, in the preview. Perhaps a new twist awaits.
For now, we see the Guardians facing off against the Brood, whom Drax finds tedious, but whom Rocket has developed a certain appreciation for.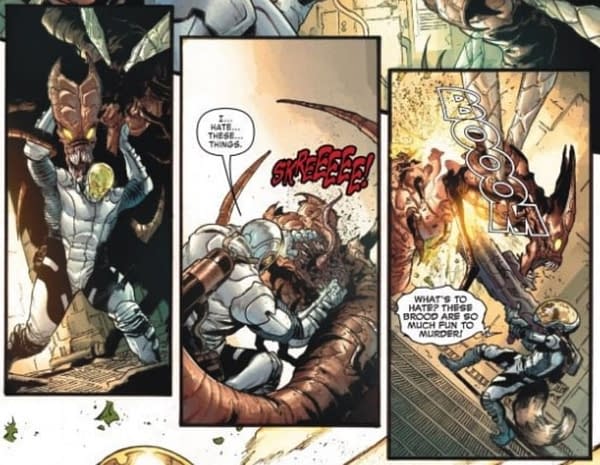 The Guardians of the Galaxy unite for one last mission in this mighty Marvel maxi-series, in stores next Wednesday.
Multiversity earned the EX-X-XCLUSIVE preview of this one through dutiful service to their lords at Marvel, but we've copied and pasted it below. Don't mind the watermarks.
Old Man Quill #1
(W) Sacks, Ethan (A) Robert Gill (CA) John Tyler Christopher
THE FAR-FLUNG SAGA OF THE ONCE AND FUTURE STAR-LORD BEGINS!
Meet Peter Quill. He used to be Star-Lord – you know, the legendary outlaw – but it's been quite some time since he's gone by that name. Taking over for his father as the Emperor of Spartax, Quill put the life of spacefaring adventure behind him for one of leadership and responsibility. Quill grew up. But things didn't go as planned. Decades have passed, and Peter is haunted by tragedy. Down and out, Quill's existence means nothing…until the former GUARDIANS OF THE GALAXY drag Peter out of his funk for one last mission! The heist of a lifetime – and Quill's harrowing quest for redemption – begins here!
Parental Advisory
In Shops: Feb 06, 2019
SRP: $3.99
Enjoyed this article? Share it!