Jeff Lemire Reveals The Next Thousand Years Of Bloodshot Reborn (SPOILERS)
Valiant's big Book of Death event has touted revelations and Easter eggs galore for the future of the Valiant Universe, and has so far delivered flash-fowards to prominent character deaths and the debut of more than six new characters in last week's issue #1 alone.
Well, Jeff Lemire – writer of Valiant's primary Bloodshot Reborn ongoing series – seems to have embraced that premise wholeheartedly for his contribution to the event in today's Book Of Death: The Fall of Bloodshot #1 – the first of four planned one-shots foretelling the future escapades of Valiant's most prominent characters.
And when we say future, we mean far future. Far, far future. From the looks of things, Jeff Lemire might just be planning to write Bloodshot Reborn for the next thousand years…
SPOILERS AHEAD!
After a brief introduction set in between pages of the modern day Bloodshot Reborn series, we jump ahead to an indeterminate time in the future to meet pirate Bloodshot…or, as he's currently known, "Captain Red-Eyes." And joining him on the high seas, but of course, is Valiant's immortal rake/roustabout, Armstrong – last seen starring in the pages of Archer & Armstrong. Bloodshot and Armstrong, now buccaneer buddies, are raiding a chainsaw-wielding rival by the name of Rampage – making his very first appearance in the modern Valiant Universe. (Longtime Valiant readers will recall Rampage as a 90s-era Bloodshot villain, unheard from since.) Then another time jump… This time to Bloodshot's extended stay among the Inuit peoples of the far north. (Jeff Lemire is Canadian after all.) Plus: a casual reference to Quantum and Woody's ever-popular Goat! Only to be adducted by aliens… …for an extended stay in deep space. One that would seem to anticipate the reappearance of another Valiant favorite from the company's original era, the Psi-Lords…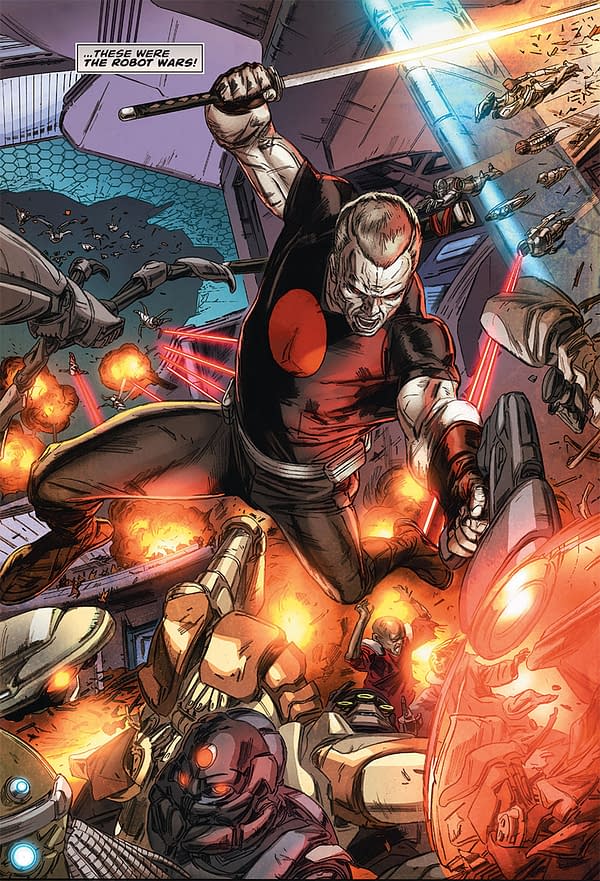 Even farther into the future…Bloodshot battles an army of robots. Could Valiant's "Robot Wars" be coming soon to store near you? Alien warlord Bloodshot… And then the coup de grace…as glimpsed last week in Book of Death #1…Bloodshot versus dinosaurs! Until, at last, we reach old man Bloodshot. Many thousands of years, his nanites slowly depleting, we finally witness Bloodshot's apparent death in an unknown future city… We won't spoil the final page here, but, suffice it to say, he's not alone. And his final company might just be the Fall of Bloodshot's biggest surprise of all..