Jem and the Holograms Dimensions #2 Review: Karaoke Battle
Issue #2 of the ongoing Jem anthology — Jem and the Holograms: Dimensions — is out and bringing another pair of stories for any eager Jem fan.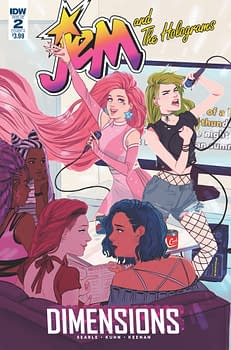 First off is "Face Off", written by Sarah Kuhn ( Heroine Complex ) with art by Siobhan Keenan. It's a story with a fun, fitting premise. Both the Holograms and the Misfits end up at a house party where karaoke is taking place and end up in a vocal battle. The girls duke it out, trying both underhanded techniques and sheer force to win the coveted title of karaoke champion.
Despite the slam-dunk idea and the large cast of characters at their disposal, this story falls more than a little flat. Keenan's art is beautiful, but not particularly well suited to a comic like Jem and the Holograms, which is arguably known for how diverse and dramatic each girl looks. In "Face Off" the bands don't feel like their normal, vibrant selves. Even their outfits are toned down with a more modern style that shies away from the '80s influence.
Kuhn's idea starts off promising, but traps itself in a predictable formula that never strays too far from the core idea of the Misfits and Holograms stealing the microphone back and forth from one another. It plays out more like a tug of war than the epic battle it could have been. That doesn't make it a bad story; simply one that never quite finds its footing. Kuhn and Keenan still offer a beautiful, fitting Jem story. Just one that could benefit from a bit more action.
Sarah Winifred Searle writes and illustrates our second story, "Stargirl", focusing on Shana's rush to finish her designs in time for her final.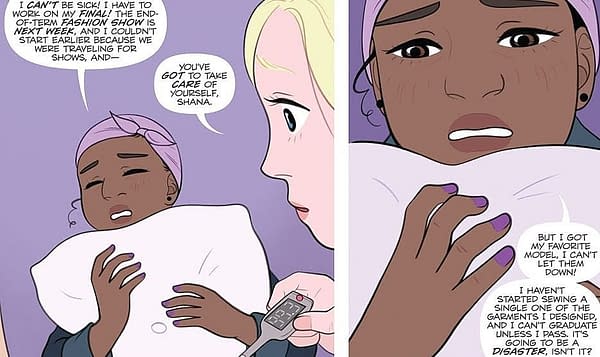 The girls are much more recognizable here, even if their rockstar fashion is traded in for pyjamas. Given that this is a Shana story the rest of the Holograms don't make much of an appearance, but they're there when it counts. Aja, Jerrica, and Kimber do their best to help and support their sick sister with varying levels of success. The family vibe is strong creating a feel good issue that warms the heart.
With the help of fabulous model Andre, Shana does eventually get one of her designs on the runway. Despite the happy ending, "Stargirl" realistically sheds light on the stress that leading two careers brings. Searle allows Shana to doubt herself, to voice her frustrations, and find support in her family and friends. It's a touching issue that encapsulates many of the wonderful things about the Jem universe.
Issue 2 of Jem and The Holograms: Dimensions has its ups and downs, but it's still a solid issue that satisfies the craving for more Jem comics. While I don't recommend it as heavily as issue 1 to new fans, anyone who loves the Holograms should certainly grab this book. The enjoyment that reading "Stargirl" brings is more than worth the price point, and "Face Off" still has an energetic vibe that's fun to read.
You can pick up Jem and the Holograms: Dimensions #2 now for $3.99.