Writer's Commentary: Jeremy Whitley Talks Vampirella #8
Dynamite has sent us a new writer's commentary from Jeremy Whitley on Vampirella #8. The issue has a cover by Philip Tan and interior art by Andy Belanger. Page 1:
Hey again, everybody! It's Jeremy! Welcome to my first full issue here with Mr. Andy Belanger on art. Here comes the goods. Starting your run at #8 is an interesting experience because you have to make sure to cover everything that happened and you're going to reference in the issue, but you don't want to bore the continuing readers. I did my best here to hit every beat that matters to this issue in the first page. Hopefully it gets you ready for– Page 2:
Okay, yes, I blew up both my heroines before the second page, but please trust me, I can fix this. At the very least, get ready for a scene full of bloody vengeance!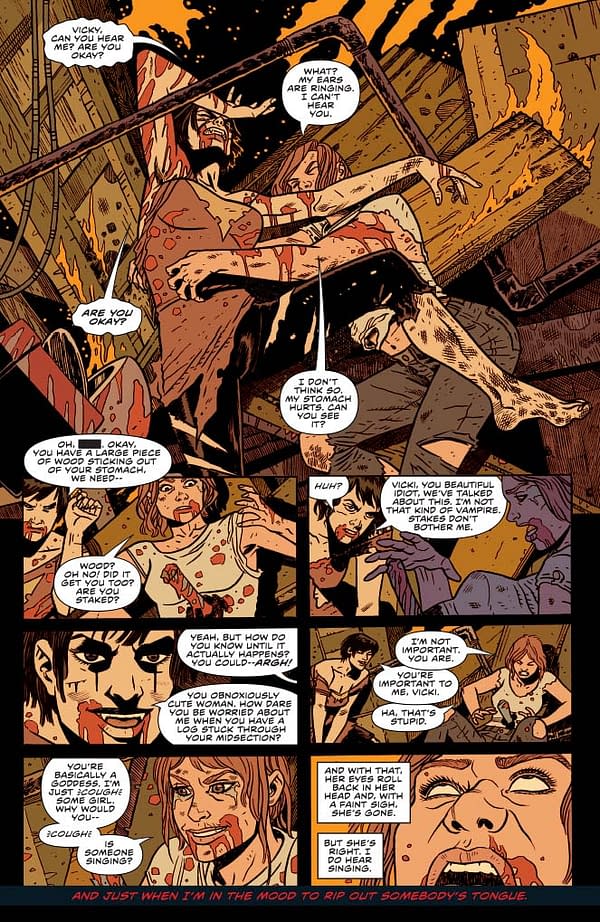 Page 3:
Enter evil biker gang. Can you tell that Andy likes motorcycles? Look at this angle of the first panel. He's forcing himself to draw the most of those motorcycles he can possibly draw. You ask some artists to draw cars and motorcycles like that, they'll punch you. Page 4:
Commence the extreme violence. I feel like this might be the first real clear picture of who my Vampirella is. How does she deal with rage? She drops a few F-bombs, gets real sarcastic, and wrecks dudes' faces. Affection she has trouble with. Destruction, not so much.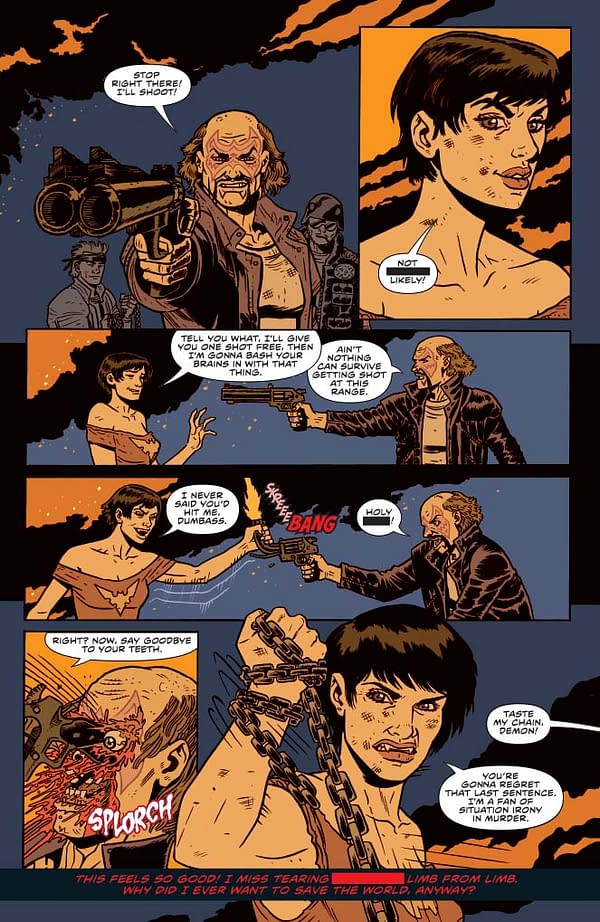 Page 5:
I like to think that when Vampirella calls you "sweetheart" that is the surest sign in the universe you are about to die. Also, I want to read the comic about Vampirella and her good friend, Bruce Lee. Page 6:
The spurt of blood in that second panel is what really does it for me. Then holding it out like, "Did you see what I'm holding? Come on! What are you going to do to me?
Page 7:
Hey, comics scholars: there's an interesting term paper in here somewhere about what sort of devastation this would actually cause. I mean, obviously bad stuff, but I want some numbers! I expect your papers on my desk by next New Comic Book Day.
Page 8:
See, I told you to trust me. I told Andy we should silhouette this last panel, but trying to get him to draw less gore is harder than you think. Also, now you know what zombies smell like, if you ever wondered.
Page 9:
To be fair, it's very difficult to find a good fashionable t-shirt that fits when you're living in an apocalyptic wasteland.
Page 10:
I feel like this is a hard and fast pop culture rule, when you find the thing the chatty bad guy doesn't want to talk about, that's when you know you're asking the right questions. Also, I hope you all appreciate how sexy that first panel is. Put it on your calendar now, in 1,000 years tighty whiteys are making a comeback. So says the prophet, Andy Belanger.
Page 11:
I like how Lee's colors give this scene a feeling of warmth even with all the stuff we know is going on outside. It would probably be a little nicer if I hadn't crammed it so full of words, but you know how it is. People talk.
Page 12:
All I can figure is Andy and I have done the same thing wrong to someone at some point, because I know I have gotten this look Vampirella is giving Vicki in panels 1 and 3. I'd be worried about that duffle bag too if I were Vicki.
Page 13:
Now that's real horror in comics. Look at that grimace!
Page 14:
The return of last arc's star character! Also, the invention of the nickname I can already hear fandom splitting over. It's okay, you don't have to like it. Even Vampi's on the fence about it.
Page 15:
God, I love this image. Good job, Andy. That's our Vampi!
Page 16:
I like turning the tables on Vampirella a little bit. I think you get into the comfortable "strong female protagonist" mindset and you forget that, strong or not, everybody has things they can't … or maybe shouldn't do. And Vicki gives some thoroughly convincing arguments here. I like that she can keep Vampi on her toes.
Page 17:
In case you didn't catch it, the house they stopped in earlier had a painting easel with paints. That's Vampirella's own custom work. When you're as old as she is, you gotta look out for your brand.
Page 18:
And now, all of your good feelings are gone and it's time for things to get really bloody. I love how well this comes together. Really, hats off to Andy and Lee for making this work like a charm. Great stuff, guys.
Page 19:
Now that's what I call a post-apocalyptic highway scene.
Page 20:
Funny note: I got them to add in "Oh" "holy" and "what the" after the first lettering pass. Originally, that was just a balloon full of black squares and I felt like it wasn't clear what was happening.
Page 21:
I feel like this came together nicely. I wanted readers to get a feel for the chaos of the whole thing and I think Andy pulls that off very well.
Page 22:
I present my masterpiece. No, not Vampirella shouting, "My turn, Mfers!" but the "Next issue" caption. COMIC BOOKS!
See you next time, dear readers!