At the Marvel Fanfare panel at New York Comic Con earlier this weekend, Marvel Editor-in-Chief C.B. Cebulski addressed what he's claimed is his top wishlist item: getting John Byrne back at Marvel. Talk of Byrne's return has reached a fever pitch since the pair had breakfast together and Byrne started posting an X-Men fanfic comic on his Byrne Robotics forum. There were even rumors, squashed by Bleeding Cool Rumourmonger-in-Chief Rich Johnston, that Chelsea Cain's Vision comic was canceled to make room for one by Byrne.
At Marvel Fanfare this weekend, Cebulski said that while Marvel hasn't formally discussed a project with Byrne, the door is open for his return and, Cebulski seemed to imply, the ball was in Byrne's court.
However, Byrne sees things slightly differently, responding to a question about bringing his X-Men comic to Marvel and brought to us by the John Byrne Says twitter account:
…I've been bouncing emails back and forth with CB. Unfortunately, he has, himself been bouncing all over the place, this being convention season. Ah, for the Good Old Days!…

— John Byrne Says… (@JohnByrneSays) October 7, 2018
NotJB: There ya go @bleedingcool and @CBR, next time it's a slow news day, you have a quote from John saying he would be working at Marvel if CB shook his hand ;) Maybe also find out if it's true Joe Quesada banned John from Marvel because of what John said when Joe's mom died.

— John Byrne Says… (@JohnByrneSays) October 7, 2018
Why wait for a slow news day?
NotJB: When she died, Joe's book got delayed because he was obviously busy and unable to draw. John made comments about him not being professional and if he was, her death wouldn't effect the book being published. Dave Cockrum wrote that Joe banned him from Marvel for that.

— John Byrne Says… (@JohnByrneSays) October 7, 2018
There you have it folks. The saga continues…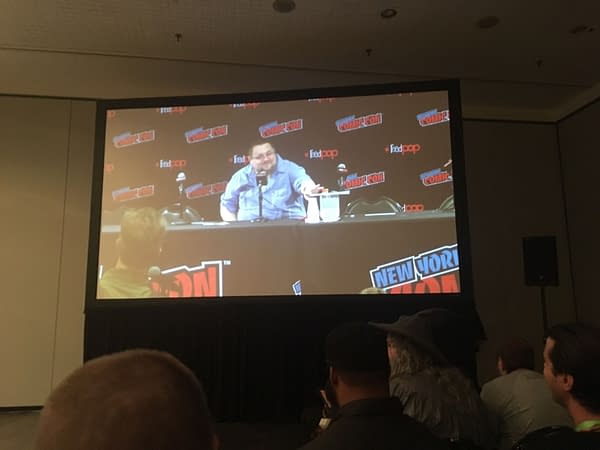 Enjoyed this article? Share it!