Is John Constantine Talking to Dan DiDio About the DC Timeline in Sandman Universe: Hellblazer Special? (Spoilers)
Earlier, we looked at how today's Sandman Universe Presents: Hellblazer brought a new swear word to the DC Universe. But it may be bringing a far more insidious beast to the Sandman world. That of the dreaded continuity. Of contflapsinuity as we should all now call it.
As Si Spurrier Marcio Takara and Cris Peter kickstart the new wave of Sandman Universe titles. And set up a place for that to all take place within, Such as a multiverse of parallel realities, alternate words and that, which can't possibly exist in a John Constantine world.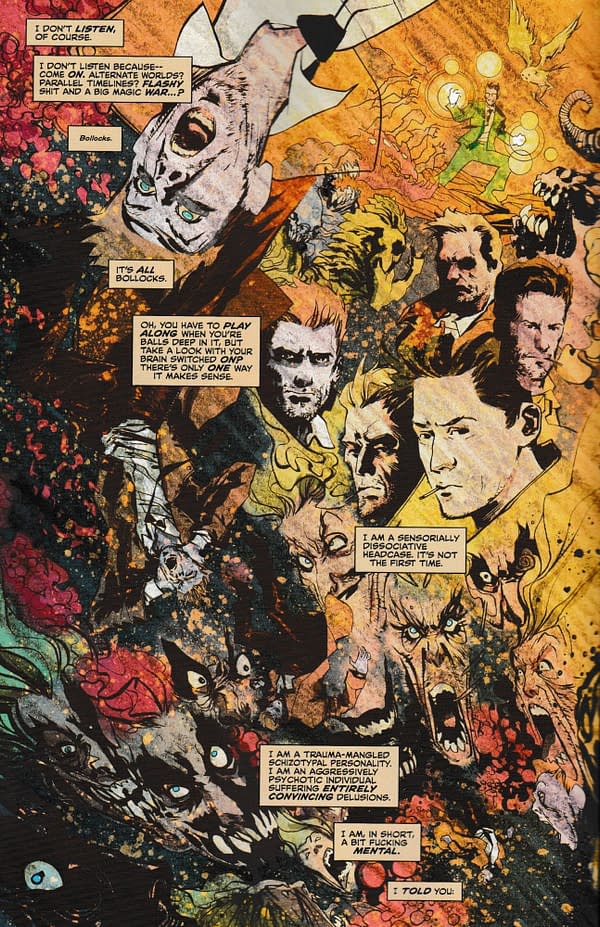 So the Occam's Razor that any such experiences he may have had in this field are down to him being a bit loopy. As he tries to make sense of his various contradicting continuities from Vertigo days, DCU days, Black Label days, Sandman Universe days and everything in between. From Swamp Thing to Books Of Magic to Justice League Dark, he's getting close to creating his own timeline to go alongside DC Comics' recent attempts… which do mention him at some points.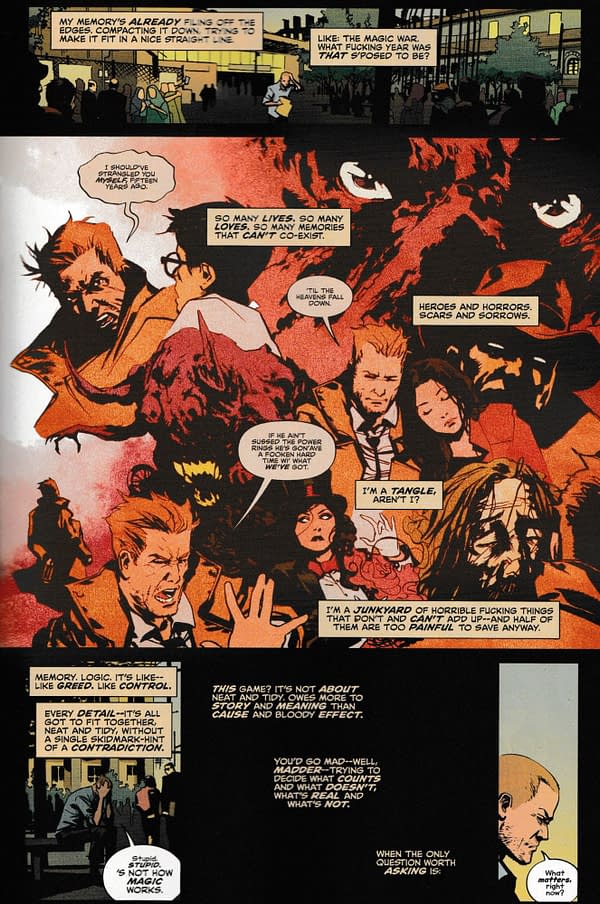 'You'd go mad – well, madder – trying to decide what counts and what doesn't, what's real and what's not. When the only question worth asking is what matters right now? I mean, is he talking to Dan DiDio, DC Publisher, who has been talking about doing that a lot of late?
As he says,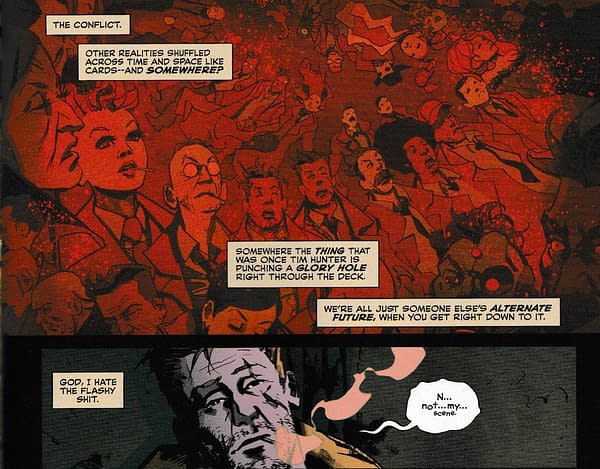 'We're all just someone else's alternate future when you get right down to it.' Clearly the revolt starts here, just as long as he stays clear of any of that alternate future nonsense…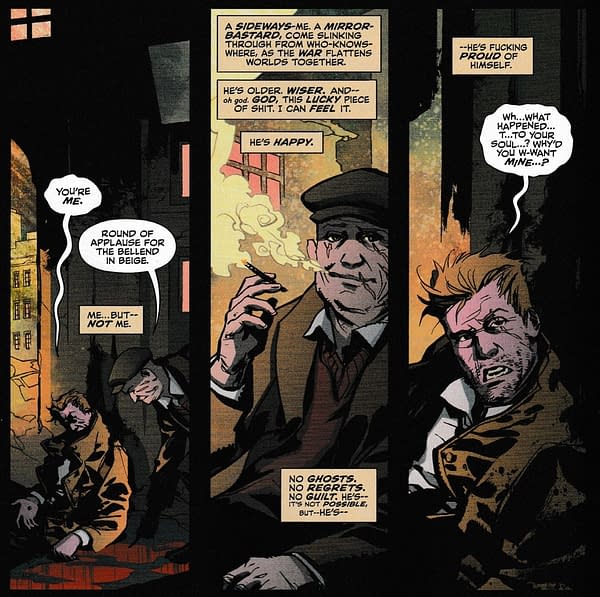 Damn it. Say, this couldn't begin a new Twilight Of The Superheroes, could it?
Published today…
SANDMAN UNIVERSE SPECIAL HELLBLAZER #1 (MR)
(W) Si Spurrier (A) Marcio Takara (CA) Bilquis Evely
The second year of the Sandman Universe begins with the long-awaited arrival of one of DC's most iconic characters…John Constantine, Hellblazer!
He's cheated death and damnation more times than he can count, but never like this. Long ago, in the crucible of a magical war waged across countless futures, Constantine was murdered by an all-powerful adversary: a twisted version of Timothy Hunter, bloated with evil.
But over the past year strange forces have conspired to restart Tim Hunter's tale, and somehow-amid sorcery, insanity and secret agendas-this older, wiser, wilier shade of Constantine has been dragged back with it. Unlike young Tim, John remembers every second of a life that went very, very wrong. Now he must ask himself why he, the last person in the world to deserve a second chance, has been given one. Is John Constantine here to put Tim Hunter on the right track and avert a terrible outcome? Or is it because he's the only person in existence with the guts to do what REALLY must be done? After all, he's a nasty piece of work, chief…ask anybody.
This oversize one-shot sets the stage, and is the perfect jumping-on point, for a new era of Sandman Universe tales beginning in November…and is the official start of the strangest chapter yet in John Constantine's long life!In Shops: Oct 30, 2019
SRP: $4.99