Havill & Travis is a fine art and photography gallery based in Primitivo, Birmingham City Centre. And, as part of an exhibition of the work of local comic book creator John McCrea, of Hitman and Dicks fame, they are hosting a series of free comic book artist workshops with McCrea. The first happened last week but there are still two more to run, one on the 18th of June, the other on the 24th of June, from 1 to 2pm. John will also be talking at the gallery on Thursday the 13th of June between 1 and 3pm.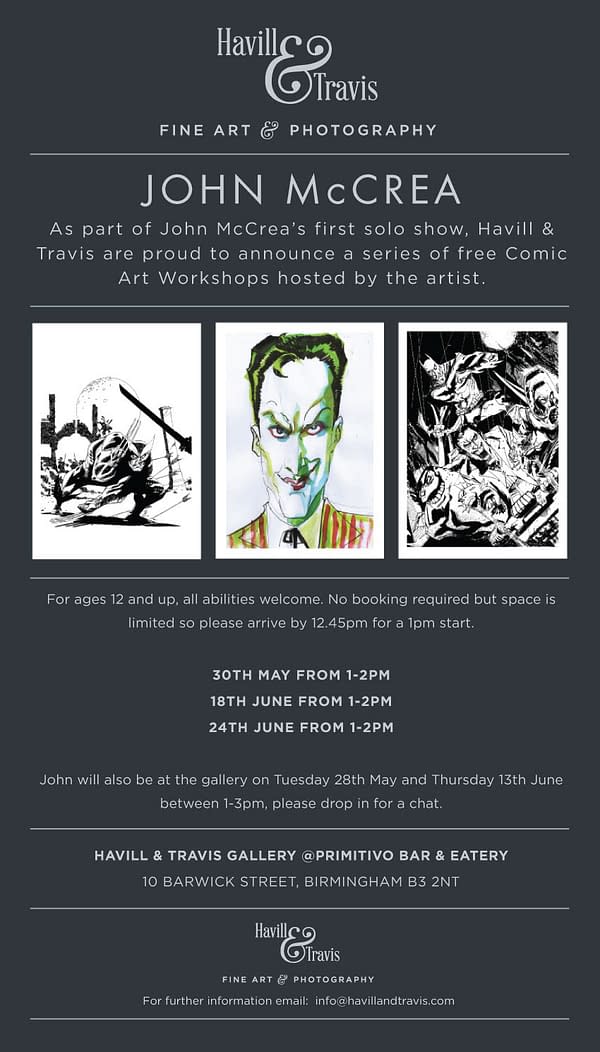 Admission is free. Original artwork and prints are available to buy with prices ranging from £90 to £4,000. Pieces include: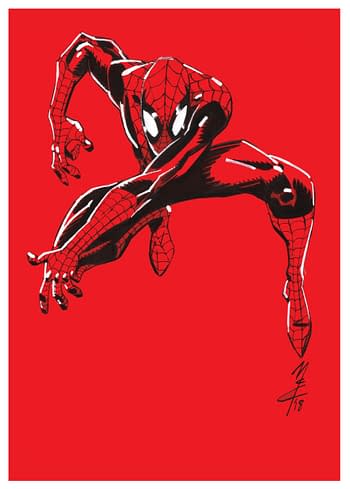 Three new Silkscreen editions of Spider-Man, giclee editions of Poison Ivy, the Joker and Black Panther, previously unseen original art from 2000AD with Judge Dredd in the world of The Magic Roundabout, original artwork from Batman: Legends of the Dark Knight, the Mummy, Warhammer 40K and more.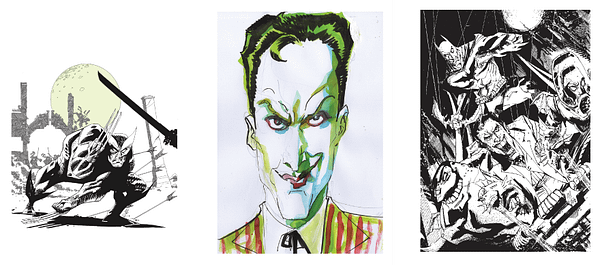 Which happily concides with the release of this John McCrea cover for The War Of The Realms: The Punisher #3, available one copy for every 25 that retailers order of the standard cover…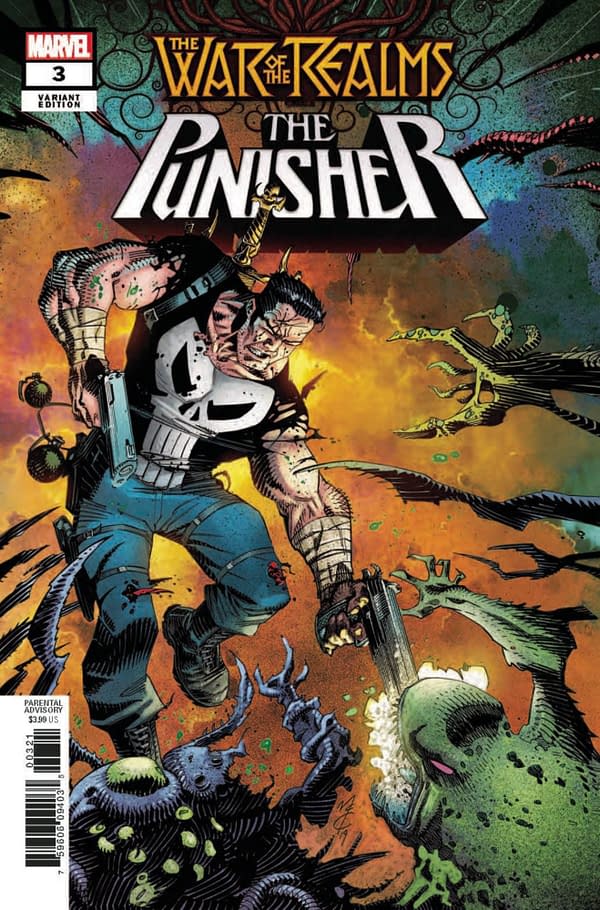 WAR OF REALMS PUNISHER #3 (OF 3) MCCREA VAR
(W) Gerry Duggan (A) Marcelo Ferreira (CA) John McCrea
LIGHT AT THE END OF THE TUNNEL?
• Frank and his crew have almost made it to the other side of the Lincoln Tunnel.
• But his band of killers is shrinking and the monsters keep coming.
• Who will survive to New Jersey, and what will be left of them?
Parental AdvisoryIn Shops: Jun 26, 2019
Final Orders Due: Jun 03, 2019
SRP: $3.99
Born in Belfast in 1966, and resident in Handswroth since the early 1990s, John McCrea has drawn comics for over 30 years. His work has been published widely throughout the world, including with Marvel and DC.
In 1989, after a few years of drawing television and toy tie-ins, he debuted with the political series Troubled Souls, in Crisis, as well as its sequel, the farce For a Few Troubles More, both written by Garth Ennis. He later illustrated the series Carla Allison in Deadline.
He broke into American comics in 1993, drawing Ennis's run on DC Comics's The Demon, followed by its spin-off, Hitman, from 1996 to 2001, on which McCrea developed a versatile drawing style equally at home with goofy humour, action, and subtle characterisation. Hitman issue 34 won the Eisner Award for best single issue in 1999.
Since Hitman finished he has drawn a variety of characters for DC, Marvel, Dark Horse Comics, 2000 AD and others, including Herogasm a limited series spun off from Garth Ennis' The Boys.
On 9 April 2011 McCrea was one of 62 comics creators who appeared at the IGN stage at the Kapow! convention in London to set two Guinness World Records, the Fastest Production of a Comic Book, and Most Contributors to a Comic Book.
In 2012 he started work on Mars Attacks! 50th anniversary relaunch of the ongoing comic, written by John Layman and published by IDW. He also contributed 15 new cards to the Topps MA! Heritage set and exclusive variants for the set.
He also drew Deadpool for Marvel, drew Warpaint (written by Phil Hester) for Strip Magazine and Progenitor (also written by Phil Hester) for David Lloyd's bold new online only publishing adventure Aces Weekly.
He returned to DC briefly in 2013 through their Vertigo imprint for an 8 pager (written by Neil Kleid) for their one shot Ghosts, followed by a Batman short story and a miniseries Section 8, based on supporting characters from Hitman. Section 8 also marked his reunion with Hitman writer Garth Ennis and the team's return to the series.
Since then he has mainly worked on creator owned projects for Image Comics including Mythic, a Jack Kirby inspired fantasy/scifi adventure written once again by Phil Hester.
He has also drawn hundreds of covers for Marvel, DC, Titan and 2000ad including the Punisher, Deaths Head, the X-men, the Mummy, Warhammer, Dark Souls and the Vikings.
Enjoyed this article? Share it!