Spanish comic book artist, Carlos Ezquerra, best known for co-creating 2000AD's Judge Dredd, where he defined the character, has died, after being diagnosed with lung cancer ten years ago.
Born in 1947, Ezquerra started his career drawing westerns and war stories for Spanish publishers before he got work drawing girls' romance titles in the UK. Moving to London, he was headhunted by Pat Mills and John Wagner to work on the IPC title Battle Picture Weekly, before designing Judge Dredd for the 1977 launch of 2000AD. The original launch story written by Wagner and drawn by Ezquerra was vetoed by the board of directors for being too violent and another story ran instead. Ezquerra returned to the character constantly through his career and the Judge Dredd that the world knows is his Judge Dredd.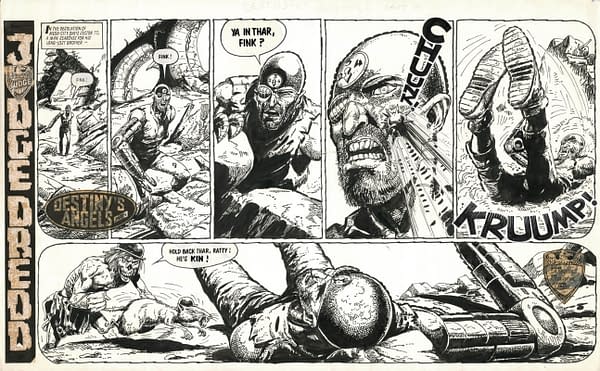 He also co-created sci-fi western Strontium Dog with Wagner for Starlord, which was then merged with 2000AD, where he drew the series for decades and adapted Harry Harrison's Stainless Steel Rat novels. The character Stogie from Robo-Hunter got the full name of Carlos Sanchez Robo-Stogie in tribute to him.
Away from 2000AD, he also collaborated with Garth Ennis at DC Comics on Bloody Mary, Adventures in the Rifle Brigade, War Stories, Hitman and Preacher as well as Just a Pilgrim for Wizard.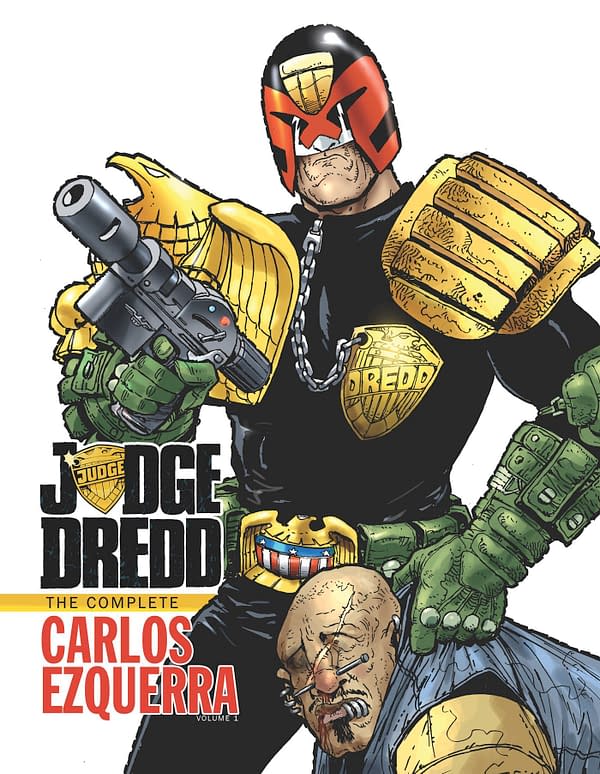 His legacy in the British comics industry is immense and fellow comic creators have been paying tribute. Here are just a few.
Stunned and saddened to hear the news about Carlos Ezquerra. Our thoughts go out to his wife and family.

— Pat Mills (@PatMillsComics) October 1, 2018
Just feeling hollowed out by the news that Carlos Ezquerra has passed away. Between Strontium Dog and Judge Dredd, his work has meant more to me over the years than any other comic artist. I remember how his pages would smell of fine cigar smoke. He was just a lovely man. #RIP

— Andy Diggle (@andydiggle) October 1, 2018
Just heard that Carlos Ezquerra passed away. I'm shocked and greatly saddened. He was a good friend and an immense talent.

— Dave Gibbons (@davegibbons90) October 1, 2018
RIP, Carlos Ezquerra.
I met him some years ago, he was such a nice and kind person. Farewell, master. pic.twitter.com/u1YqJzG75o

— Pepe Larraz NYCC C32 (@PepeLarraz) October 1, 2018
Pretty devastated to hear that we've lost the mighty Carlos Ezquerra. He was a true genius and, more than that, a really lovely man.

— Simon Bowland (@SimonBowland) October 1, 2018
RIP Carlos Ezquerra. The Apocalypse War panels here just capture some fragments of what made him so interesting. https://t.co/FnqRW04pRP

— Kieron Gillen (@kierongillen) October 1, 2018
Very sorry to hear about the passing of Judge Dredd artist/co-creator Carlos Ezquerra. It was a thrill to get to work with him on a cover for our Dredd launch. First time we talked, he offered to make me paella and to put me up if I ever came to visit. I never made it, dammit. pic.twitter.com/HNYcmC4FlC

— Chris Ryall (@chris_ryall) October 1, 2018
Carlos Ezquerra has left us, and I'm gutted – his work was such an inspiration and he was a truly unique voice in comics and more punk than the Pistols.

— Marc Laming eyyyyy! (@monkey__marc) October 1, 2018
… so sad to hear the news about Carlos Ezquerra. We've lost a master. R.I.P.

— jock (@Jock4twenty) October 1, 2018
Carlos Ezquerra's art had a vast influence on my life, and on the lives of most UK people in comics. An undisputed master of his craft. RIP.

— Al Ewing H24B Artist's Alley (@Al_Ewing) October 1, 2018
Carlos Ezquerra was the Dredd artist I started with. Wishing for the best for his family in their time of loss. pic.twitter.com/ppBOuitxQo

— Richard Pace (@rpace) October 1, 2018
I'm really sad to hear Carlos Ezquerra has passed away. He was my favourite comic book artist, I had the pleasure of working with him on some art over the past few years and he was such an amazing guy to work with. His art was the most dynamic and exciting of them all. pic.twitter.com/4OgOHWz8Tu

— Matt Ferguson (@Cakes_Comics) October 1, 2018
Sad news about the Great Carlos Ezquerra ! What a Giant. pic.twitter.com/X0sqpvWltG

— Richard Starkings • Thought Bubble • Ask for Mercy (@RichStarkings) October 1, 2018
ah shit no, so sad to hear of the passing of Carlos Ezquerra – a true comics legend, a brilliant artist and storyteller and one of the best designers in comics- Dredd and Strontium Dog are iconic. Thoughts with his family, friends and fans…

— John McCrea @NYCC artists alley A28 (@mccreaman) October 1, 2018
Very sorry to hear about the passing of Carlos Ezquerra, co-creator of Judge Dredd & Strontium Dog. I'm not sure I can find the words to describe the significance this man's work has had on my life. RIP sir, I salute you. pic.twitter.com/NK3TB7ULXy

— Chris Weston #FBPE (@westonfront) October 1, 2018
R.I.P. Carlos Ezquerra. Master storyteller. Comics artist par excellence. Thank you for everything you showed us. Travel safely. Sleep well.

Four panels from 1982's Judge Dredd: The Apocalypse War by John Wagner, Alan Grant, Carlos Ezquerra & Tom Frame. pic.twitter.com/iDUgg11Xeh

— Colin Smith (@Colin_TBTAMC) October 1, 2018
Enjoyed this article? Share it!