Today is the last day to pre-order two upcoming Archie Comics, Archie #702, in which Nick Spencer promises to really reveal secrets that will change the Archie universe forever or something, and Archie 1941 #5. But, what we look forward to more than Archie's actual comics are the mini comic strips they put out alongside their final order cutoff previews, which is really an exercise in the mastery of the comic form. After all, how many times can you make a short comic strip about to tell people to pre-order comics? Somehow, Archie manages to keep them from ever getting old.
Take this one for Archie #702, in which Jughead bullies Reggie for being too stupid to pre-order right…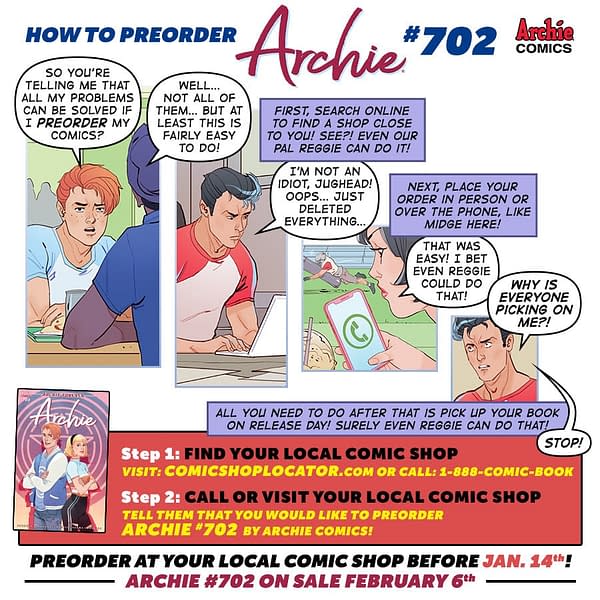 Or this one for Archie 1941 #5…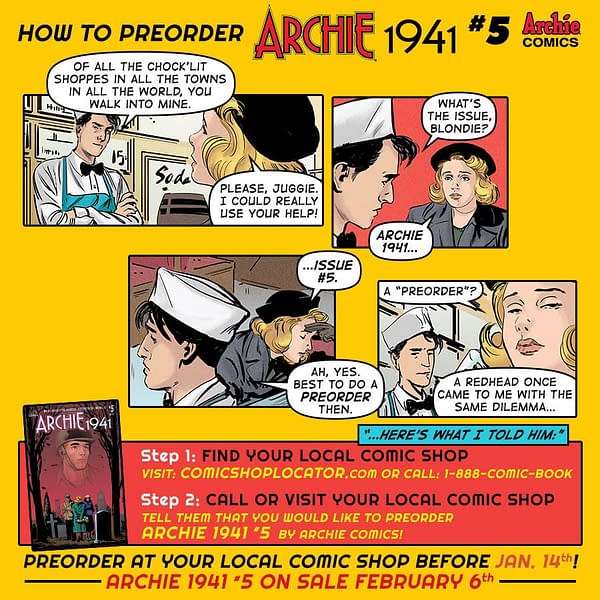 If Archie were to collect these in a hardcover, we'd buy it in a second. Then again, we'd probably buy a book of nothing but formulaic press release quote from BOOM! Studios editors. We're weird like that.
Check out the previews for these two issues below, and for chrissakes, pre-order them. You owe it to Archie for making these comics every week.
ARCHIE #702
"How I Wasted My Summer Vacation!" Pt. 3 – Old secrets and new loves threaten to tear Riverdale apart! The whole town is on edge, and that's before a bombshell hits that will have everyone talking!

Script: Nick Spencer
Art: Marguerite Sauvage, Sandy Jarrell, Matt Herms, Jack Morelli
Cover: Marguerite Sauvage
Variant Covers: Joe Quinones, Michael Walsh
On Sale Date: 2/6
32-page, full color comic
$3.99 U.S.
ARCHIE 1941 #5 (OF 5)
Archie Andrews—MIA and presumed dead! His friends and family—devastated! Don't miss out on the conclusion of this headline-making comic event!

Script: Mark Waid and Brian Augustyn
Art: Peter Krause, Kelly Fitzpatrick, Jack Morelli
Cover: Peter Krause, Rosario "Tito" Peña
Variant Covers: Jerry Ordway, Tula Lotay
On Sale Date: 2/6
32-page, full color comic
$3.99 U.S.
Enjoyed this article? Share it!