Julio Anta, Jacoby Salcedo Sell Frontera Graphic Novel at Auction
Julio Anta is a comic book writer and record publisher living in New York City. Raised in Miami, by Cuban and Colombian parents, his writing tends to focus on the intersection of Latinx identity and American life. Jacoby Salcedo, is a comic book illustrator who is based in Olympia, Washington. I've studied at the School of Visual Arts in New York. They both had a comic book featured in the Eisner award-winning comic magazine Panel X Panel, and together have successfully auctioned their first graphic novel together, a young adult reader title, called Frontera, to be published by HarperCollins in 2023.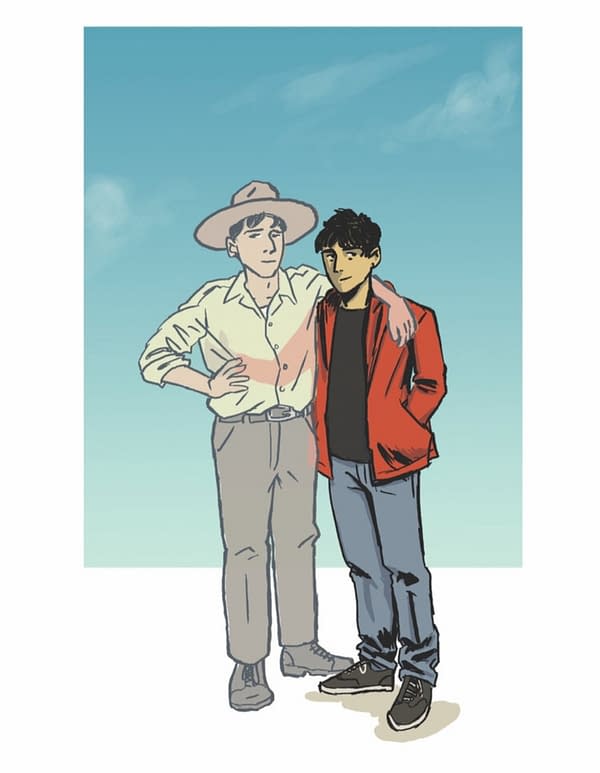 In a supernatural borderland story that combines social commentary with a touch of magical realism, the debut YA graphic novel follows Mateo as he makes the dangerous journey back home to Arizona through the Sonoran Desert with the help of a new friend, a ghost named Guillermo.
Carolina Ortiz at the HarperAlley Comics imprint bought the book. Publication is set for summer 2023 and Julio Anta and Jacoby Salcedo's agent Jessica Mileo at InkWell Management negotiated the deal for world English rights.
HarperAlley is a graphic novel imprint launched from HarperCollins Children's Books under the direction of former art director and acquiring editor at First Second, Andrew Arnold last year, described as a "collaborative, creator-focused publisher" that will specialize in graphic novels for "readers of all ages." The new line is "looking to publish books that readers of all ages can enjoy, from the youngest readers to teens and adults. We believe that a good story is a story that any reader can relate to. That's what we mean when we say "readers of all ages." HarperAlley is looking to publish about ten books a season, or about thirty books a year and is one of a number of mainstream book publishers that has been rapidly increasing the number of graphic novels for younger readers.