Jupiter's Legacy #1 Jumps to $50 Raw, $224 CGC 9.8 on eBay
The effect of the release of the trailer to Jupiter's Legacy, the new Netflix show based on the Mark Millar/Frank Quitely/Pete Doherty comic book, has been most felt on eBay. Despite having a very large print run its day, the series has been selling well, alongside repeated news reports about the TV series. But just after the trailer to the series hit, a copy of the first issue, standard cover, no slab, sold for $49.99 on eBay, in a Buy It Now sale. A 9.8 CGC slabbed copy of the same comic almost hit five times that yesterday, selling for $224.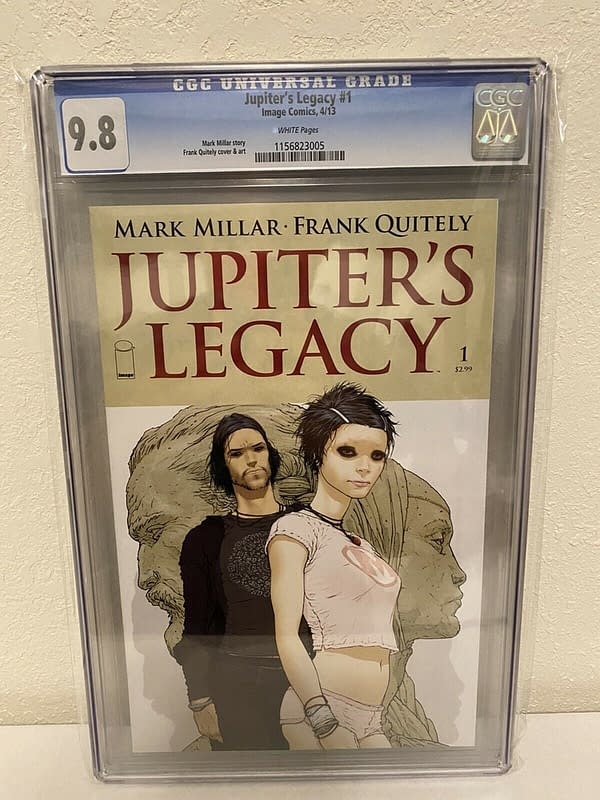 While a copy of the 1:25 tiered sketch cover has sold for around $110 raw and at CGC 9.8 for $285. And a signed-by-Frank-Quitely copy of issue 1 at CGC 9.8 has sold for $250.
The Bryan Hitch variant of Jupiter's Legacy #1 at CGC 9.8 has sold for $200, the J Scott Campbell Midtown Comics variant at CGC 9.8 has sold for $250, and the Phantom Variant #1 has sold CGC 9.8 for $125.
Jupiter's Legacy, first published in 2013, is written by Mark Millar, drawn by Frank Quitely, coloured and lettered by Peter Doherty and published by Image Comics. Published as a series of eponymous limited series and interstitial prequel miniseries, it is to date the longest series that Millar had published as part of his Millarworld line of creator-owned comics. It was also the first collaboration between Millar and Quitely since their work on The Authority in 2001 and Quitely's first long-form work with a writer other than Grant Morrison. It was sold to Netflix as part of Mark Millar's Millarworld line of comic books.
Jupiter's Legacy on Netflix has been created by Steven S. DeKnight, set to premiere on Netflix on May 7, 2021. The series stars Josh Duhamel, Ben Daniels, Leslie Bibb, Elena Kampouris, Andrew Horton, Mike Wade and Matt Lanter.