In the back pages of yesterday's Uber #20 written by Kieron Gillen, he talks about his new Crossed series for Crossed Badlands, and gives it the title Homo Tortor.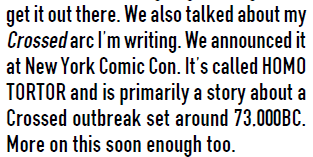 Because, while Alan Moore is looking at the Crossed and humanity a hundred years into the future, Gillen will be going back, back, back…
Enjoyed this article? Share it!