King Thor vs. Phoenix Wolverine in Space; Plus: The Real Reason for Wolverine's Hot Claws Revealed
When Wolverine finally (and we do mean finally — it took five mini-series and three one-shots) returns in Return of Wolverine, he'll be gifted with a brand new mutant power: hot claws. Yes, you heard that right, Wolverine's claws now get hot when he gets angry.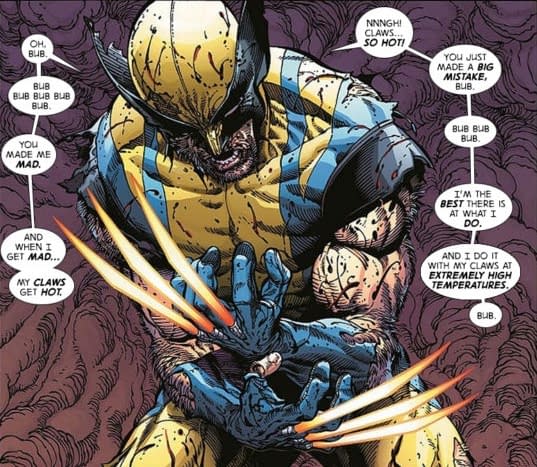 But while the new-and-improved(?) Wolverine may have hot claws, that's nothing compared to the Wolverine who will face off against Thor in Thor #5. Artist Christian Ward revealed a first look at the issue on Twitter, showing King Thor, in the future, battling a Wolverine who has been imbued with the power of bird-themed cosmic death god, The Phoenix Force.
Well, isn't that hypocritcal of Marvel's favorite Mary Sue? He supported The Avengers in attempting to arrest a teenager because of future crimes she might commit if the Phoenix Force came to Earth in Avengers vs. X-Men, but here he is fighting an Avenger while powered up by that very-same Phoenix Force. Is this Marvel's way of admitting Cyclops was right? That's how we're taking it anyway.
And since Ward released the page without any lettering, we figured we might as well finish the job for him, so here's an impromptu IMPROBABLE PREVIEWS: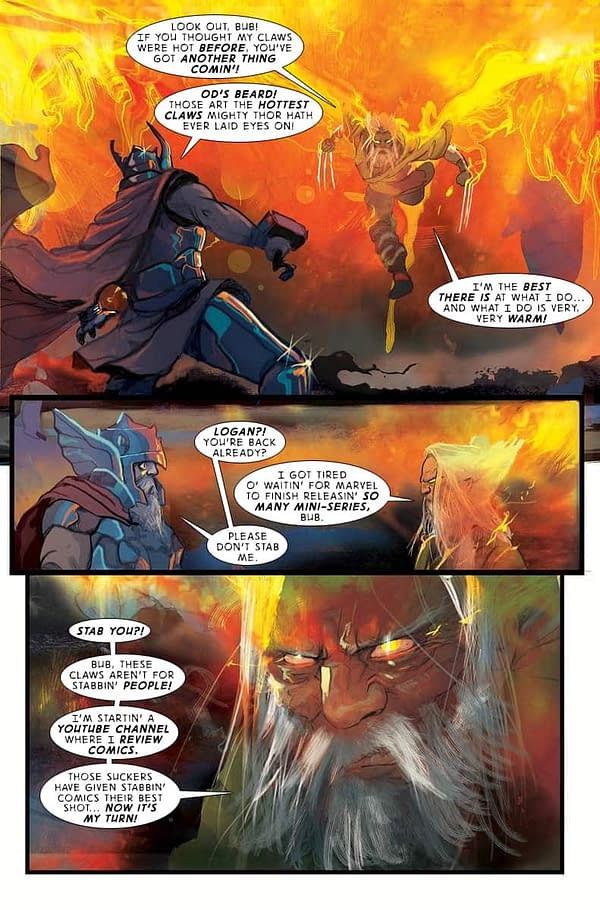 Thor #5 hits stores on September 19th.
Thor #5
(W) Jason Aaron (A) Christian Ward (CA) Esad Ribic
GET READY FOR KING THOR AND THE PHOENIX, BUB!
In the far future, All-Father Thor reignited the Earth and sparked new life in the universe. But now, something is wiping out other worlds – and Midgard won't be far behind. Luckily, Thor isn't the only god left. But is the Phoenix-possessed Wolverine a friend or foe?
Rated T+
In Shops: Sep 19, 2018
SRP: $3.99