Jeremy Lambert Unleashes Goosebumps: Monsters At Midnight
IDW Publishing has kicked off a new comic series, Goosebumps: Monsters at Midnight, based on the universe of popular kid-horror author R.L. Stine. I got a chance to talk with writer Jeremy Lambert about the new project and playing in such a beloved universe as Goosebumps.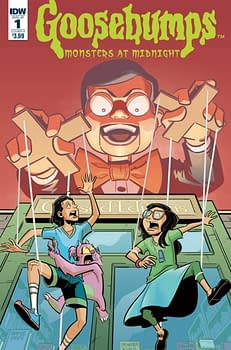 DAN WICKLINE: You are diving into the very popular universe created by R.L. Stine. How familiar were you with his work prior to this project? What do you think it is about his creations that have made it so popular, and how daunting is it to try and find your own corner of that universe to play in?
JEREMY LAMBERT: Oh, I loved Goosebumps. Picked up every single one that I could get my hands on, and I read all of the original run of books. What I loved about them was horror and fear manifesting themselves in so many different ways.
R.L. Stine grounded the young characters in a way that made them extremely relatable, which is something we wanted to do with this book, too ("we" being the amazing Goosebumps artist Chris Fenoglio and myself). I think that's what helped them along in terms of popularity. It was that wonderful pulpy feel of after-dark stories that you shouldn't be reading with shocks and frights and all manner of monsters.
I think our corner of this universe was really exciting to carve out, though it was daunting in the sense that I wanted to write the book I would've loved to read as a kid, that is to make sure I'm telling a Goosebumps story with a well-balanced blend of horror and comedy, which was so important to all of them. We set out to tell a story that brings everyone into the Goosebumps world through two sisters and their sleepy little town, and make the scares effective by caring for them and not just having a jump scare on every other page to embellish this (fairly) new medium for Goosebumps. That's the version of the book I never wanted to make. Yelling "BOO!" on every even-numbered page might be expected, but would be a bit of a shame for a new story and medium like this. And these scares will hit home, I think.
DW: How did you approach coming up with the stories? Did you try to find hooks in the universe to play with or did you come up with the ideas then figure out how to make them fit? What role did Stine himself play in any of this?
JL: Well, the prompt was to write a new, all-ages Goosebumps story with familiar villains. That's a great sandbox to play in. I always thought there was a lot to work with in R.L. Stine's creepy amusement park Horrorland, and the nightmarish possibilities, especially with new characters like our sisters Ginny and Mia, were really exciting.
As far as I know, Mr. Stine hasn't had much of a role in this comic after things kicked off; he's got a lot of Goosebumps books to stories to spin, after all! We've tweeted back and forth (life is weird) and I know he's had plenty of conversations with IDW and the editorial team (our amazing editor Sarah Gaydos got to meet him at NYCC, and I'm still trying to calm down).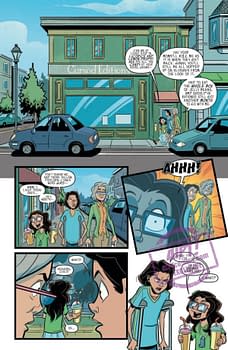 DW: Mia and Ginny seem like a pretty typical set of siblings with the fighting, the chore swap, the getting each other in trouble. It does seem like more often than not the older sibling is the outgoing and athletic one while the younger is the more intellectually inclined. Did you have an inspiration for the characters?
JL: For me, the inspiration for those characters was mostly my older brother, Joey, and myself. These sisters are based on us as kids, as well as my friend's daughters. That relationship rings very true for me, not just in my own childhood, but I consulted plenty of parents and kids, haha. The sisters deal with the kind of things that kids their age would. Even down to things like busted legs and asthma. I think making them relatable and setting up their relationship is a great way into Goosebumps. I really think it's key for these stories.
DW: There are a lot of fun Easter eggs inside the Cursed Editions book shop (great name). Without giving too many away, how did those come about? Did you write them in the script? Were they Chris Fenoglio's ideas?
JL: Haha, thanks, that's the first Cursed Editions shoutout I've seen. I appreciate it. Totally using it for the eventual bookstore I'll open someday. I wrote a few Easter eggs in the script (and in Issues 2 and 3) to make sure they were helping to cement the story in the Goosebumps universe. Things like Mia almost going to Camp Jellyjam for the summer. Chris was able to have some fun with that bookstore, and I absolutely love it. I think we also didn't want to weigh the book down with them, at the expense of the sisters' own story, so it was another balance to consider, while still having a fun and nostalgic time.
DW: The first issue introduces us to Horrorland and we see how the kids get there, but what type of scary adventures will they have? The book is called Monsters at Midnight; can you tease some of the monsters?
JL: My favorite concept for a ride, ever, is the Coffin Cruise. So you can expect that for sure. What monsters could possibly be hiding under that dark water that the sisters are floating down in their little coffins, I wonder… And not only that, this place is called Horrorland. It's the Disneyland of all things terrible. I began to wonder what on earth would their parades look like? What creatures are stationed at the gross food stands and stalls? And most importantly, I thought the scariest part of Horrorland would be it shaping itself and the nightmares within to scare each individual guest, playing on what they fear most. And that's what it does, which Ginny and Mia find out all too quickly. DW: Fenoglio's art is very fun-looking. What is it like working with him? Do you two interact through the process? What do you see in his art that made him the right person for the job?
JL: First off, Chris rules. Couldn't imagine telling this story without him! We interact on a daily basis, and he takes the script and molds it into something better than I could have imagined or articulated, honestly. He's incredibly thoughtful and will never just try and follow anything by numbers, but critically think about the best way to reveal information and be as effective as possible. As soon as Sarah showed me his work, which was from X-Files: Origins, I knew exactly what this book should be, and it was really exciting when he agreed to do it, because I think his art is very accessible and emotional at the same time. He makes these young kids exactly that, capturing the excitement and fears of these characters so well. And his MONSTERS. Just wait. Oh my goodness, they're wonderfully drawn creatures. I want to be friends with all of them. Maybe not that one. He's a bit… well, you'll see.
DW: I like to end interviews by asking the creators to pitch the book to the readers. If someone isn't already a fan of R.L. Stine, what is it about this miniseries that should make them look for it at their local comics shop?
JL: This is the story of two sisters that don't get along, forced to face their worst nightmares together. Sometimes it's hard to know how much you love someone until it's put to the test… of every monster imaginable and every nightmare you've ever had, all within the walls of the Scariest Place on Earth. Like my older brother Joey said after he pushed a jerk that was bullying me into the school fountain: "Hey! Only I get to make fun of my brother."