It's the last day for retailers to order their stocks of giveaway comics for Hallowe'en from a variety of publishers. Some brand new, some reprint, some n=mini-size, some standard,
Will your store be participating?
Action Lab Presents from Action Lab Comics
Marinette is a typical Paris teenager with a school crush, dreams of fashion design, and a big problem with being totally awkward! She also happens to be the magical crime-fighting superhero, Ladybug! When a villain arrives using mind powers to turn people bad, Ladybug teams up with fellow hero Cat Noir… who is secretly her high school crush, Adrien. Will Ladybug and Cat Noir be able to balance their double lives and keep Paris safe? Will they ever discover each other's true identities?
Zombie Tramp vs Dollfaced Witch Hunter from Action Lab Comics
Get a glimpse of an all-new character set in the Zombie Tramp universe! What happens when a witch-hunter's soul from 17th century Salem, MA gets infused into a life-sized, ball-jointed, 3D printed, sex-bot in the present day? Get set for this quirky adventure full of M.I.T. nerds, Necronomicons, sadistic witches, cute sidekick ghosts, and one bad-ass witch-hunting, Gothic Lolita! Jump right in with this HCF sneak-peak of the regular series!
Black Eyed Kids #1 from Aftershock Comics
When night falls on a sleepy midwestern town, an ancient unimaginable horror creeps violently and purposely through the night. That's when the children come out to play; Children with eyes of solid back, devoid of emotion and remorse, and only asking for one thing… to come inside. But there are some who will not go quietly into the night. Some who will fight back to save their souls, and those of their children. This is their story.
Three Stooges Halloween Hullaballoo #1 from American Mythology
Woob! Woob! Woob! Moe, Larry, and Curly, The Three Stooges, have been making us laugh for nearly a century, and their timeless comedy escapades are back with brand new tales told by creators paying homage to their incredible legacy! The Three Stooges Halloween Hullaballoo is the best way to ward off those spooky spirits and creepy crawlers with a family fun issue chock-full of Stoogey goodness! We're cramming new comics, classic reprints, and silly special content into this issue!
Afterlife With Archie Season Two from Archie Comics
Kick off Halloween with the smash-horror hit! It's been weeks since Archie and his friends left Riverdale. Now they wander the deserted highways of America, one step ahead of the relentless zombie horde. When they decide to set down roots to observe their first post-apocalypse Thanksgiving, Mr. Lodge leads a team into the forests of Pennsylvania to find dinner… but the hunters soon become the hunted, and not all of the gang will make it out of the woods alive!
Adventures of the Aspen Universe from Aspen 
Fathom's Ernie the Seahorse has gone missing in the neighborhood, and it's up to the Aspen Universe's finest heroes to band together and rescue him — along with readers everywhere! Aspen Comics' is excited to once again offer fans and readers a unique comic and coloring book package that includes a crafted, full-length story geared for kids to color, plus added puzzles, mazes and other fun-filled activities for children and readers of all ages!
Wraithborn from Benitez Productions
He was trained from birth to inherit a mythical power. She is the timid teenage girl to whom it was bestowed instead. Together only they can stop an ancient evil from rising and enslaving all of humankind! This exciting Halloween Comic Fest edition introduces new readers to this epic urban fantasy series from the creator of Lady Mechanika!
Quilte #1 from ComixTribe
A horrifying new one-shot from the creative team — and taking place in the universe of — And Then Emily Was Gone! Dr. Karla Quite is a revered psychologist who uses her unique psychic gifts to treat patients afflicted with recurring nightmares. But when tasked with helping troubled young Adam Whitlock, her journey into his mind leaves her facing forces far more malevolent than bad dreams!
Harrow County #1 from Dark Horse
Emmy always knew that the deep, dark woods surrounding her home crawled with ghosts, goblins, and zombies. But on the eve of her eighteenth birthday, she learns that she is connected to these creatures — and to the land itself — in a way she never imagined. Don't miss this first issue of smash hit from Cullen Bunn and Tyler Crook! Features an all-new cover by Tyler Crook!
Scooby Apocalypse Hanna-Barbera Sampler from DC Comics
Get a sneak peek at Scooby Apocalypse, Future Quest, Wacky Raceland and The Flintstones with this amazing preview book! See what happens when Scooby-Doo and the Hanna-Barbera properties you know and love are paired with the best creators in comics, taking them to fresh and unexpected places that will appeal to old and new fans alike. Expect fun, innovative twists and stories injected with current sensibilities, that are sure to excite fans of any age!
DC Super Hero Girls #1 from DC Comics
DC Super Hero Girls is an exciting new universe of superhero storytelling that builds character and confidence and empowers girls to discover their true potential. This special Halloween Comic Fest issue features two exciting, action-packed stories from the upcoming original graphic novel, DC Super Hero Girls: Hits and Myths, that readers of all ages will enjoy. Don't miss this chance to meet the students as they find out that fun, friendship and hard work are all part of growing up!
Kitaro by Drawn & Quarterly
A mysterious model airplane arrives at Kitaro's house and he can't resist taking it for a spin, but when it strands him on a desert island, he begins to suspect that someone intentionally trapped him there. Suspecting foul play, Nezumi Otoko investigates a similar crash-landing in the forest, only to discover the true yokai mastermind behind the kidnappings. This comic adventure is the perfect introduction to Shigeru Mizuki's most popular series, complete with a pull-out poster and fun activities
My Little Pony The Haunted Dungeon from IDW
Strange things are afoot in the Crystal Empire so Shining Armor calls in his sister Twilight to help find the source of the mysterious occurrences. When the trail leads to King Sombra's dungeon, will the siblings find the culprit — or their doom?
Unbeatable Squirrel Girl You Choose Story #1 from Marvel Comics
This special issue, called "Be the Unbeatable Squirrel Girl," puts you in control of The Most Powerful Character in the Marvel Universe. Will you fight crime and save the day? Or will you be a complete jerk and use her powers to tell everyone off? The choices are all yours… including your battle with Swarm, a bad guy made out of bees!
Darth Vader Doctor Aphra #1
When a Dark Lord needs help, who can he turn to? Meet Aphra, the galaxy's foremost raider of lost weaponry! Plus: could these be the deadly droids she's looking for?
Haunted Mansion #1 from Marvel Comics
Welcome, foolish mortals, to the Haunted Mansion! It seems that no one lives in the elegant mansion on the hill…but then where's that creepy organ music coming from? Are the iron gates meant to keep people out…or some things in? Get ready to meet the 999 ghosts of the Haunted Mansion… but be warned, they're looking for the 1000th!
Spidey #1 from Marvel Comics
Think you know everything about Peter Parker's early days? Think again. It's action, adventure and a rip-roaring romp in classic Marvel style as Spidey swings onto shelves this winter! Featuring adventures from throughout the web-slinging wonder's younger years, it's a return to the days of overdue homework, not knowing how to talk to girls (or anybody, really) and just a plenty of danger. Witness some of Spidey's earliest tangles with the likes of Doc Ock, Sandman, and a host of other unexpected foes.
Evil Dead 2 Beyond Dead By Dawn #1 from Space Goat Publishing
The Dark One returns with a goal of infecting the entire planet and raising the dead, as Dark Ones do. It's up to Ash and Annie as they kick it up a notch in the French Quarter looking for an old Voodoo Priestess. But will she help Ash and Annie or make their problems worse? Gimme some dead sugar, baby! Don't miss what happens in this penultimate issue in the trilogy of mini-series!
Junji Ito Tomie – Viz Media
Tomie Kawakami is a femme fatale with long black hair and a beauty mark just under her left eye. She can seduce nearly any man, and drive them to murder as well, even though the victim is often Tomie herself. While one lover seeks to keep her for himself, another grows terrified of the immortal succubus. But soon they realize no matter how many times they kill her, the world will never be free of Tomie.
And Mini-Comics
Peach & Isle of Monsters Mini Comic Event Bundle from Action Lab
Meet Peach. How did she get her name? What's her secret? What have the monsters taken from her village? Seeking independence, and prove she's a warrior, Peach begins her quest to save her village from the Monsters from Monster Isle… and meets some interesting people along the way! Action! Adventure! It's all here! Written by Franco (Itty Bitty Hellboy and Tiny Titans) and drawn by Agnes Garbowska (My Little Pony).
Archie's Madhouse Mini Comic Event Bundle from Archie Comics
It's a Maaaaadhouse! Archie is proud to present an assortment of shenanigans from Archie's Madhouse, a series of wild and wacky tales that are sure to leave you laughing and going crazy for more!
BooooOOOoom Box Halloween Mini Comic Event Bundle from Boom! Studios
It's time to get your scare on for Halloween with this selection of spooky tales taken from several of our BOOM! Box titles, including Lumberjanes, Giant Days, and The Backstagers, perfect for any trick-or-treater!
Mummy's Always Right Mini Comic Event Bundle from ComixTribe
Enter the world of Creature Cove and meet GAWS, a mischievous little mummy who can't decide what to be for Halloween. This mini-comic from writer/artist Joe Mulvey is perfect for comic book, horror, and pop-culture fans of all ages. If you're looking for your own little monster's new favorite book, you've found it!
Grumpy Cat Halloween Mini Comic Event Bundle from Dynamite
It's Halloween night, and children delightfully roam the streets, adorned in colorful costumes… but Grumpy Cat is unimpressed! While her brother Pokey celebrates All Hallow's Eve with his usual wide-eyed wonder, Grumpy Cat is such a grouch that she even puts the ghosts, ghouls, and goblins to shame! You'll laugh out loud with the antics of the two most adorable kitties in comics in this very special Halloween mini-comic!
Johnny Boo Mini Comic Event Bundle from IDW
Johnny Boo and his friends celebrate Halloween by doing skateboard tricks in the pumpkin patch. But did you know that giant tigers love Halloween just as much as little ghosts do? It's because they're orange, like pumpkins. Watch out for tigers, Johnny Boo!
Little Tails Halloween Mini Comic Event Bundle from Magnetic Press
Chipper and Squizzo are a precocious puppy and squirrel who love to explore new and exciting environments, flying their cardboard box airplane to wondrous worlds full of fascinating animals and creatures. In this special Halloween mini-comic, the two will head off into the woods for a spooky Trick-or-Treating adventure through nature, encountering creepy animals of all kinds along the way! Also includes pages of fun puzzles, activities, and brain-teasers!
Tim Burton NBX Manga Mini Comic Event Bundle from TokyoPop
Manga publishing pioneer Tokyopop brings this sampler mini-comic of the official manga adaptation of Tim Burton's Holiday classic, The Nightmare Before Christmas, to Halloween Comic Fest 2016, featuring all of your favorite characters, as drawn by Jun Asuka (The Girl Who Leapt, Disney Fairies)!
Lunch Witch 2 Mini Comic Event Bundle from Papercutz
Grunhilda the Witch has a weakness, a tiny soft spot on her black and crusty heart. She continues to hide the nice feelings she has when she gets a letter from former Salem Elementary student Madison. But she can't keep up the ruse for long because her familiars are onto her — and so are her ancestors! Anything that can go wrong does when Madison accidentally mixes up a positivity potion — and it starts to affect everyone in town.
Mickeys Inferno Mini Comic Event Bundle from Papercutz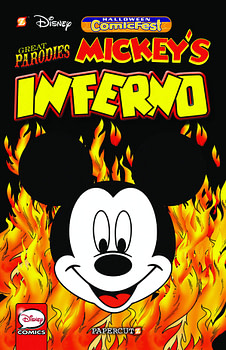 Imagine if you will, a satirical retelling of Dante Aligheri's Inferno starring Mickey Mouse. This is the very first of the world-famouse, err, famous Great Parodies featuring classic Disney stars in outrageous spoofs of the world's greatest stories.
Carpenter Travellers Tale Mini Comic Event Bundle from Storm King
Happy Halloween from Storm King Productions. No tricks, just a Halloween treat written by the Horror Master himself! Writer/Director/Composer John Carpenter brings you a short horror story that's not short on scares from his upcoming sequel to the award-winning yearly horror anthology series Tales for a Halloween Night Volume 2.
Pokemon Pocket Comics XY Mini Comic Event Bundle from Perfect Square
The Pokémon of the Kalos region have all gathered in this hilarious collection starring Fennekin, Froakie, Chespin, the rest of the new X & Y Pokémon, Mega-Evolved Pokémon, and more! Quiz yourself and your friends on Pokémon vital statistics, Abilities, moves, types, Mega Evolution and more! Who will be the next Pokémon quiz champion?
Zombie Camp Mini Comic Event Bundle from Space Goat
Survival is tough after the apocalypse, even when you're undead! Fortunately, the kids of Zombie Camp get to learn all the best shambling, brain-eating, and death-moaning techniques. Join Johnny, Stump, Violet, Gutsy, and the rest of the gang for the summer of their un-lives!