Leah Williams Shares Details on Amazing Mary Jane, Gwenpool Strikes Back at NYCC
Leah Williams was interviewed by Marvel.com at New York Comic Con, and it's one of the longer ones, clocking in at about twice the length as some of the others we've watched this weekend. And it's fitting since Williams had two books to talk about.
First, on Amazing Mary Jane, Williams talked about what to expect from the book launching this month:
It's a mini-series, and basically it's about showcasing the best of Mary Jane. She's feisty. She's sassy. She's quick-witted. She thinks fast on her feet. And she does this even under the most extraordinary of circumstances that somebody without Spider-MAn's powers would normally be equipped to deal with. But she handles it. It's bene one of the most delightful and fun experiences to work on because she's so fun herself. She's such a fun and lively character.

[Mysterio] is basically the catalyst fo this entire thing. He's making his magnum opus which is gonna be this Hollywood big budget biopic of Mysterio. Obviously, he had to fudge the truth a little bit about his identity in order to secure that big Hollywood budget, so he's posing as this famous Hollywood darling director named Cage McKnight and he's the hottest new thing. The friendship dynamic between MJ and Quentin is delightful, because she's a people person and he's not at all. So there's a really nice equilibrium to the two of them actually.
On working with artist Carlos Gomez:
I'm working with Carlos Gomez, and he is incredible. The dynamism and the way he makes everything so kinetic, every single panel really packs a bunch. he also is really good at dressing these characters too. I can give a vague descriptor like "Cage McKnight looks like an alien discovering human life for the first time" and then Carlos is like, "ok, got it," and then he nails it. He nails exactly the kind of hipster artiste vibe that I was thinking of. It's a joy to work with him on this.
And on Peter and MJ's iconic relationship:
I ship them so much. Being able to showcase their relationship and what makes them so good together is really, really satisfying. It's cathartic, and the way that they support each other and come in and out of each other's lives, even when they're on opposite coasts doing their own thing, the way they reach out and help each other is just so sweet.
Nobody tell Joe Quesada. Finally, on drawing from her personal experience for the book:
It's set in Hollywood and it's a film production, and my work background is actually in film production. I lived in LA for a little while. So drawing upon the full arsenal of my Hollywood hot mess stories of what goes on on film sets, that has been an absolute delight. Because then I can also demonstrate how MJ is able to think on her feet and be like, okay, well let's not do the bad thing. Instead, let's be smart about it. Very cathartic, again. So cathartic.
Moving on, Williams also talked about writing Gwenpool Strikes Back:
It's the opposite of cathartic. It's me dumpster diving in Marvel continuity for the worst Spider-Man trivia I can find, all of these deep cuts. Nobody wants to remember these things, but she's Gwenpool, she's one of us from this world, and she knows all this stuff. And she's not shy about doing some light blackmail to make sure that she can survive in the comics world, because that's under threat.

Gwen herself is specifically looking at her sales, so she's thinking in terms of, "what can I do that's gonna make the biggest splash right now and secure my place in this universe. Because I'm not safe right now. I'm under threat from being erased from the Marvel cannon completely. "That's no totally a fiction. That's a real thing that we were allowed to turn into a story to prove her worth. That's why she's going hard with the antics in this series, but it is a means to an end.
On this week's issue, which explores the world of Marvel Swimsuit Specials from the 1990s, and gives sarcastic nicknames to the characters:
I was very surprised they let me do that. That's how I feel about the whole mini-series. The only other one I can remember is she calls Thor a wine mom. She makes fun of [Steve Rogers] a lot because she thinks he's a wet blanket, but the moment she's actually in front of him and looking at this super-soldier, perfected man, she's like oh, okay.

I don't want to spoil it, but now we're reaching our endgame of the mini-series. So what she sets up on the beach, that's kind of where we stay for the mini-series until she reaches her final destination.
On the relationship between Gwenpool and Deadpool:
They have kind of like a contentious relationship at first just because she does get confused for girl Deadpool, and there's already a lady deadpool out there, and Wade is not necessarily the warmest at first when they meet each other in Unbelievable Gwenpool. They attack each other with swords. But he's not incapable of compassion, so he sees the situation that she's in and tries to boost her sales little bit in his own way.
And on how she got involved with the character:
Jordan D. White is my editor on this and he reached out to me about doing it. First, he asked, have you read Gwenpool and what are your thoughts. So I talked off the cuff about like, "well, she can do a lot more because there are really no limits to her capabilities as far as her power set in the book. It's whatever can be imagined. Whatever comic creators can do, Gwen can do. We just kind of talked about possible applications of that.
And finally, what's her favorite comic? It's Claremont, of course!
My comfort comic, the one that I always go back to, is the original run of Excalibur by Chris Claremont and Alan Davis. I've reread it a million times. I could not be more excited about Tini Howard's upcoming Excalibur. I have the awful privilege of being able to read her scripts as she finishes them and they're incredible. I am so excited to have this new story of Excalibur coming out. For me as a fan of Excalibur it's beyond my wildest dreams.
And that's not even all of it! Go watch the video for more at Marvel.com.
Amazing Mary Jane #1 is in stores, later this month and the next issue of Gwenpool Strikes Back is in stores on Wednesday.
GWENPOOL STRIKES BACK #3 (OF 5)
AUG191097
(W) Leah Williams (A) David Baldeon (CA) Terry Dodson
When you're setting out to piss off the most powerful heroes around, you might want to consider if you want to cross one who's IMMORTAL. It's ok—this issue: GWENPOOL DEFEATS THE HULK! Solicit text would not lie!
Rated T+
In Shops: Oct 09, 2019
SRP: $3.99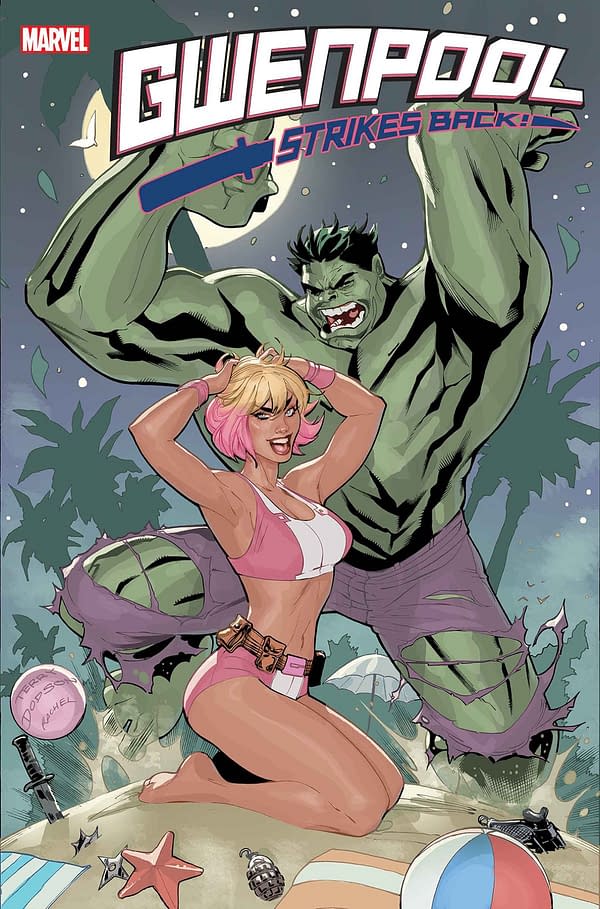 AMAZING MARY JANE #1
AUG190933
(W) Leah Williams (A) Carlos E. Gomez (CA) Humberto Ramos
One lucky lady just hit the jackpot with her own series – THE AMAZING MARY JANE #1 by writer Leah Williams and artist Carlos Gomez will bow this October, putting the spotlight on the love of Peter Parker's life! But if Spider-history has taught us anything, such a position is rarely a good one and usually spells trouble! In a story spinning from the pages of AMAZING SPIDER-MAN #25, Mary Jane Watson just got her big shot – but at what cost? And can she really trust anyone as she pursues her Hollywood dreams?
Mary Jane is no stranger to drama, so you can be sure that THE AMAZING MARY JANE will be offering up action, glamor, grit, and even a little sass in this new ongoing series, coming in October!
Rated T
In Shops: Oct 23, 2019
SRP: $3.99