Jeff Lemire and Max Fiumara Swing the Black Hammer in March with Doctor Star & The Kingdom of Lost Tomorrows
Dark Horse has announced the next spinoff miniseries in the Black Hammer franchise. Jeff Lemire is joined by Max Fiumara, Dave Stewart, and Nate Piekos for the four-issue mini-series, which is set to hit stores in March. Declan Shalvey and Jordie Bellaire, J.G. Jones, Dustin Nguyen, and Annie Wu will provide variant covers. The comic will be called Doctor Star & the Kingdom of Lost Tomorrows.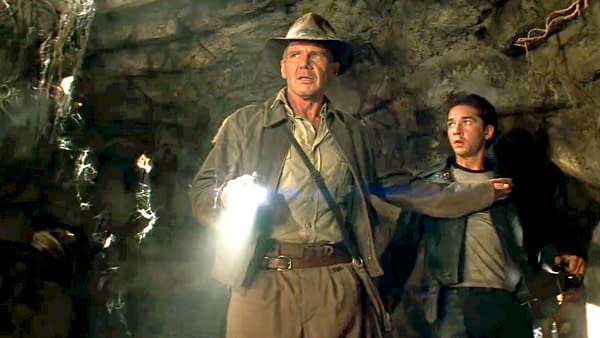 No! Get out of here, Harrison Ford and Shia LaBeouf! We said Kingdom of Lost Tomorrows, not Kingdom of the Crystal Skull! Go on! Beat it!
Sorry about that. Where were we?
From the press release:
Doctor Star & The Kingdom of Lost Tomorrows is a dual-narrative story that chronicles the legacy of the Golden-Age superhero Doctor Star. An aged crime fighter desperately wants to reconnect with his estranged son, who he hoped would one day take the mantle of Doctor Star. Over the course of the story we learn his World War II-era origin, how he got his powers, his exciting astral adventures, the formation of some of Black Hammer's greatest heroes, and more in this heartbreaking superhero tale about fathers and sons.
"Dean and I were thrilled to see the fan response to Sherlock Frankenstein & The Legion of Evil," Lemire explained in the press release. "We're very excited to continue to expand the Black Hammer universe with Doctor Star with Max Fiumara as the artist. This new series examines a difficult relationship between a father and son, which I think many people will relate to."
Doctor Star & The Kingdom of Lost Tomorrows #1 hits stores on March 7th, 2018 and will be available for preorder on December 20th, 2017.