The Life of Captain Marvel #1 Review: A Heartfelt Look at Carol Danvers's Youth
Captain Marvel and the Avengers are fighting a cadre of villains which include Tanalth the Pursuer and Moonstone. During the fight, Carol begins having unwarranted flashbacks to her childhood in Harpswell Sound, Maine. They are visions of her father beating her two brothers while her mother held her back. This begins affecting her work as an Avenger, and she goes back home to Harpswell Sound to confront her family and her own childhood.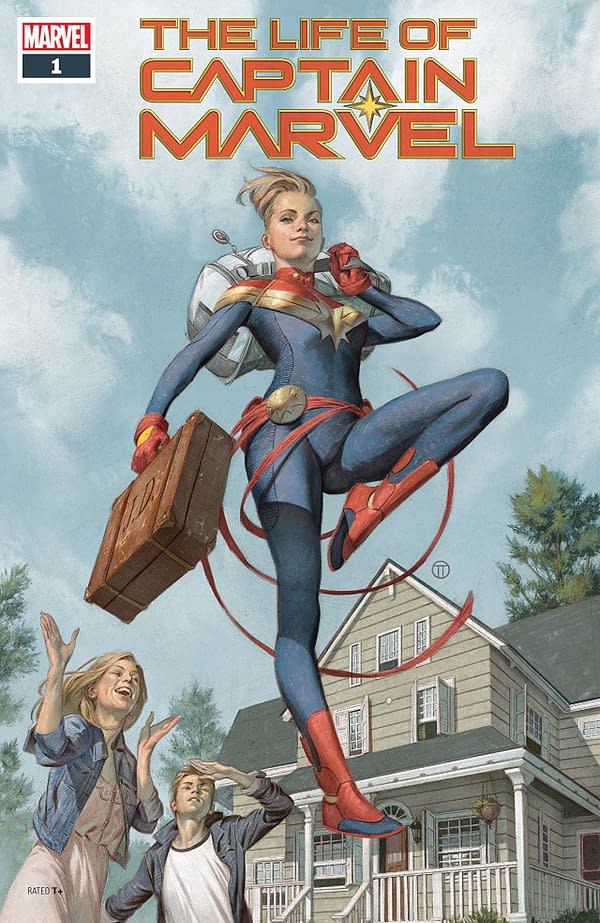 The Life of Captain Marvel #1 gets points out the gate for not being a straight retelling of Carol Danvers's life. Such retellings of origin stories can quickly be tiresome and meandering, as they don't often have a central conflict beyond marching onwards to the hero's present.
This retelling of Captain Marvel's origin centers the conflict on Joe Danvers's abuse and Carol having to face it while framing it with the fallout of her return home in the present. It's a clever way to handle the concept.
This issue also has a fairly large time skip in the present, which I'm generally not a fan of. However, it's justified well enough and does have a reason to be here.
Bear in mind that this is the first issue, but another abusive dad in a superhero origin does feel a little trite. The Life of Captain Marvel may be able to do something clever with that launching point, but we'll have to see.
Tony Stark gets some page time in this comic too, and he's actually pretty genuine throughout a lot of the book.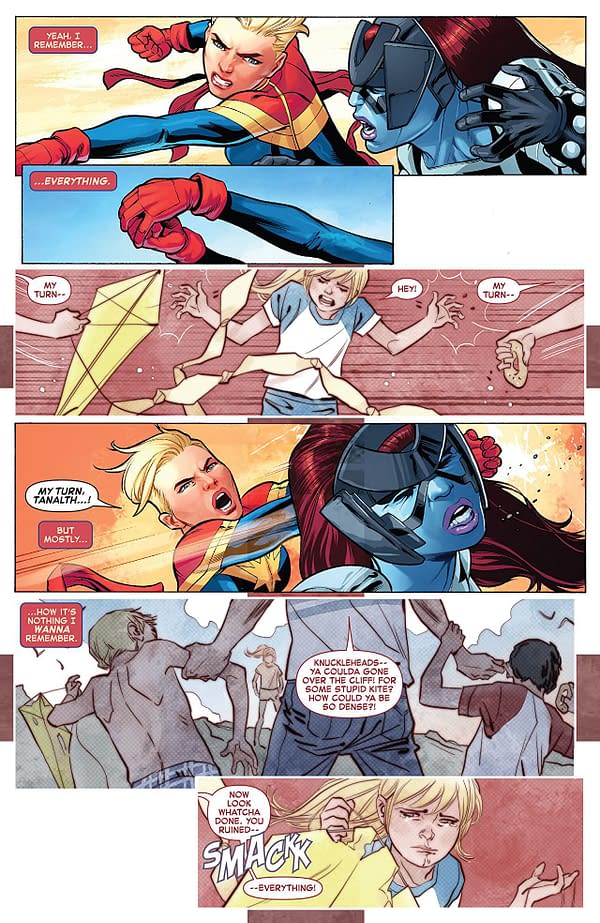 Carlos Pacheco and Marguerite Sauvage split the artwork in this comic, with Pacheco handling the scenes in the present and Sauvage the scenes in the past. Both artists put in good work, and there is definitely something to be said about Sauvage's more faded inking and color work giving the past scenes the feeling of the fog of memory. Pacheco's work is more energetic and sleek, which fits the superheroics. The present scenes are accompanied by the inking by Rafael Fonteriz and the color art by Marcio Menyz. Both do a good job of constructing the atmosphere with Pacheco.
The Life of Captain Marvel #1 is an emotional yet action-packed first foray into revisiting the youth and origins of Carol Danvers. The story is constructed and presented well, Carol is as awesome as ever, and the artwork is excellent. This one earns a recommendation with ease. Give it a read.