Live From The Comic Shop – The Wake, Brain Boy, Buzzkill, Harley Quinn #0, Batman '66
I've been looking forward to quite a few titles this week and more than ever before, I'm getting the Wednesday twitch and wanting to get into the shop to see the new issues as soon as possible so big thanks to my local comic shop, Conquest Comics in New Jersey for giving me my fix and allowing me to write live about my first impressions each week.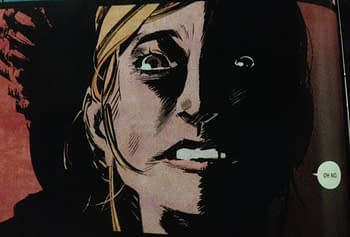 First on my list, and keeping me guessing ever since teasers at New York Comic Con, is The Wake, by Scott Snyder and Sean Gordon Murphy. I'm actually looking forward to the eventual collections of this book, too, just to get that macro view of stepping back, watching the kaleidoscopic artwork move and change, and seeing how the little flashbacks and informative segments fit into the mosaic-like construction of the story. And sorry to those who may feel otherwise, but the colors on the book still make me a little weak in the knees—they create such a unique accent in their pastels clashing with the near-horror elements of the book that they outdo the risks even avant-garde filmmakers are willing to take. I'm loving the sinister orange logo that particularly pops on the cover of issue 5 and the cover itself reminds me of deep sea adventure movies I watched as a kid in the late 80's that were some of my first introductions to horror. Flashback dreams from Lee let us in on some of her formative experiences, and her early association with mermaids is very suggestive, particularly along the subheading for the book "The Source". Then we're right into the heavy action of the giant merman (and I mean giant, think kaiju) revealed in issue 4. The majesty of one particular full page spread is meant to give you a stunned moment of realization about his size and force, as big as the deep sea station itself, and confirm that there's simply nothing that can stop a creature like this, not to mention his army of lesser thousands.
Lee continues to be the focal point of realizations and revelations for the reader, building on the strength of former issues, as she reacts to her experiences and puts pieces together to conclude that mermen have the biggest possible target in mind. We get more folk history from China and Babylon confirming an ages-old struggle and cements the epic scope of this book, something that's been building issue by issue to this turning point at the center of the arc. I have nothing I can say that won't give away too much about this issue except, "Oh God" or perhaps like Lee, "Oh No". Remember how the series opened, with Lee swimming through a destroyed city with her cyber dolfin, and the way that the futuristic element fell away with unanswered questions. Well, you get your answers in issue 5, and this is where things really start in many ways. Only Snyder and Murphy could tell the early history of these events in a way that makes them feel immediate and more or less make you forget just how massive this storyline has always intended to be. Fans of The Wake are all going to be saying "Oh God" today. It may take us awhile to recover. For that reason, it's an issue you're likely to read more than once, just trying to process what is happening at this most crucial point in the story.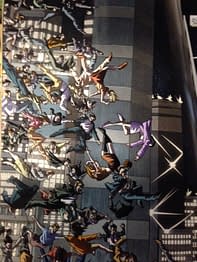 Brain Boy returns from Dark Horse with issue #3, and there's something about this book that really gets under your skin. With writing by Fred Van Lente, pencils by R.B. Silva, inks by Rob Lean, and colors by Ego, the distinctive look of the book, with fluid edges and inking contrasting with sharp action, is still one of the most idiosyncratic and appealing aspects of the series. The cover is particularly striking this week, with Matt Prince in his three piece suit appearing almost like a Wall Street banker in the midst of clamor and rage on a city street. The "mobforce" of city folk are being called up to apocalyptic proportions and there's a full page spread that's particularly disturbing involving falling and water. It's a bold page and one that will stick in my memory. Prince is set to lose his temper as allies let him down in his massive struggle against other "psys" and his biting accusations and anger are part of what makes the character watchable, followable, and sets him apart from other comic leads right now. He is simply not a nice guy in his daily interaction, though his prevailing motivations and actions may win you over to be sympathetic. Everyone wants a "piece" of Prince this time, and it's the big face-off to see just how much he can handle of the bizarre and unreasonable forces he faces. Softer flashbacks fill us in on Georgina's ambiguous role in Prince's life, and so the character development continues alongside a high-octane conclusion to the series first mini-arc.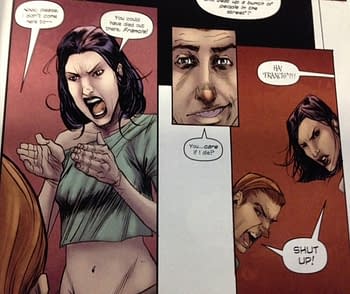 Buzzkill is back, one of my favorite series this autumn, from Dark Horse, written by the fairly gonzo writer Donny Cates with Mark Reznicek, and art by the rising star Geoff Shaw who just consistently makes you think, "What? Amazing" page by page. The cover promises some skull cracking, and kudos to colorist Lauren Affe's livid greens and purples. She really seems to have her fingers on the pulse of creating a new ethos for action comics through subtle combinations of colors you might associate more with sci-fi than hero stories. There's an LOL moment in the first couple pages delivered with a double-page spread of Ruben making his step program amends as an addict to an unlikely audience. Guys, just keep making books like this, please. The humor in Buzzkill is so perfectly timed that it's almost annoying because you feel you ought to see it coming but don't.
It's the definitive burn on the reader. In fact, the dialogue had me laughing all the way through as well, throwing in slang with nice restraint for punch-lines. Look out for "cray" in just the right spot. Nikki is throwing down this issue on relationship issues, and I have to say that Shaw really knows how to draw an argument, but that's not surprising given his predilection for liking to "watch" his character "actors" in motion. Watch out for best friends kicking off at eachother, monster amounts of rage and a pretty striking reveal with the appearance of a new character who is going to shake up Ruben's life in big ways. This issue certainly delivers on my expectations for an already wildly successful series. And it's finally here, Harley Quinn #0 from Amanda Conner, Jimmy Palmiotti, and a huge host of artists from Charlie Adlard to Art Balthazar, Becky Cloonan, Darwyn Cooke, Tradd Moore, Walter Simonson and more, 17 in total. If you like Harley there's no way you're missing this book this week. Bask in the glow of this issue turned art anthology and pose this question to yourself: shouldn't this happen occasionally and more often in mainstream comics? Multiple artists throwing their strengths and glam into a single issue? But of course, it takes some ingenious scripting to make that possible, and the concept behind the issue breaks the fourth wall in order to do so, a rarity on such scale in hero (or in this case anti-villainess) comics. Ineffably cute Harley is living in a storage unit with her detritus of fast food and stuffed animals when we seamlessly slip into a Cloonan rock concert that's pretty much to die for as artists intrude, introduced, into the narrative to show Harley what they make of her, essentially suggesting different versions of herself for her to consider. She's a giant robot, she's a surf girl, she's an office secretary who's getting tired of power dressing. Wait, she's a ninja? Yes, really.
Charlie Adlard's page ought to be a poster with soft, bleeding inks and saturated color. A beauty queen, a Tiny Titan foe who's disturbed to have to do without "blood" in her story, a thrill girl of course, and something of an action hero. The fact that Harley has always been one of the few characters to speak back to the Joker, put him in his place, woo him, hate him, love him, and even stand as one of his targets makes her simply fascinating and this book is a celebration of that truth. Harley's star is rising thanks to Conner and Pamiottit, and 17 artists, as well as myriad fans, agree. Viva Harley. I also feel, on a personal note, like saying thanks from fans to these excellent artists who brought their exuberance to the book. It's delightful. The writers "swear they will stop breaking the fourth wall" in issue 2, and that's fair enough, but my immediate reaction to that is "Really? But we were having so much fun as readers". No doubt there's plenty of fun still to come.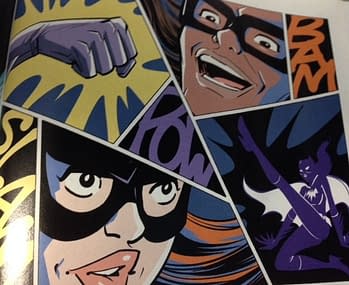 Batman '66 is still keeping my interest. It awakens my sense of watching an afternoon matinee of the TV series but, unlike the show (with its embattled Video/DVD history), I can experience the story over and over again at my leisure. Again, the covers this week are adding to my experience of each comic. Here Mike and Laura Allred are bringing The Sandman to life in iconic "ZZZZs" and a milky green that's both retro and a little dizzying to look. There's a cartoony humor to Ruben Procopio's main story artwork, and a lively contrast in style between the dream-states the Sandman can induce and the peculiar blend of realism and camp established by the art design on the original show. Batman in the hands of Sandman takes a trip into his own mind, a sprawling scape of villains, and of course, a hint at the psychedelic aspects of the show that always makes Batman's discomfiture Ward-style both riveting and hilarious. The book's secondary feature, with art by Colleen Coover, is a little less staid and nostalgic, but it does speaks to cartoon styles of the 70's and 80's in a subtle way, with heavier lines and blocky colors, which ends up being an excellent entrance for Batgirl to the series. Of course, she is kickass, with a shatter-pannelled full page spread reminding you of her "Slam! Pow! Bam!" capabilities. Let's hope we see more of this "ambitious young woman". Batman '66 continues to avoid becoming predictable or samey through strong, energetic artwork and drawing from a grab bag of traditions that are rendered as richly as they deserve to be, driven by clearly devoted ingenuity of writer Jeff Parker and plenty of verve from colorist Matthew Wilson.
That's all from me this week Live from the Comic Shop. Other titles I'd recommend picking up are the return of Kiss Me, Satan! from Dark Horse, the final issue of the 50th anniversary homage Doctor Who: Prisoners of Time from IDW, the gorgeous Afterlife with Archie #2, and Sex Criminals #3. Also new this week and notable is The Fifth Beatle, from Dark Horse, which is looking pretty tasty.
Special thanks to Conquest Comics in New Jersey. You can find their Facebook page here. They are currently dominating POP vinyl collectibles with their White Phoenix exclusive and now have their Metallic Harley Quinn exclusive in stock.
Hannah Means-Shannon is Senior New York Correspondent at Bleeding Cool, writes and blogs about comics for TRIP CITY and Sequart.org, and is currently working on books about Neil Gaiman and Alan Moore for Sequart. She is @hannahmenzies on Twitter and hannahmenziesblog on WordPress. Find her bio here.