Lucio Parrillo's Original Vampirella Painting Snapped Up on IndieGoGo
Bleeding Cool mentioned the other day that Italian artist Lucio Parrillowas painting a Vampirella cover for Dynamite, who were doing an IndieGoGo to fund it and get some much-needed money in for Dynamite at this difficult time. While also giving Parrillo the chance to show off his biceps, deltoids and whatnot.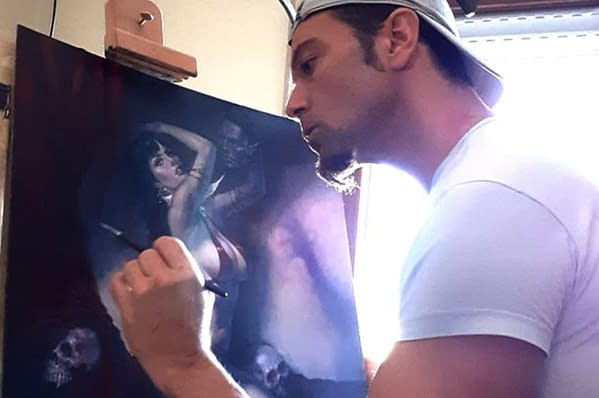 The Vampirella comics in question were going for twenty bucks a piece, more for the signed and slabbed versions. They have raised around $27,000 so far which is nothing to sneeze at.
But for one art collector, the twenty bucks plus was just not enough money to spend. Someone liked the painting (or Lucio) so much that they ponied down six grand for the original Vampirella painting itself. Though they have asked Dynamite their anonymity to be maintained.
So keep your eyes out for someone carrying around such a piece who doesn't look like Lucio Parrillo. This year had the Lake Como Comic Con cancelled which usually brings out big-time comics art collectors with rather sizeable wallets to drop much larger sums on the artists. In comparison, this Vampirella sale was a bit of a bargain. It does show that, even in lockdown, there is a market like this available for original art, of a certain variety at least. for someone like Lucio to draw it. And for Dynamite to find a way to keep the lights on.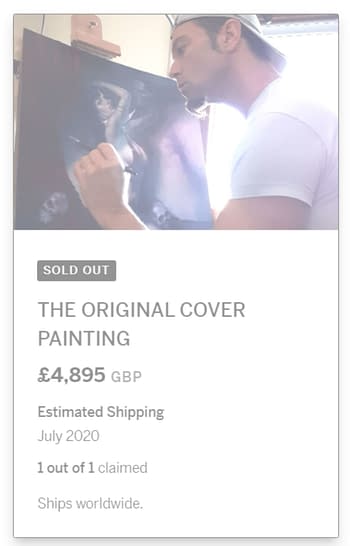 Lucio Parrillo is an Italian painter born in Catanzaro, on January 30, 1974, and attended art school in Catanzaro, a city in southern Italy. He has been working on comics for Dynamite for nearly a decade as well as many other publishers, including Marvel and DC. He's also known for illustrating brands such as Dungeons & Dragons, and Magic: The Gathering. He has drawn comics including Vampire Girls, Coven 2, Eternal Temptation and L' Empire Eternel. His Dungeons & Dragons work includes cover art for Champions of Ruin, and interior art for Sharn: City of Towers, Monster Manual III, Eberron Campaign Setting, Champions of Valor, Spell Compendium, Red Hand of Doom, Tome of Magic, Player's Handbook II, Dragon Magic, Expedition to Castle Ravenloft, Rules Compendium, the fourth edition Manual of the Plane, Thunderspire Labyrinth, Pyramid of Shadows, and Martial Power.