DC Comics Takes MAD Magazine Off Newstand, Goes Reprint-Only, Blames Low Sales
Yesterday, Bleeding Cool got the word that MAD Magazine published by DC Comics was to cease publication with Vol 2 issue 10. The venerable American satirical magazine has been published since the fifties and had recently relaunched after moving location from New York to Burbank with the rest of its parent publisher.
A number of MAD staffers had started posting about their sudden availability for work.
One blogger, Jedidiah Leland stated that a MAD editor had told him the magazine, as we know it, was closing
I just heard from a friend of mine who is in a Facebook group with a MAD writer that, after the next two issues, MAD will no longer be publishing original material. Instead, it'll publish reprinted material until its subscription responsibilities are fulfilled and then the magazine will cease publication.
But MAD contributor Mark Evanier reported what freelancers had been told, which gave the magazine more legs, or at least kept it on life support.
Contributors to MAD Magazine received an e-mail today telling them that after two more issues of mostly-new content, MAD will become a reprint title. It will have new covers but inside, there will be naught but old, recycled material. It will also no longer appear on regular newsstands but will be available only via the direct market, which means comic book shops and a few other kinds of outlets. The letter said that all subscriptions will be honored but didn't mention anything about new subscriptions.So what do I think about this? I think it sucks and I think it's a huge mistake, especially for a company like Time-Warner that is so into the concept of branding and expanding everything they own into all possible forms — TV shows, movies, video games, dolls, t-shirts, etc. It ain't good for them to tell the world that the name of MAD is of such low value that it can't even sell MAD.The letter to contributors blames low sales and I assume they are indeed poor…but just because the marketplace isn't buying the MAD they're currently being offered doesn't mean it wouldn't sustain a different MAD, one that is true to the working premise of the publication in different, more timely ways. I have to think that someone there is pondering what MAD 2.0 might be like. At least, I hope someone is.
MAD will be leaving the newsstand after issue #9, which will land on newsstands in early August with all-new content. MAD #10 will also contain new content, but will be available only via direct market comic book retailers and subscriptions. Rather than closing up shop, the plan at present is to continue publishing issues that will feature reprinted classic MAD pieces, wrapped with new cover art. Further, MAD will continue to publish its end of year specials, as well as books and special collections, capitalizing on the value of the MAD brand in spite of the loss of new content in the magazine.
MAD Magazine
, launched by
Harvey Kurtzman
and
Bill Gaines
in 1952 as part of his EC Comics line, has been through a number of ructions in recent years. The magazine didn't move to Burbank with the rest of the New York DC publishing team,
but that changed two years ago
, which saw longstanding editor
John Ficarra
and other senior staffers leave, with
Bill Morrison
made EIC. However,
he was let go by DC Comics earlier this year
after a relaunch,
a second volume of MAD
, that did not do much to revive the flagging brand.
Even a reference to their mascot Alfred E Newman from Donald Trump as an insult exposed the fall of the brand. In a recent interview with Politico, Donald Trump described Indiana mayor Pete Buttigieg as "Alfred E. Neuman," saying "Alfred E. Neuman cannot become president of the United States," Trump declared. Asked for a response, Buttigieg told Politico that he "didn't get the reference" and "had to Google" Alfred E. Neuman. "I guess it's just a generational thing,"
Bleeding Cool reached out to DC Comics for comment yesterday, but did not receive any response. Other comparable publications like Viz Comic continue publication with relatively high sales.
These are the Previews listings for the current and following issues.
MAD MAGAZINE #8
(W) Usual Gang of Idiots (A/CA) Usual Gang of Idiots
In this issue, Mad skewers your favorite childhood movie, "Willy Wonka and the Chocolate Factory"! Plus, Sergio Aragonés looks at Captain Marvel…no, not Shazam!-the other one!In Shops: Jun 19, 2019
SRP: $5.99
MAD MAGAZINE #9
(W) Usual Gang of Idiots (A/CA) Usual Gang of Idiots
Peak TV hits MAD when we heckle The Marvelous Mrs. Maisel. Plus, it's the updated map to Disneyland-including new Fox takeover attractions that are sure to attract no one in the feature "When Disney Adds Fox To Disneyland"!In Shops: Aug 21, 2019
SRP: $5.99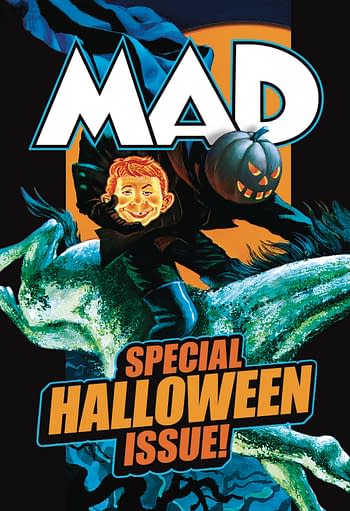 MAD MAGAZINE #10
(W) Usual Gang of Idiots (A/CA) Usual Gang of Idiots
This issue, MAD goes straight to hell as we look at more live-action Disney cartoon remakes no one wants! Plus, Xander and Cam try to sit through the latest horror movies, Tom Bunk takes you on a guided tour of the underworld, and MAD finds the funny in The Handmaid's Tale.In Shops: Oct 16, 2019
SRP: $5.99