In March, Blade Officially Joins the Avengers as Dracula Dies… Again?
It looks like the Avengers are getting a new member in March. Following his surprise appearance in Avengers #700, it looks like Blade will be officially joining the team in March's Avengers #16, from Jason Aaron and David Marquez. First Conan, now Blade? Is there anyone left in the Marvel Universe who isn't an Avenger anymore?
But that's not all. Also in March, Avengers #17 appears to tease the death of Dracula, with someone else taking over as lord of the damned. Who will it be? Whatever the case, Marvel promises that "the world of the Marvel U vampires will be changed forever," a promise we always take 100% seriously and never consider blatant and overused hyperbole.
Check out the solicits below.
AVENGERS #16
JASON AARON (W) • DAVID MARQUEZ (A/C)
SPIDER-MAN VILLAINS VARIANT COVER BY GREG HILDEBRANDT
"WAR OF THE VAMPIRES" PART 3!
Welcome to the Avengers, Blade — hope you survive the experience! Though there are plenty of vampires out there that definitely won't, as the civil war tearing apart the worldwide undead community rages on.
32 PGS./Rated T+ …$3.99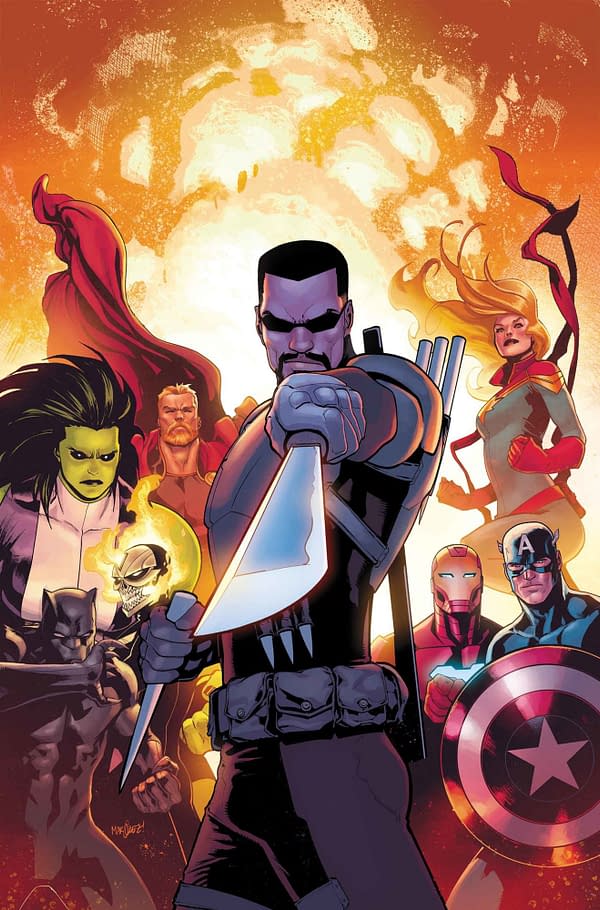 AVENGERS #17
JASON AARON (W) • DAVID MARQUEZ (A/C)
SPIDER-MAN VILLAINS VARIANT COVER BY LEE GARBETT
A NEW VAMPIRE ORDER!
The final fate of Dracula! The Avengers vs. Ghost Rider?! Blade vs. the Shadow Colonel! And the world of the Marvel U vampires will be changed forever. Who will be the new Lord of the Damned?
32 PGS./Rated T+ …$3.99