Sam Eggleston writes for Bleeding Cool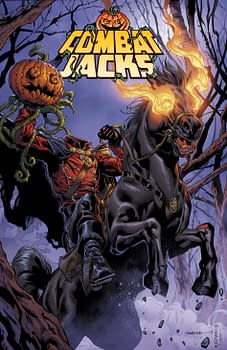 When longtime professional inker Mark McKenna started talking about killer pumpkins from outer space with his son at the dinner table, he never imagined he would be setting the groundwork for a new comic miniseries.
McKenna, who has worked for DC and Marvel and a multitude of other publishers, left that conversation with the idea for a single, one-shot comic in mind: Combat Jacks. That story, published by his own Banana Tail Press publishing company, told the tale of space Marines sent to the rogue planet Maia to investigate the disappearance of terraformers. That squad, led by Sgt. Dorothy Darling, finds themselves instantly with their backs against the wall against the overwhelming Jacks numbers.
The idea of the story sprang from campy horror flicks and fun science fiction adventures like those McKenna has enjoyed over the years. Movies like Aliens and Tales from the Crypt were definitely inspirational when he was creating the universe where alien pumpkins make short work out of highly-trained Marines.
But like horrific, monstrous pumpkins often do, the idea of Combat Jacks evolved into something more, and McKenna soon found himself working up an idea for a four-part miniseries. His creative team — which consists of co-writer Sam Eggleston, Jason Baroody on pencils, John Hunt on letters, Blair Smith on colors and Kim Eggleston editing — were quick to jump at the chance to continue the story.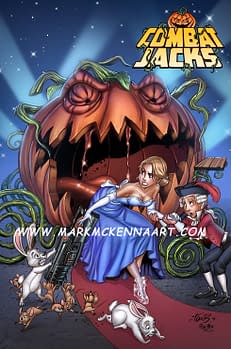 Combat Jacks: Return to Earth was the sequel to the original story, featuring movie star Cynthia Rothrock in a lead role in the book as well as a few new faces and the return of many of the original characters. But it's not just on Maia that the Jacks have made an appearance, and readers discover that the aliens are no stranger to the planet Earth, either.
Now, McKenna and his team are working through the third installment, Combat Jacks: The Fight Continues, which is currently being funded on Kickstarter with just under a week remaining and $1,600 still needed to reach its goal.
The story picks up where the second installment left off. Marines trying to survive the continuous onslaught of killer gourds, while some folks back on Earth have to deal with their own Jacks infestation.
Through the Kickstarter, backers can catch up with the complete story so far by getting rewards for the hard copy or digital copy of the first two books, plus the third when it is completed. Additionally, there are a slew of rewards for original art, original pages and commissions available, among several other reward tiers.
For more information about Combat Jacks, you can visit the comic's Facebook page.
Enjoyed this article? Share it!