Posted in: Comics | Tagged: avengers, Comics, death's head, entertainment, marvel, Marvel Comics, motormoth, motormouth, solicitations, storm, warheads, x-men legacy
---
Marvel Cancels A+X, A Return For Death's Head? And Possible New Avengers Spoilers For March… From the new Marvel solicitations, we get an end for A+X…
A+X #18
BRIAN MICHAEL BENDIS & GERRY DUGGAN (W)
KEVIN NOWLAN & DAVID YARDIN (A)
Cover by KEVIN NOWLAN
A+X GOES OUT IN STYLE!
• Superstar BRIAN MICHAEL BENDIS and comics legend KEVIN NOWLAN tell a scintillating tale of KITTY PRYDE + VISION!
• Gerry Duggan (DEADPOOL) and David Yardin (X-FACTOR) finish their rip-roaring CAPTAIN AMERICA+CYCLOPS story!
32 PGS./Rated T …$3.99
The Iron Man solicitation hints much…
IRON MAN #23.NOW
KIERON GILLEN (W) • LUKE ROSS (A)
Cover by MIKE DEL MUNDO
ARTIST VARIANT COVER BY JOE QUINONES
ANIMAL VARiant BY JENNY PARKS
AN ALL-NEW EPIC BEGINS, "RINGS OF THE MANDARINS"
MALEKITH THE ACCURSED has a problem with IRON MAN. Malekith the Accursed has a problem with pretty much EVERYONE. Cutting edge science versus the most arcane science imaginable, all in a bath of blood. Which classic MARVEL UK character returns in a reinvented form after the REVOLUTIONARY WAR?
That's… that's Death's Head isn't it? Hrm?
Also Captain Marvel #1? $3.99. Sneaky.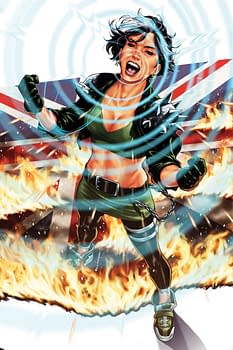 Talking of MARVEL UK… it seems that all these years, Motormouth has been a soccer mom. Mother with two kids as a superhero? Bring it on!
REVOLUTIONARY WAR: MOTORMOUTH #1
GLENN DAKIN (W) • RONAN CLIQUET (A)
Cover by MARK BROOKS
VARIANT COVER BY Declan Shalvey
• When Mys-Tech returns and threatens the safety of Great Britain, MI:13 need to try to convince MOTORMOUTH to come out of retirement.
• Harley Davis' days of being a hero are over, though. Now, her day job is being the mother of her two children. Until an explosive Mys-Tech attack calls her out of retirement!
• Be there as Motormouth gets her mojo back!
32 PGS./Rated T+ …$3.99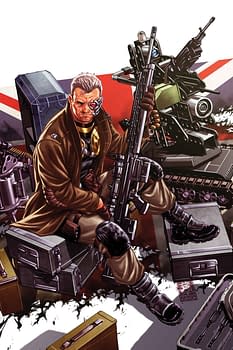 And, of all of Marvel UK, the one strip that stuck out for me for pure visual splendour was Gary Erskine on Warheads. And he's back. Retailers, don't underorder this one, it will look great! No one draws men with big guns and tech like Erskine…
REVOLUTIONARY WAR: WARHEADS #1
ANDY LANNING & ALAN COWSILL (W)
GARY ERSKINE (A)
Cover by MARK BROOKS
VARIANT COVER BY Gary Erskine
• Colonel Liger, formerly of the evil organization Mys-Tech, has started working as an agent of MI:13, Mys-Tech's rival agency.
• Not everything is as it appears, though – because Liger has just discovered that his old team, The Warheads, are still alive – and nothing's going to stop him from finding them.
32 PGS./Rated T+ …$3.99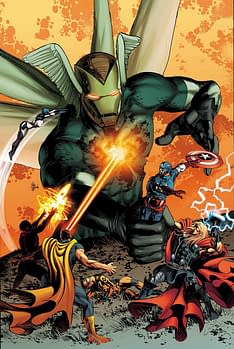 And then there's this Avengers listing… purely speculation based on, you know, image and text, but there could be spoilerage here.
AVENGERS #27
JONATHAN HICKMAN (W) • SALVADOR LARROCA (A)
Cover by MIKE DEODATO

"ADAPT OR DIE"
• The secret behind the All-New Avengers revealed!
• The science war overtakes the world(s).
• All the answers to the questions you wished remained hidden.
• The collision of Avengers and New Avengers is imminent.
32 PGS./Rated T+ …$3.99
Does that mean… they are all Adaptoids? Does kinda look it.
---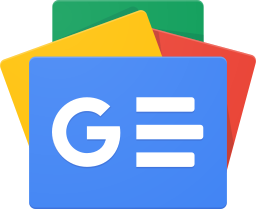 Stay up-to-date and support the site by following Bleeding Cool on Google News today!