Marvel Comics CEO Isaac Perlmutter Donated Over A Million Dollars To Donald Trump's Veterans Event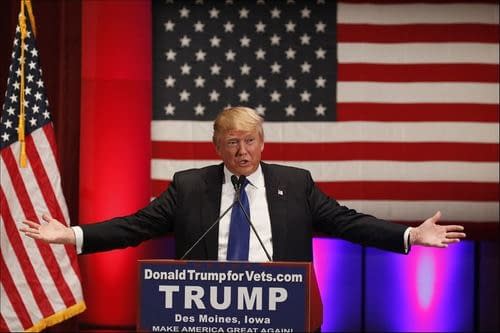 Oh boy.
Tonight, Donald Trump announced that Marvel Comics CEO Isaac "Ike" Perlmutter, dubbed the most powerful person in comic books by this very website, and his wife Laura Perlmutter donated over one million dollars to Trump's "Donald Trump For Veterans" event, held as counter programming to the Fox News presidential debate that Trump is not attending.
That was a bit of a run-on sentence but it's late.
Was this solely in support of the veterans? Or in support of Trump? Spin doctors may swing it one way or another. But some will see that as an alliance made in heaven. Or somewhere else not too far away…
It is also worth noting that Stan Lee previously assisted Hillary Clinton over fundraising events. And that last year, Laura Perlmutter donated $2 million to a Super PAC supporting the presidential candidacy of Marco Rubio.
A spokesman for the Perlmutters told Bleeding Cool that "The Perlmutters are thrilled to support their friend Donald Trump in his efforts to help veterans."
But it has been a controversial issue already… one that Marvel editor Jordan D White was happy to debate on Twitter.
When Obama was made President, Marvel put him in Spider-Man comic, then on the cover, as he was a self-confessed Spider-Man fan from a young age.
I wonder if Trump might get the same treatment? Of course if Trump doesn't get the Presidency…
If he can persuade Disney to let it go… could we have Trump Comics? Wit the Avengers moving to Trump Tower?