So this little image just got passed to Bleeding Cool, courtesy of nefarious sources. Don't, ask, don't tell, if you don't want to believe it, feel free not to. I'm happy to make this interesting if you'd like…
But it appears that the new Jonathan Hickman run on the mutant books that begins with House Of X and Powers Of X, will be known as Dawn Of X. Or maybe the following book will be. Or maybe something else will be. Or maybe it's just a holding phrase. Either way…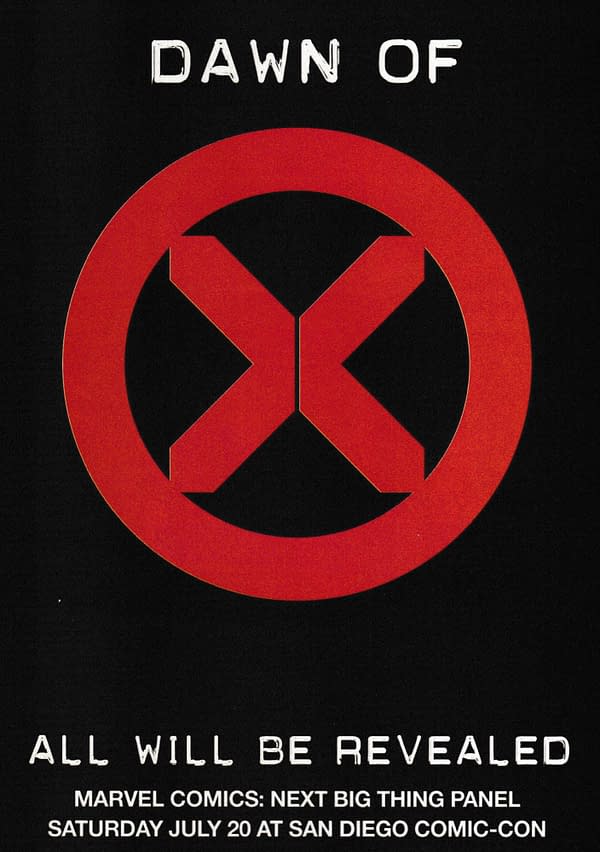 We'll find out on Saturday… well, evening, my time. I may have just put the kids to bed…
Marvel Comics: Next Big Thing, Room 6A, 1:45 PM

"Legendary writer Jonathan Hickman is joined by Editor in Chief C.B. Cebulski and other Mighty Marvel Guests to bring you all the latest and greatest news straight from the House of Ideas! Learn what comes next for the X-Men after the senses-shattering revelations of the House of X and Powers of X!! Plus, stick around for a few things we can't even hint at yet!"
Jonathan Hickman, creator of God Is Dead, The Nightly News, The Manhattan Projects and East of West, as well as writing Marvel Comics' Fantastic Four, FF, S.H.I.E.L.D., Avengers, New Avengers, Infinity, and Secret Wars took a break from superhero comics a while back. His return, and return via Marvel, taking over their mutant line and relaunching it after some fallow years. Best known for his intricate use of symbology, structure and long drawn out storylines that cross from one title to another, anticipation is high. On Saturday, it may be at fever pitch.
Enjoyed this article? Share it!