Marvel Says Jesus Christ Was A Mutant & The X-Men Can Resurrect Him
Well now, there's a thing. In the X-Men comic books in recent years, the mutants of the Marvel Universe have set up their own island, an independent nation of Krakoa, and have committed themselves, using combined mutant powers, to resurrecting dead mutants. Which means the X-Men are now practically immortal, and any mutant who was killed during the X-Men run (there were a lot of them) can now be brought back to life. Recently, in The Trial Of Magneto, Wanda Maximoff, The Scarlet Witch extended that ability across time so that any mutant who had died throughout history, can now be reborn.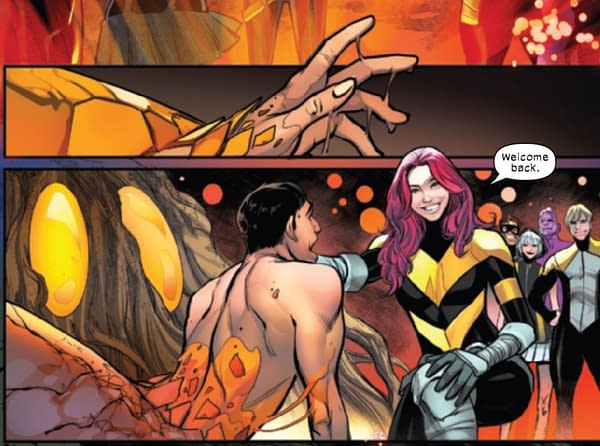 Like that, with Hope Summers created by Mike Carey and Chris Bachalo, as one of The Five called upon to make the whole thing happen. Hope Summers has a long history with the X-Men, the first mutant born after M-Day, when almost all mutants lost their powers courtesy of the Scarlet Witch. Hope was raised and trained by her adoptive father Cable – Nathan Summers – in the far future, until she was ready to return to the present day. She became a host for the Phoenix Force, and finally ended the effects of M-Day. So to many mutants, she has the title of Messiah.

Including Exodus, a former supervillain created by Scott Lobdell and Joe Quesada, born in 12th-century France as Bennet Du Paris. His mutant powers include telepathy, telekinesis, and teleportation, as well as superhuman durability and healing. Allying with Magneto, he led the Acolytes fighting for mutants' rights by killing human who opposed him, threatening mutants to join him or be killed themselves, believing that mutants were superior and that they were intended to inherit the earth. Now, reformed on Krakoa, he is one of the island's governing bodies, sitting on The Quiet Council.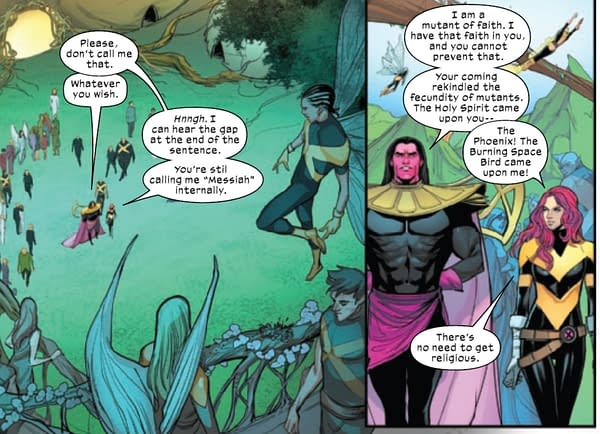 But he is a man of another time, and cannot help but express his views in terms of religion. Which, given his ancient views on religion and human history, leads him to make the following statement in this week's Immortal X-Men #1 by Kieron Gillen and Lucas Werneck published by Marvel Comics.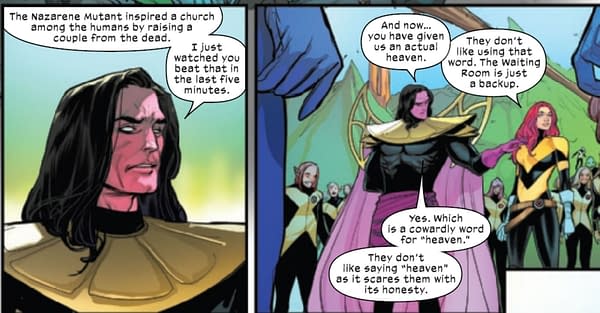 "The Nazarene Mutant" – Jesus of Nazareth was a mutant in Marvel Comics now. An interesting take, especially in the realms of a mutant race that can resurrect themselves from death. Because if Jesus was a mutant and, courtesy of The Scarlet Witch, Krakoa can resurrect any mutant from all of time. Which means, yes, if they so wish, Marvel Comics can resurrect Jesus Christ as a mutant on Krakoa. Say, it's coming up to Easter, isn't it? That would make for an unexpected Marvel Comics twist…
IMMORTAL X-MEN #1
MARVEL COMICS
JAN220809
(W) Kieron Gillen (A) Lucas Werneck (CA) Mark Brooks
IN THE QUIET COUNCIL, NO ONE CAN HEAR YOU SCREAM! The Quiet Council rules the Krakoan age, for better… or worse. Now, shaken by INFERNO and X LIVES / X DEATHS OF WOLVERINE they strive to hold together, no matter how much they want to tear each other apart. Writer Kieron Gillen (UNCANNY X-MEN, ETERNALS, The Wicked + The Divine, Die) returns to the world of X with artist Lucas Werneck (TRIAL OF MAGNETO) to bring us all into the room where it happens. "It" being "the most powerful people on Earth deciding the fate of the whole planet." Prepare for sinister secrets to be revealed and learn that some secrets are more sinister than others… RATED T+In Shops: Mar 30, 2022 SRP: $5.99