Posted in: Comics, Marvel Comics | Tagged: captain america, Comics, entertainment, marvel, Marvel Comics, marvel comics 100, marvelnycc, NYCC, orange skull, trump
---
Marvel Stopped the Presses to Remove Mark Waid's Captain America Essay From Marvel Comics #1000
This may be seen as pre-NYCC Marvel gossip but it came out of comic book professionals chattering at the bar at Rose City Comic Con in Portland a few weeks ago.
We know that Marvel Comics replaced Mark Waid's essay about Captain America from Marvel Comics #1000 over political concerns last month. Now nicknamed as 'Orange Skulling', the process of removing anything that may be seen as specifically insulting to the current US government administration. It has been linked to Marvel chair Ike Perlmutter, close friend of Donald Trump, part of the administration and one of his biggest donors. But in truth, it's more about not rocking the boat or scaring the horses so that Ike hears about it. Marvel is treating any mentions of Trump in the same way that DC Comics is treating any suggestions of a penis, outside of Doomsday Cock. Clock. Sorry. There are just certain things that are… overly sensitive for editorial right now. And this is one.
But what I didn't know until Rose City Comic Con, and have heard it from several sources is that Marvel Comics had to literally stop the presses before replacing Mark Waid's essay. The book had been greenlit and pages were literally being printed before someone thought 'oh hang on'. The printing was stopped, the essay rewritten (man that, must have been some deadline for Waid), the pages were reste and printing continued.
Does that mean that somewhere there are offcut printed pages of Waid's original essay? Could be…
For comparison, here's what ran, followed by what Waid originally wrote. And a look at how, being more general, Marvel titles can still have quite a political kick.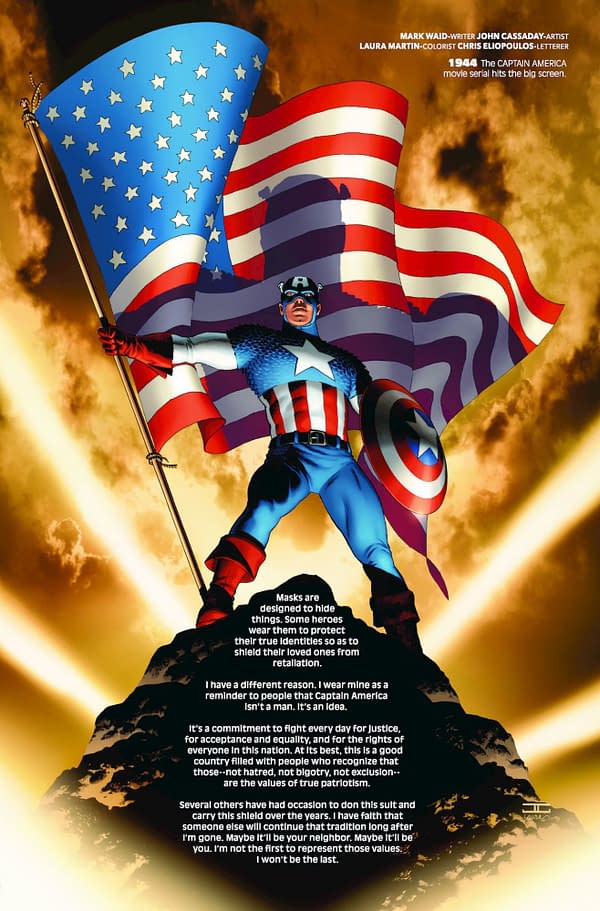 I'm asked how it's possible to love a country that's deeply flawed.

It's hard sometimes. The system isn't just. We've treated some of our own abominably.

Worse, we've perpetuated the myth that any American can become anything, can achieve anything, through sheer force of will. And that's not always true. This isn't the land of opportunity for everyone. The American ideals aren't always shared fairly.

Yet without them, we have nothing.

With nothing, cynicism becomes reality. With nothing, for the privileged and the disenfranchised both, our way of life ceases to exist. We must always remember that America, as imperfect as it is, has something. It has ideals that give it structure.

When the structure works, we get schools. We get roads and hospitals. We get a social safety net. More importantly, when we have structure, we have a foundation upon which to rebuild the American Dream — that equal opportunity can be available to absolutely everyone.

America's systems are flawed, but they're our only mechanism with which to remedy inequality on a meaningful scale. Yes, it's hard and bloody work. But history has shown us that we can, bit by bit, right that system when enough of us get angry. When enough of us take to the streets and force those in power to listen. When enough of us call for revolution and say, "Injustice will not stand."

That's what you can love about America.
More Marvel gossip coming through the day… keep up with this Marvel Gossip Before NYCC handy dandy tag.
---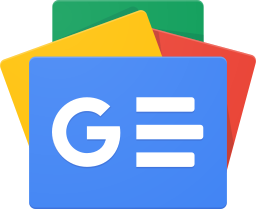 Stay up-to-date and support the site by following Bleeding Cool on Google News today!