Meet the Underground Comics Reading Candidate Running Against the DC-Loving Mayor of Long Beach, California
Bleeding Cool has often covered the antics of Robert Garcia, the DC-loving mayor of Long Beach, California. Garcia, a hardcore fan of the DC superheroes, is an outspoken proponent of the Snyder Cut of Justice League, and Zack Snyder's Vision for the DCEU in general. We've even suggested that, were he eligible to run for president, he could be the United States' answer to the Trump problem. Garcia has used his clout to call on DC to fire editor Eddie Berganza in the wake of resurfaced sexual harassment allegations and snuck a DC Easter Egg into the new Long Beach Civic Center. For the geek voter, Garcia seems like the obvious choice.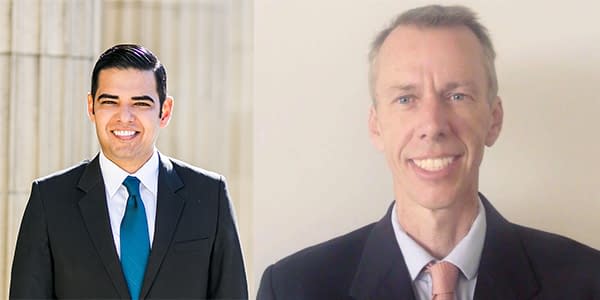 In April, Garcia faces off against a man named Henk Conn in a battle for the very soul of Long Beach, one that will surely rock the city to its core. We know where Garcia stands on important issues like The Snyder Cut and whether Aquaman is going to rock. But what about his opponent? To learn where Conn stands on these important issues so that our readers can make the most informed decision, we emailed Conn's campaign asking where the candidate stands on Warner Bros releasing the Snyder Cut, as well as which superhero universe he prefers: Marvel or DC.
Conn responded personally with the following letter:
Good evening Mr. Terror,

Thank you for writing me. I suppose our generations are a unique product of computers, graphic novels, and the amalgamation that produced this blockbuster film and gaming industry. I was born in 1967, I had three older brothers that introduced maturer content to me at a early age. Our grandmother owned a used bookstore in the City of Compton and she had an aisle dedicated to comics and such. In the late 1970's I read Mad Magazine, the offsets of mainstream of The Fabulous Furry Freak Brothers, Wonder Warthog, Reid Flemming The World's Toughest Milkman, and R. Crumb. Many of these early comic strips came out when I was in grade school and middle school, now they are considered crass and we see how they wrongfully created narrations about women among others. I do still love the artwork, the wit, the isolation of the characters. The fish out of water story line.

Growing up I had a Commador 64, that goes way back. My very first computer I built back in the early 1980's I went to west LA to buy the mother board and sound card at an electronics hobby shop because computer parts were so hard to come by. I spent the better part of three decades watching the gaming industry grow from my first Atari to the current state of gaming. It amazes me when I think about how I had to flip a 5.25 floppy after every chapter in my 3 Stooges game on my Commador and now I can navigate the stars on my Stars Finders app on my phone.

I watch these comics and media amalgamation and I see story lines that have gone from Lone Hero against a Evil Force, to seeing the company of good split by their internal struggle. That makes sense given that we now live in a world where our country is very divided and our government has been legitimized at the Federal level. Art often mimics it's times. I like the Captain America film a couple years back. He woke up from being frozen, he was a fish out of water, in the very city he was born and raised. I liked that narrative a lot. I feel like the country I love is a now a stranger in many ways when I look to the state of our nation, what's going on in the news. Shootings in our churches, schools, and in our streets. I still love it though, and I will still fight for us. I know who we really are. We haven't changed, it's the common media that sensationalizes the smallest part of us that has changed. At our heart, in our neighborhoods, and off the comment section, people are basically good.

Thank for writing me
Sincerely,
Henk Conn
That's… actually some pretty good geek cred right there. Clearly, the choice of who should be the mayor of Long Beach isn't as cut and dry as we assumed it would be, when based purely upon comics and comics-adjacent issues. However, we do have to note that, though Conn did express enjoyment for Captain America, which we could take to mean a preference for Marvel over DC, he refused to answer the question about the Snyder Cut. What does Henk Conn know about the Snyder Cut? What is he trying to hide?!
It may seem, to some, unimportant to worry about where candidates stand on matters of geek culture. However, we live in a world where the president of the United States is a WWE Hall-of-Famer, backed financially by the Chairman of Marvel Comics, and has as his Treasury Secretary the man who financed the X-Men movies and Lego Batman, amongst others. As such, we feel it's important that, when voters head to the polls on April 10, they consider where the candidates stand on the issues that matter – those having to do with comics and geek culture.