Mephisto, Mary Jane and the Red Goblin in Today's Amazing Spider-Man #796 (SPOILERS)
I will start off with this. Because it is all certain speculators seem to care about and have been hammering at me. Does the Red Goblin appear as an actual distinctly identified character in Amazing Spider-Man #796. Such that it may justify the $20 plus that some people have been spending on eBay. Does it? Does it? Does it?
No.
But we do see a move in that direction. The deal that is done. And the establishment of an actual symbiotic partnership.
Talking of partnerships though…

First it was marriage. Then, courtesy of Mephisto, it was "lived together". Now it's… "used to date". Is Mephisto still meddling?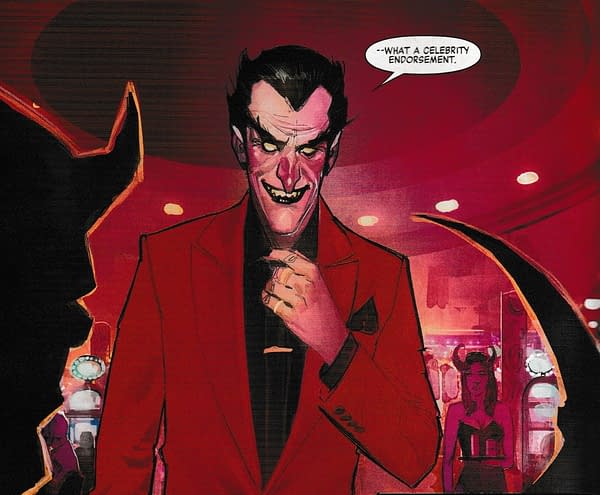 No, sorry, he's all caught up in today's Doctor Strange: Damnation. Which leaves Mary Jane and Peter plenty of time to catch up. Come by. Revisit. Re…kindle?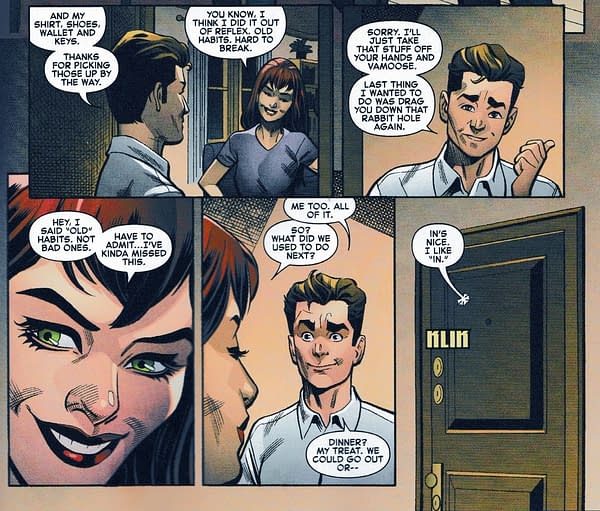 Old habits… and next issue? Amazing Spider-Man #797? Stuart Immonen has already teased us… Maybe that one will have the Red Goblin in it. Or maybe not.
AMAZING SPIDER-MAN #796
(W) Dan Slott (A) Mike Hawthorne (CA) Alex Ross
THREAT LEVEL RED Part 3
• You've watched for months as Norman Osborn has scoured the globe for a cure to the genetic tampering that prevents him from becoming the Green Goblin.
• IN THIS ISSUE…HE FINDS IT!
• And it spells the worst kind of trouble for your Friendly Neighborhood Spider-Man!
Rated T
In Shops: Feb 21, 2018
AMAZING SPIDER-MAN #797
(W) Dan Slott (A) Stuart Immonen (CA) Alex Ross
GO DOWN SWINGING Part 1
The Green Goblin is back – and scarier than ever! Dan Slott has saved his most harrowing Spider-Man story for last as he and Stuart Immonen kick off the AMAZING SPIDER-MAN story ten years in the making. Osborn got his crazy back and has a plan that'll make all his past plans look like child's play. Peter Parker and the people he loves (ALL of them) are in deep trouble. And who or what is the RED GOBLIN?! The only way Spider-Man survives is to GO DOWN SWINGING!
Rated T In Shops: Mar 07, 2018
SRP: $3.99