Mera Queen of Atlantis #3 Review: Padding and Pallid Protagonists
[rwp-review-recap id="0"]
Erin and Tommy, Ocean Master's new family, arrive in time to see Orm with his trident to Mera's throat. Erin is infuriated that Orm is looking to leave their family to return to the politics and war of Atlantis. It's up to Mera to help convince the woman that Orm's mission is necessary.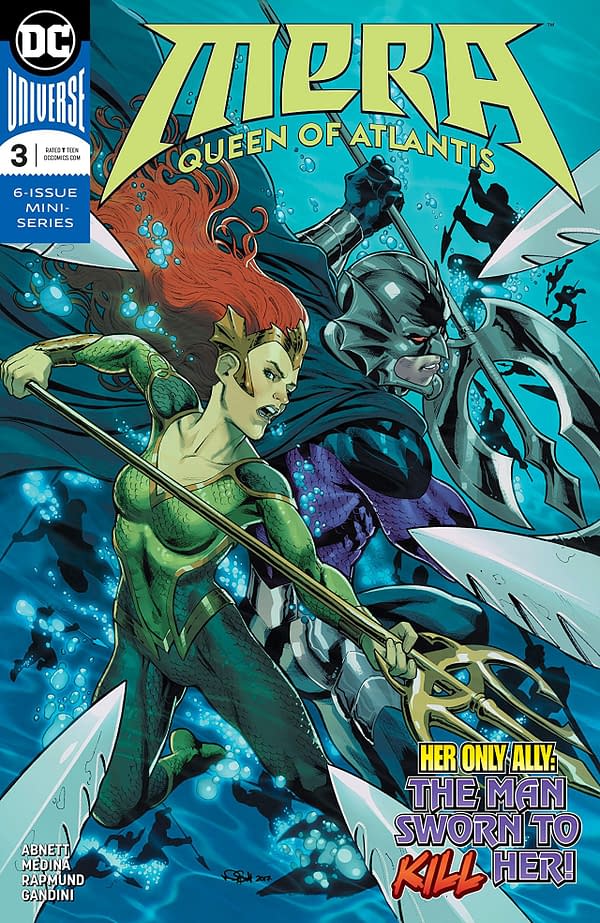 A lot of the flaws of Mera: Queen of Atlantis' first issue come home to roost with its third installment. Beyond being slow and focusing on a subplot that nakedly serves to pad out the plot, it makes Erin look like the mother of all wet blankets and Mera a bit weak and ineffectual.
That last point is the most frustrating of them all. Mera: Queen of Atlantis was an appealing concept because our lead is such a great character. It's an intriguing idea to have a book focus on her exploits outside of her life with Aquaman. Unfortunately, she is lost in a sea of petty domestic spat between Orm and Erin, and, when the story does focus more upon her, it is only to show her seizing up or losing her nerve.
There is something to be said about how Mera's focus on compassion and love has put her in a better position than he would have otherwise, but it all comes off as so waifish that it takes some of the edge off the character. That's to say nothing of how awful a character Erin has turned out to be.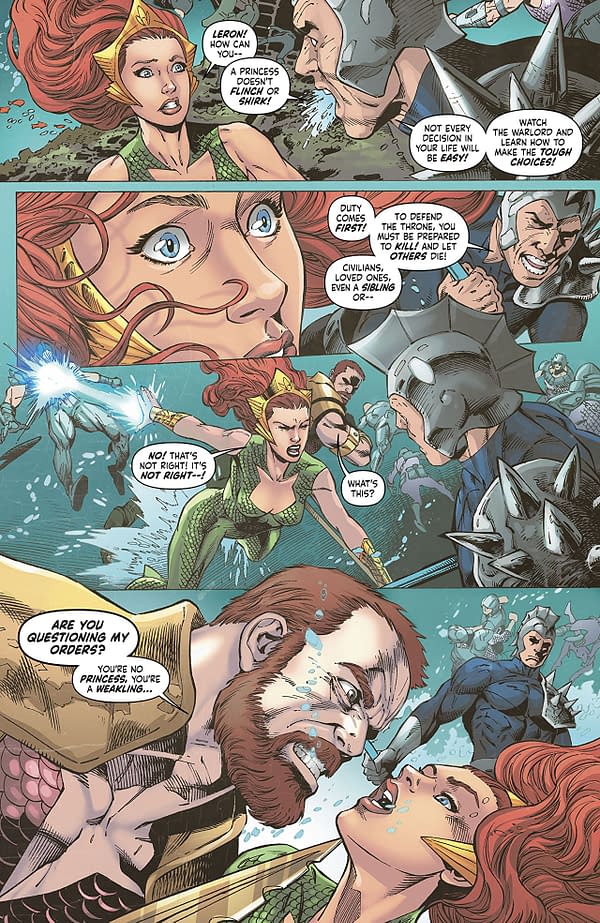 Lan Medina's artwork is still quite good, even if it's occasional focus on T&A only exacerbates the thematic issues of the comic. The detailing is good, and the action scenes are solid. Veronica Gandini's color work is also quite good, as the comic's colors are both well-balanced and popping.
Mera: Queen of Atlantis #3 is among the more disappointing Big Two comics I've read in some time. The plot is badly padded by a character written to be insufferable and short-sighted, and Mera continues to play second fiddle to Ocean Master. The art is solid, but it doesn't save the book. This one doesn't get a recommendation.
Edit: I credited the artist as Paco Medina instead of Lan Medina. Apologies to both very talented artists.
[rwp-review-ratings id="0"]
[rwp-review-form id="0"]