'Mera: Queen of Atlantis' Stands on Its Own in Anticipation of Aquaman Movie
Atlantis is in turmoil. Mera is in exile on the surface world, slowly healing from her magical injuries that limit her to dry land. Corum Rath has taken the throne and his disdain for the surface world is spilling onto US soil. While Aquaman leads a revolt on the ocean floor against Rath, his brother Orm lies low in Louisiana, living out a humble fatherly role and attempting to convince the reader that marine warfare is of no concern to him. News outlets rumor Aquaman's death and speak of targeted attacks against Mera. Frustrated, Orm can no longer watch these contentions grow and eschews his exile to return to Atlantis as the Ocean Master.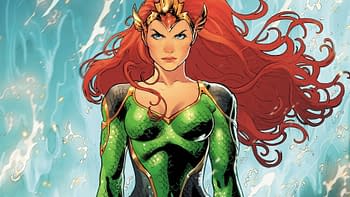 With no army at his side and Mera at half capacity, the two begrudgingly join forces to appeal to the people of Xebel for assistance in the Atlantean war. Soon it becomes apparent, however, that the misogynist Xebel King Nereus will only aid Atlantis on his terms. Conspiracies and side stories flourish with Mera caught in the middle of a race for a throne she doesn't want, and soon enters into a battle for the very fate of the world.
Dan Abnett (Guardians of the Galaxy) hits the ground running with this breakout Mera graphic novel, successfully weaving an origin story without falling short on action. While some romance with Orm and his fiancee seems heavy-handed, the payoff for his character development at the end of this trade makes the slower scenes worth it. Lan Medina's (Fables) expressive artwork is impressive and pairs well with Abnett's ability to weave multiple storylines at different timelines together.
In anticipation for the upcoming Aquaman movie, this trade establishes Mera as a strong character in her own right. Previous stories have shown her take down the Justice League in a few short panels, aggravated at their interference in Atlantean matters. She's vomited her own blood in the Spectrum Wars and wielded a Red Lantern ring against her own re-animated child, refusing to be emotionally manipulated. Mera: Queen of Atlantis serves not only as companion material to subsidize the Atlantean Civil War, but establishes the character as a headstrong warrior, especially in the lead up to her next debut on the big screen.

Mera: Queen of Atlantis TP
(W) Dan Abnett (A) Lan Medina, Richard Friend, Norm Rapmund (CA) Stanley Lau
As the brutal Atlantean Civil War rages, Mera must keep the peace between the surface world and Atlantis as its newly anointed queen in exile. But when Aquaman's brother Orm, a.k.a. Ocean Master, learns of his homeland's fate, he feels he must return to Atlantis as its king and savior! But Orm is now torn between his duty to Atlantis and his love for his new surface family-and both he and Mera will clash over the futures they choose to fight for! Collects the six-issue miniseries.
In Shops: Dec 05, 2018
SRP: $16.99