The final part of Michael Uslan's writer commentary for the collected Justice, Inc. series starring The Avenger, The Shadow and Doc Savage.
Book 4: Looking at this graphic novel as a three act structure like a screenplay, Book 4 becomes the second half of act two. Giovanni and I knew that this was going to be a very action- oriented issue. He had already shown me how creative he was with his layout and design, and I suggested that we do this issue more Marvel style than the traditional style of the script writing I had been doing to date. So I provided Giovanni a general breakdown of what I needed to see in each sequence or group of pages. And I gave him a good idea of the dialogue that would be needed to move the plot forward and add to any character arc development. On that basis, he began to break down the bulk of this issue and it was great! However, this put a big burden on Giovanni's time so we knew we would only do it for this issue and revert back to my traditional script form for issues five and six.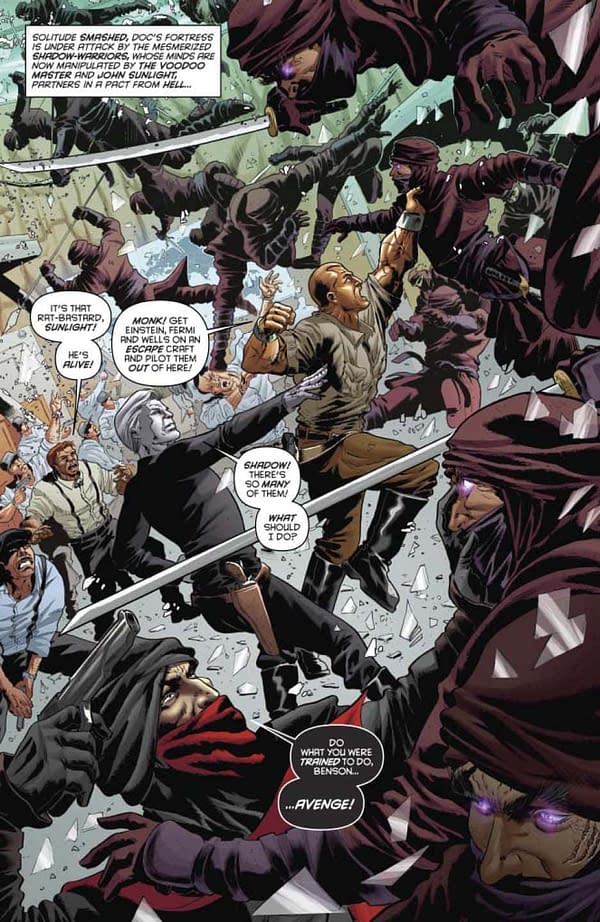 Yes, I realized that Doc Savage purists would not be quick to embrace some of the physical changes we made to John Sunlight's look, but again, my goal was to try to reach out to younger readers who are not normally attracted to pulp hero comic books.
By the way, just for total baby boomer comic book fanboy geeks, the biblical line I have the Voodoo Master say, "If mine eyes offend the… pluck them out!" was a line I read as a kid in the Dell movie comic book, "X, The Man With The X-Ray Eyes." For whatever reason, that line always haunted me, so I did a little self – therapy and used it here.
Once again, the fact that John Sunlight was behind the ruthless businessmen who were responsible for the murder of Richard Henry Benson's wife and child, to me, does not contradict the Avenger's origin but is an expansion on it. Some of my favorite super-villains have often been those who do not see themselves as super-villains. This was something that Stan Lee made famous over at Marvel beginning with the Fantastic Four. So I kind of really liked having Sunlight see himself differently than the way Doc Savage perceived him. Thus, his complaint that he is called a monster while Doc tampers with atomic obliteration leads to his conclusion that Doc is "more dangerous to mankind than I could ever be!"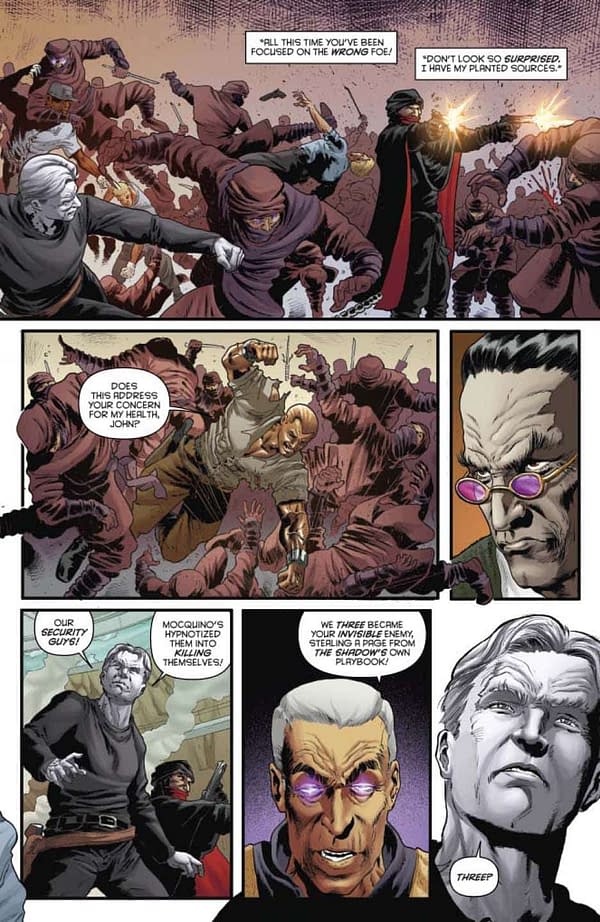 This book continues the running gag about Doc Savage's haircut and I couldn't resist also throwing in a wink of an eye reference to Doc's shredded shirts… Something the Hulk was to imitate years later.
For the wrap-up of Book 4, I brought the action back to New York City and to the actual hotel where Nikola Tesla lived, which was set-up in my previous graphic novel, "The Shadow/Green Hornet: Dark Nights." There, I made the connection between Tesla and the Shadow and stated that Tesla had actually invented what became the Shadow's Auto – Gyro.
Book 5: See that New Yorker Hotel? It truly was where Nikola Tesla lived. (It also happened to be aware my parents spent their honeymoon in 1932.) this book had a lot of fun moments for me. First, came the two panel testy but quick confrontation between the Shadow and the Avenger. No contest. Next, One of the failings I found in previous comic book interpretations of the Avenger was that the public never really reacted to the fact that his face was like marble… shocking… scary. I wanted to make sure that people seeing him for the first time would react to his visage in a more realistic manner. This was actually something Alex Toth taught me when he and I collaborated on the first comic book story of "The Question"we did together after its creator, Steve Dirko, left. It was Alex who pointed out to me that the Wuestion had no apparent face and people had to react fearfully to that and it had to totally freak out the bad guys. He was right. That concept had to be incorporated here.
I also had some fun with the very strong – willed Pat Savage having her first encounter with the Shadow, who was used to his commands being unquestioned. And I also saw an organic opportunity for the Shadow to provide the Avenger with a new uniform that was a little bit more contemporary, practical, and less drab than the gray leather traditional suit. Again, I was trying to find a way visually to appeal to newer and younger readers who do not normally gravitate to pulp hero comic books. 40 years ago when I first wrote the story in which the Shadow met the Avenger, it is Shiwan Khan who explains to his men why their bullets never seem to hit the Shadow. Khan said something to the same effect as the Voodoo Master says to his men here, "He's 2 feet to the left of the image your eyes see!"
And by the way, I can't begin to imagine which detective John Sunlight killed him to obtain that two-way wrist radio he can't seem to get the hang of.
Long ago, I had seen a painted image of the Shadow facing a house of mirrors and I always loved that image and was committed to bring that element into this story. Following that, the action would head to a lighthouse in Deal, New Jersey. If you take a look at "The Shadow" number 11 from the mid-1970s, you'll find that the concluding action in that Shadow/Avenger story took place at precisely the same location. (For purposes of full transparency, I grew up in and around Deal, New Jersey.) Walter Gibson had always liked to use a mansion in New Jersey somewhere in connection with Lamont Cranston/the Shadow. So it was not outside the realm of continuity for me to do this.
Giovanni and I had been eager to do a sequence showing Doc Savage's fury, strength, and power, as opposed to his brilliant, scientific mind. This issue gave us that opportunity. Here, I pulled a bit from Hugo Danner, "The Gladiator," another primary character and story source influencing the creation of Superman. This is Doc Savage unchained!. With a wink of an eye, I reference a 1933 Street and Smith house ad in the pulps, when Margo refers to Doc as "a super man!" When she does, Doc wants nothing to do with that appellation. Failing that, Margo tries calling him "a man of steel" and Doc has no interest in that either. This stuff is all just Michael having fun like a little boy.
Being a New Jersey boy, I couldn't help but stage the Avenger's confrontation with Walter atop the same cliff in Weehawkin, New Jersey where Alexander Hamilton dueled Aaron Burr.
Book 6: In a move I set up in my previous graphic novel, we now learn that coincidentally both Doc Savage and the Shadow have in a base of operations in the Empire State Building.
The German spy, Krueger, makes his appearance in Book 6. I had previously used Krueger in my Shadow/Green hornet tale. But Krueger has certainly been around in the history of comics. I'll let you guess where and why.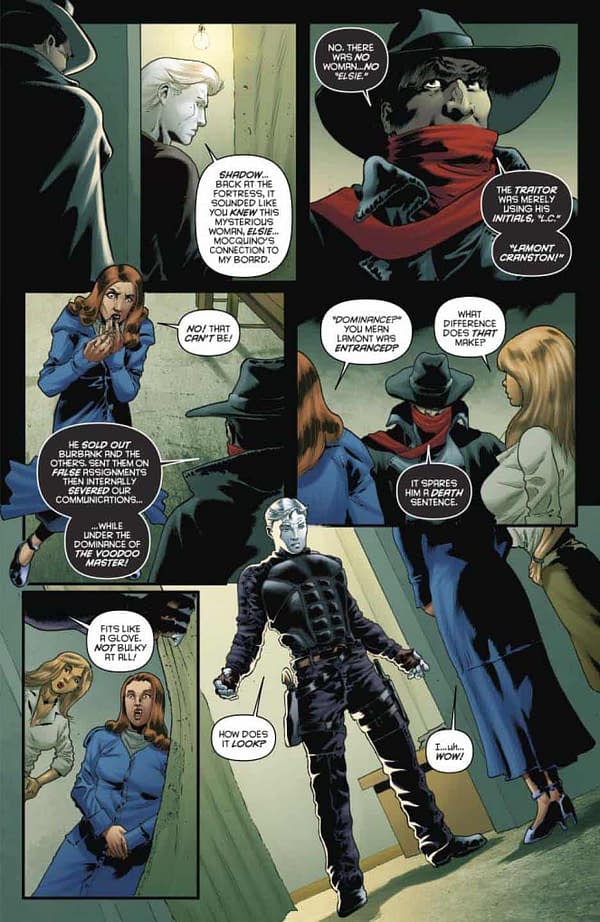 Another thing that Giovanni and I wanted to accomplish visually, was to show the horrific – looking way that the Avenger manipulated his facial features. This was not simply like a sculptor at work with modeling clay, and but was a truly horrifying process. no one had ever before, to my knowledge, shown the hideous manner in which the Avenger's features had to be altered.
And then, I had the chance to do something I've wanted to do for the last 40 years. Back in the 1970s, before the first issue of "The Shadow" appeared on the newsstands, there was a sensational house and that ran in DC Comics that was a full-page teaser for the Shadow comic book. It was drawn primarily by Bernie Wrightson. And I always wanted to know what the story was before and after that incredible one page sequence. Since there has never been an answer to that, I decided to take matters into my own hands and decide for myself what happened before and after that scene. And here, you get Giovanni's fabulous one page homage to Bernie Wrightson's fantastic Shadow ad.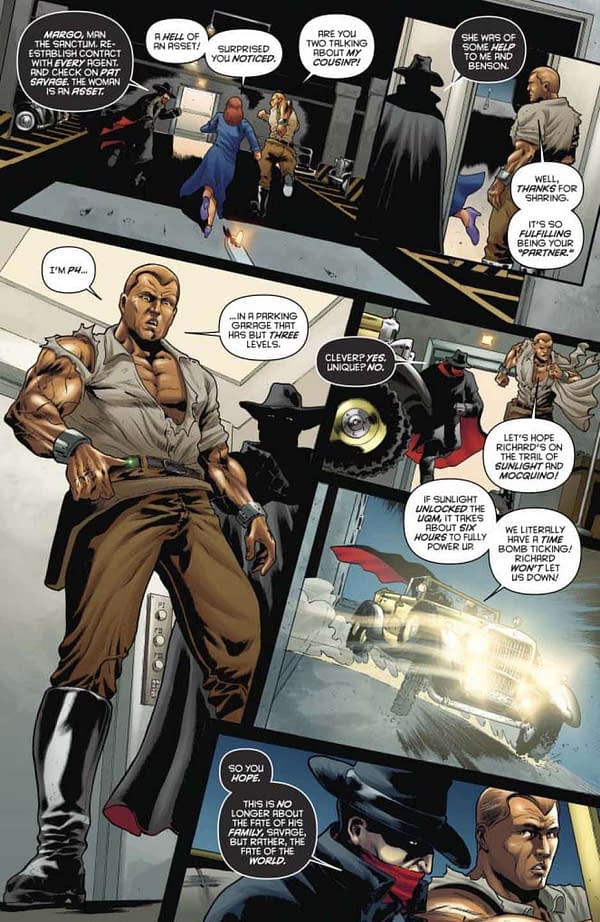 The sequence in which time goes mad evoked for me a great story rendered by Walley Wood back in the 1960s in the pages of his legendary "Thunder Agents." I think I simply said to Giovanni, "Give me that!" And he sure did!
I have always been a believer that brains will always ultimately defeat brawn. It was important for me that the final answer here come from the Avenger as opposed to Doc Savage or the Shadow. And the ending had to produce a final ideological conflict resolution among the vastly different three members of this first version of Justice, Inc. The stakes were high, as in the end the decision revolved around the very life of Lamont Cranston.
The Shadow states his case in the end, seeing his battle against crime as a never-ending war and, as in war, the need to sacrifice one's humanity, identity, face, or life for the cause. The Shadow sees himself as a soldier and the agents he recruits as soldiers in this struggle to the death.
The epilogue was, for me, critically important in the wrapping up of this tale that spanned 75 years.
I couldn't help but chuckle at the review of Book 6 by one of the comic book website reviewers who trashed the ending because he didn't know who the unknown soldier was buried in the final grave.
Sigh…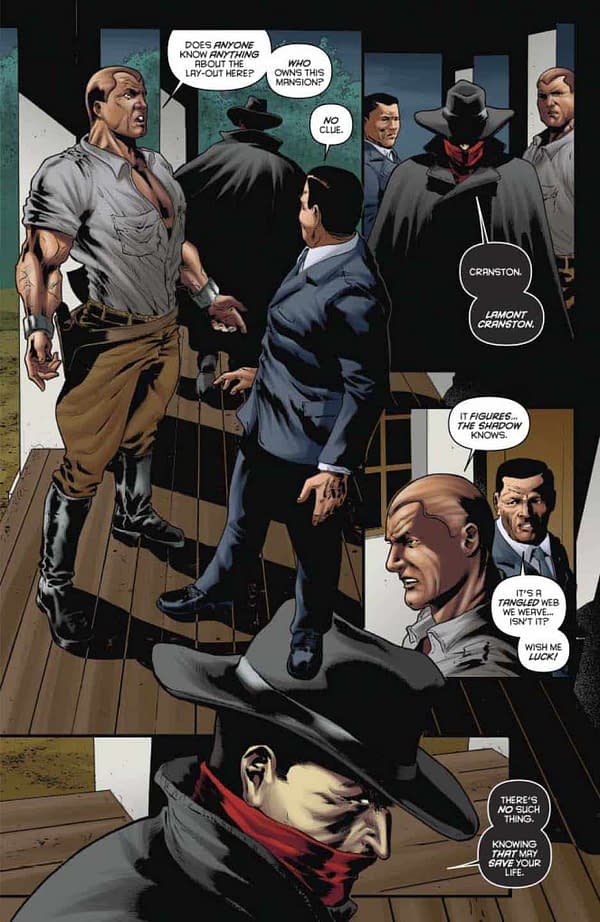 Lastly, a hearty thank you to some of the industry's greatest artists who contributed covers to these six books: Francesco Francavilla; Gabriel Hardman; Ardian Syaf; and Stephen Segovia. And let's not forget the incredible work of Jordan Boyd, Kyle Ritter, Guillermo Ortega, and Elmer Santos. Thanks and accolades to brilliant colorist Marco Lesko, amazing letterer Simon Bowland, my fantastic editor Joe Rybandt along with magnificent Molly Mahan. A great big thank you to my true pals, Jerry Birenz and Anthony Tollin, and the guy who made it all happen… Nick Barucci.
Enjoyed this article? Share it!