AfterShock Comics are launching two comic books in September, Lonely Receiver by Zac Thompson and Jen Hickman, and Miles To Go by B. Clay Moore and Stephen Molnar. And a whole bunch of other comic books as well… here are the full solicitations for September 2020. LONELY RECEIVER #1
JUL200989
(W) Zac Thompson (A/CA) Jen Hickman
Catrin Vander, a lonely video producer, buys an Artificial Intelligence partner that's meant to bond for life. After ten years together, her holographic wife suddenly disconnects without a warning. The breakup drives Catrin to the point of near insanity. She's alone for the first time in years and reeling from a loss she can't comprehend. Set in the new future, drenched in pastels and sunshine, LONELY RECEIVER is a horror/breakup story in five parts. Written by Zac Thompson (UNDONE BY BLOOD, THE REPLACER, HER INFERNAL DESCENT, No One's Rose, X-Men) and illustrated in color by Jen Hickman (MOTH & WHISPER, Test).
Who are you/
//in another's eye
It's not what you think//
/don't you cry.
In Shops: Sep 02, 2020 SRP: $4.99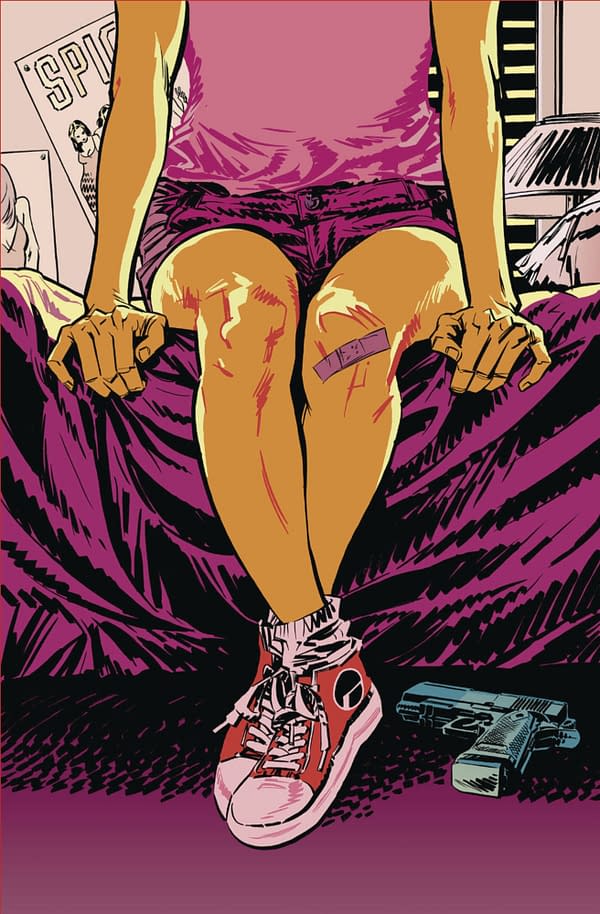 MILES TO GO #1
JUL200991
(W) B. Clay Moore (A/CA) Stephen Molnar
Amara Bishop is a newly single mother with a long-buried past. Raised by an
alcoholic father in a rundown trailer, Amara was a child when she learned to kill. And she hasn't killed an-yone since she was thirteen. When her aging mentor is murdered, and her daughter is threatened, that will soon change…
An unlikely assassin in a deadly game of cat and mouse, brought to you by B. Clay Moore (Hawaiian Dick, Battle Hymn) and Stephan Molnar (Imaginary Fiends, Star Trek).
In Shops: Sep 23, 2020 SRP: $4.99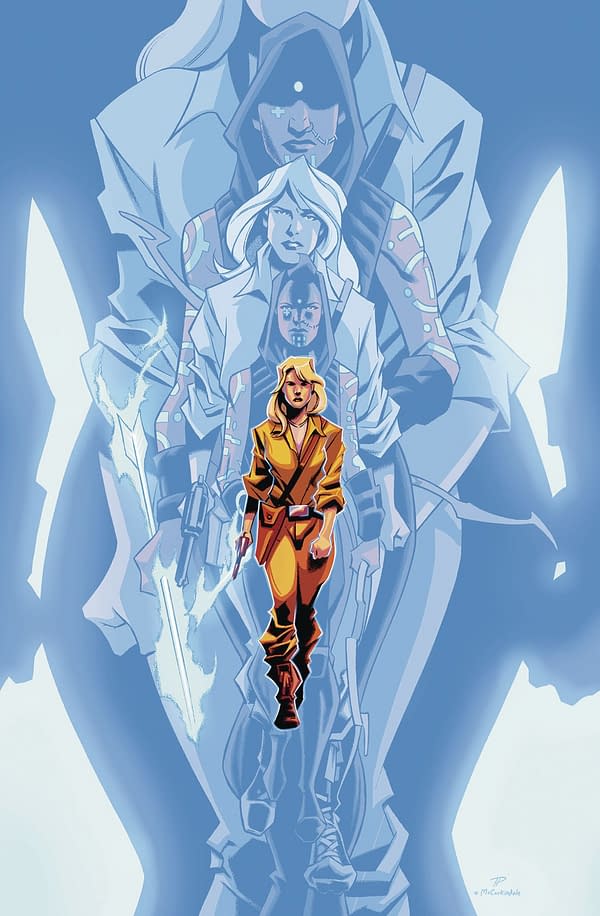 ARTEMIS & ASSASSIN #5
JUL200996
(W) Stephanie Phillips (A) Francesca Fantini (CA) Phil Hester, Mark Englert
Hurtling through historical eras, time-traveling killer Maya and World War II spy Virginia can only survive if they work together. But as assassins close in, is Maya willing to turn her back on the only life she's ever known?
The tense time-travel adventure by Stephanie Phillips (DESCENDENT, Butcher of Paris), Francesca Fan-tini, Lauren Affe and Troy Peteri continues at a breakneck pace!
"An interesting premise…with positive representation and great artwork from a promising creative team." – AIPT!
In Shops: Sep 30, 2020 SRP: $3.99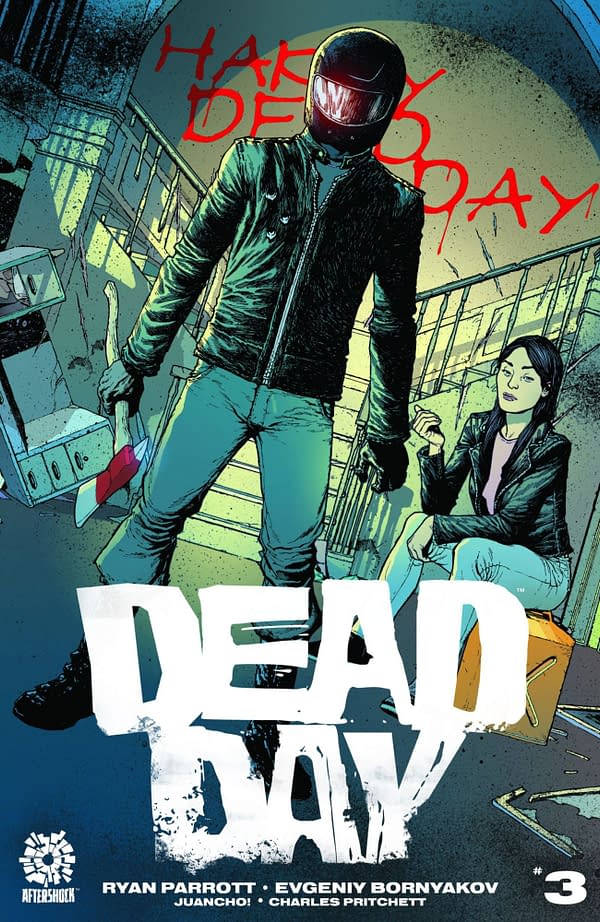 DEAD DAY #3
JUL200995
(W) Ryan Parrott (A) Evgeny Bornyakov (CA) Andy Clarke
Jeremy attempts to track down the monster responsible for his murder as well as uncover the terrifying secret behind it. Brandon finds himself amongst the dead and at the heart of the Revivalists' most sacred ritual.
From writer Ryan Parrott (OBERON, VOLITION, Power Rangers) and artist Evgeniy Bornyakov (DESCENDENT, YOU ARE OBSOLETE) comes an unnerving tale of existential horror with grave consequences.
In Shops: Sep 16, 2020 SRP: $3.99
DISASTER INC #3 (RES)
JUL200993
(W) Joe Harris (A) Sebastian Piriz (CA) Andy Clarke
For centuries, Samurai defended Fukushima Prefecture from invaders. Now, still bleeding radioactivity from the nuclear plant meltdown, a land's protectors have risen in her hour of need. For the adventure tourists of Disaster Inc. lost inside the Exclusion Zone…this is very, very bad.
Writer Joe Harris (Great Pacific, Rockstars, The X-Files) and artist Sebastián Piriz begin a disaster tour through the worst places on Earth. In a world on fire and rife with calamity, catastrophe, war and unrest…you're going to need the right guides to see it for yourself!
In Shops: Sep 02, 2020 SRP: $3.99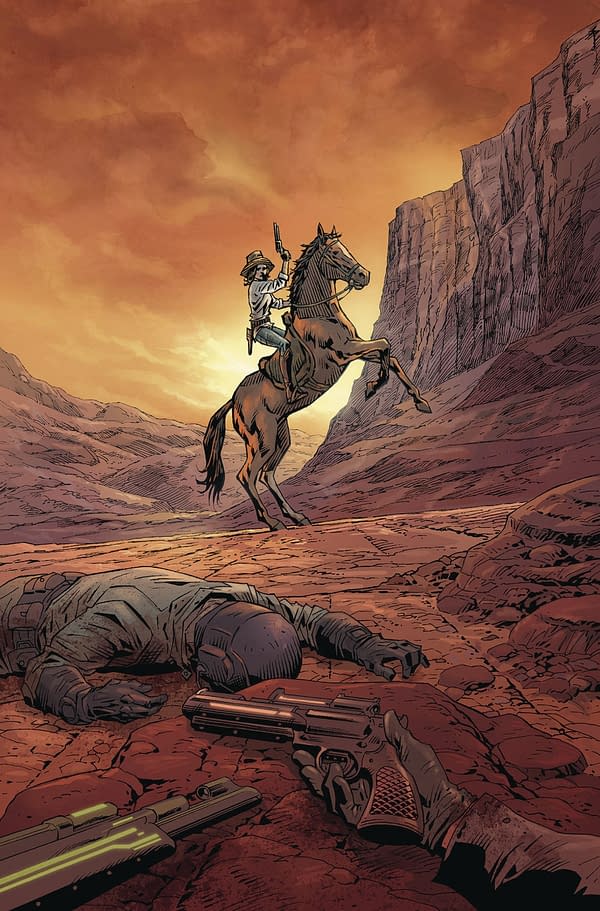 JOIN THE FUTURE #5
JUL200994
(W) Zack Kaplan (CA) Brad Simpson (A/CA) Piotr Kowalski
The Future. A high noon showdown between country vs city, independence vs technology, and individual vs society. Clementine is the sole remaining resident of Franklin, and the only thing standing in the way of its decimation. Armed only with a revolver, her wits and her unwavering willpower, she will have to draw against the futuristic lawmen of the region. Will she finally get her revenge or die in heroic glory?
Written by Zack Kaplan (LOST CITY EXPLORERS) with art from Piotr Kowalski (Sex, Marvel Knights: Hulk, The Dark Tower), JOIN THE FUTURE is a sci-fi western that
examines a tomorrow where everyone must ask what your values are truly worth.
"…AfterShock has an unmistakable hit on their hands with potential for real greatness." – Comic Watch
In Shops: Sep 09, 2020 SRP: $3.99
SHOPLIFTERS WILL BE LIQUIDATED TP VOL 01 (RES)
JUL200997
The largest retailer in the world requires the best-trained loss prevention staff, and Se-curity Officer Nussbaum defends the company interests at any cost. Life, human rights, rational thought are all secondary concerns. But his world is upended when he finds a society living under the retail outlet – a culture that challenges his notions about
consumerism and sense of self. Is he ready for the message? Imagine Judge Dredd working for Amazon, and you've got a hint of what you're in for.
From Patrick Kindlon (PATIENCE! CONVICTION! REVENGE!) and Stefano Simeone (CLANKILLERS) comes SHOPLIFTERS WILL BE LIQUIDATED – a satirical take on consumer society.
In Shops: Sep 23, 2020 SRP: $16.99
Enjoyed this article? Share it!