More Offers Being Made (Or Not) by Apex Lex in DC's Year of The Villain, Today (Spoilers)
If you are reading all the Year Of The Villain: The Offer issues then you may not just want to read today's Justice League one first as it comes before all the others – and the ones last week and the week before that too. While the Justice League Odyssey one from last week still comes after all of them.
My head hurts. So, again. almost all of these titles see Luther's drones whizzing around, often with the first panel having a drone 'looking' right at camera hovering above an urban landscape. Or in Aquaman, going for a dip. And the final page, a hologram of Luthor, with his new Apex Lex look, making an offer to an individual, mostly villains, but not all. Ohh and frustratingly, just as last week, few details of that offer, in most cases. And Harley Quinn's prediction from two weeks ago. ringing true…
So we begin with Justice League #28. Just another part of what we're calling Monster Wednesday here at Bleeding Cool. Apex Lex gloating with Martian Manhunter about his plans to make all these Offers.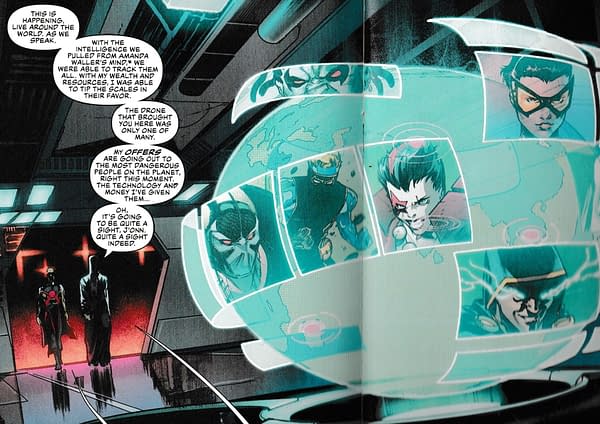 As well as the discovery that Lionel Luther was planning an invasion of Mars using the kind of flying saucer ships that, classically, Mars are meant to invade Earth in.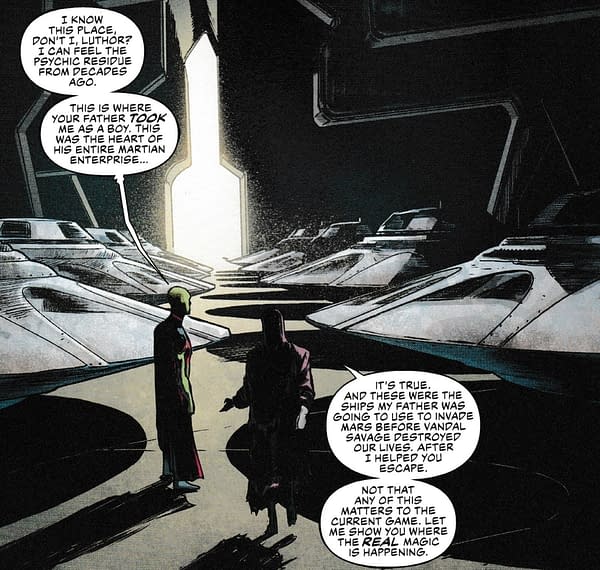 Schrodinger's Flying Saucers? Yeah, they'll come in handy at some point, right?
Aquaman #50 has a longer, more involved deal with the drone, finding its way to Black Manta. And an 'ends' offered to Black Manta by Luthor. But the means are still a mytsery.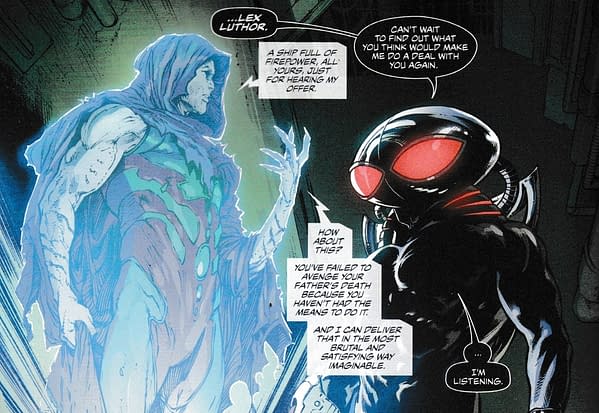 Nightwing #62 sees Talon given the offer. We haven't seen a lot of former Court Of The Owls assassin Talon of late, maybe we will do now?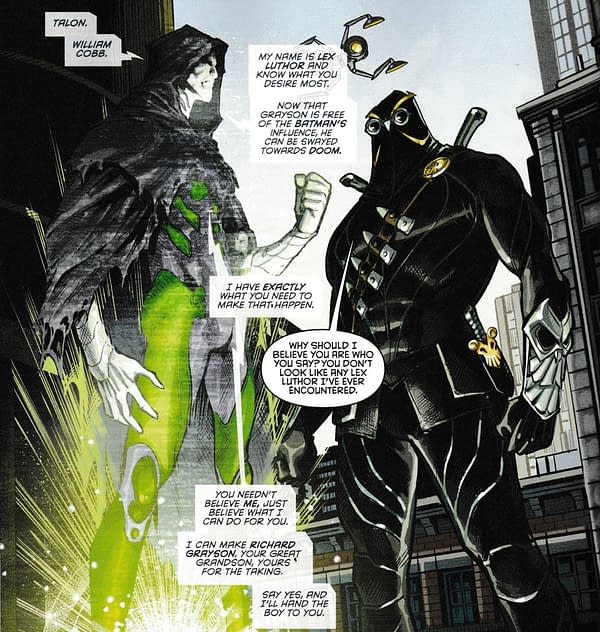 Again, 'Richard Grayson' as the ends – albeit it through mysterious means.
Teen Titans #32 shows us that Crush certainly has daddy issues when it comes to Lobo, and she is far stronger beside her teammates. Still doesn't stop Luthor coming over to make his offer…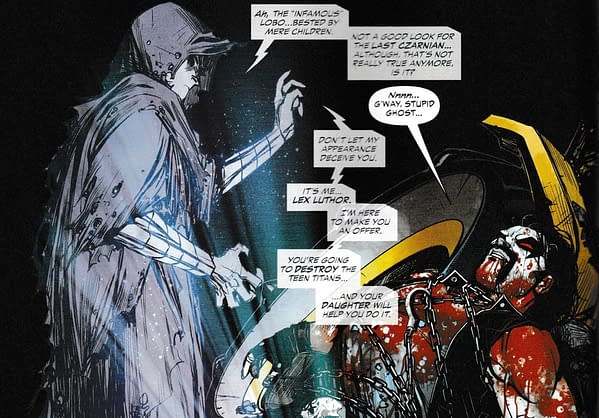 But it's Batman #75, the comic that didn't need to crossover so heavily, if at all, with The Offer, we get a very strong meeting of minds between Luthor and Bane. With all the justification for Bane taking over Gotham as needs be. He does what Batman never could, keeping it in order. There's only one thing he needs…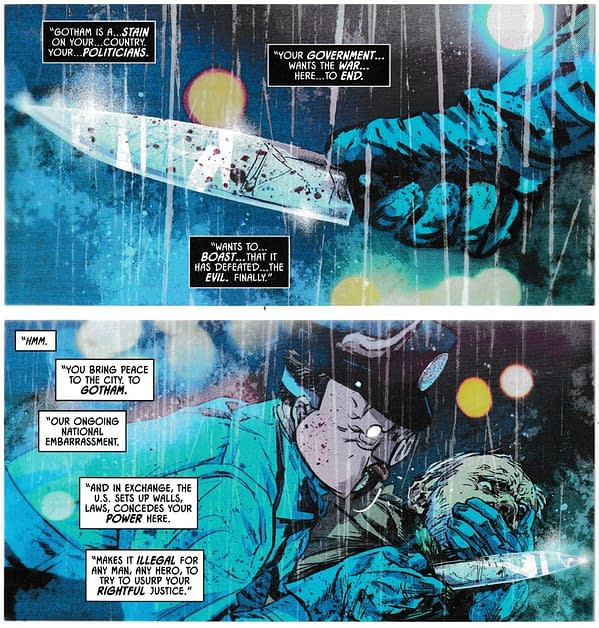 Official sanction. A systematic approval from the highest echelons that Bane can get on with doing what he's doing. And he gets it…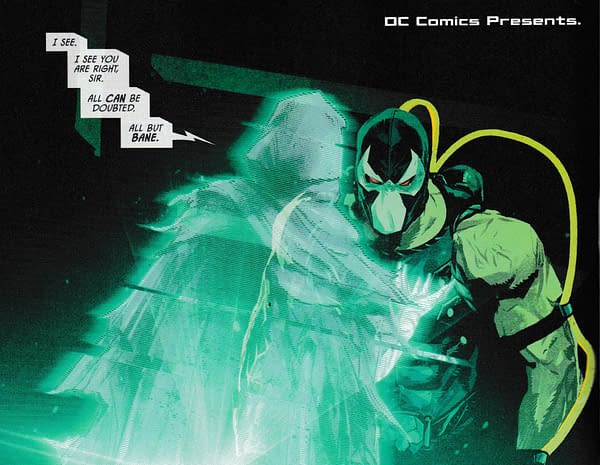 Bane beats Luthor? That's the intimation here… Check out more of Monster Wednesday here, and vcatch the solicits of the above, below…
AQUAMAN #50 YOTV THE OFFER
(W) Kelly Sue DeConnick (A) Daniel Henriques (CA) Jason Paz (A/CA) Robson Rocha
As Aquaman settles the Old Gods of Unspoken Water into their new lives in Amnesty Bay, Jackson Hyde, a.k.a. Aqua-lad, seeks out Aquaman to be his new mentor! Back in Atlantis, Mera makes a move that shocks the Widowhood. Meanwhile, Black Manta, recently kicked out of the Legion of Doom, prepares to make his next move against his greatest nemesis…but Lex Luthor is about to make him an offer he can't refuse. Don't miss our landmark 50th issue and the start of a brand-new story!In Shops: Jul 17, 2019
SRP: $4.99
BATMAN #75 YOTV THE OFFER
(W) Tom King (A/CA) Tony S. Daniel
"City of Bane" begins! Bane's minions have moved into Gotham City, taken control and are ruling with an iron fist-including rounding up any villain who refuses to sign onto Bane's program-and Batman is nowhere to be found. At least not the Batman anyone knows. It's like someone has replaced the real Gotham City with a twisted funhouse-mirror version of it. Meanwhile, the real Bruce Wayne is on a spiritual quest to regain his fighting spirit after his showdown with his father in the desert. Can the people of Gotham hold on until their protector is strong enough to come to their rescue? Plus, what does Lex Luthor's scheming mean for Gotham City when Bane and the villains are already in control? This extra-sized anniversary issue kicks off a new multi-part storyline that ties together all the threads of the first 74 issues of Tom King's epic BATMAN run!In Shops: Jul 17, 2019
SRP: $4.99
JUSTICE LEAGUE #28 YOTV THE OFFER
(W) James TynionIV (A) Javi Fernandez (CA) Jim Cheung
The Apex Predator rises! Justice-Doom War is coming! This is the culmination of the Legion of Doom's master plan, and they will take the Justice League to far-out places they may never return from…and do things the DC Universe may never recover from.In Shops: Jul 17, 2019
SRP: $3.99
NIGHTWING #62 YOTV THE OFFER
(W) Dan Jurgens (A) Ronan Cliquet (CA) Bruno Redondo
After the epic conclusion to the Burnback saga, it's clear that while he may have forgotten his past, Ric Grayson's innate skills and instincts as a team leader elevate Team Nightwing to a new level. But what does that mean for the Blüdhaven PD, and what does that mean for a man who is looking to live a life without the baggage of his past to hold him down? Ric seeks comfort in Bea's arms, but may find answers in another's Talons as we dive headlong into the Year of the Villain! Plus, Lex Luthor delivers the Court of Owls the means to own what they covet most: Ric Grayson.In Shops: Jul 17, 2019
SRP: $3.99
TEEN TITANS #32 YOTV THE OFFER
(W) Adam Glass (A) Bernard Chang (CA) Giuseppe Camuncoli
Lobo's back-and he's got his daughter, Crush, dead to rights! At least she can ask him about the identity of her mother, right? And as the Teen Titans square off against the Main Man, an enemy more sadistic than any they've ever faced before, questions about the team's future are still hanging in the balance-that is, if they have any future at all! Plus, Lobo wants a daughter he can be proud of. Crush wants nothing to do with her father. Lex Luthor is about to ruin Crush's life.In Shops: Jul 17, 2019
SRP: $3.99